Zhangjiajie On a Budget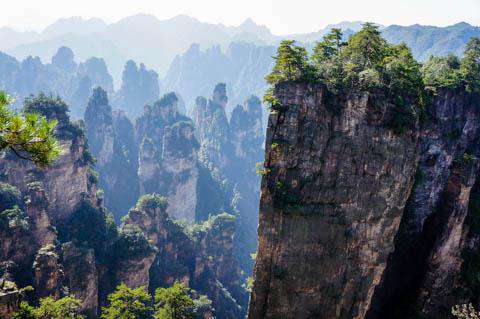 Zhangjiajie, China is a picturesque city located in the northwest of the Hunan Province. This ancient city, which dates all the way back to the Stone Age, is famous for being home to the UNESCO World Heritage Site,
Wulingyuan Scenic Area
. Zhangjiajie is also known for being a popular filming location and and overall great place to escape the bustling Chinese cities. Zhangjiajie has its own dialect, which is a branch of the Hunan and Southern dialects, so Mandarin does not always translate when trying to speak to locals here.
The climate in Zhangjiajie is most pleasant in late spring and autumn as the weather tends to stay around 65 degrees Fahrenheit. If traveling in October, be aware that the first week of the month is a national holiday and there are a large number of tourists who flock to the area. Summers are very hot and humid with temperatures reaching over 90 degrees. Winters can be harsh, especially when hiking the mountains.
Sights
Zhangjiajie is famous for the area's natural beauty, specifically, the Wulingyuan Scenic Area. Throughout this 266 square mile area, you'll find waterfalls, streams, natural pools, caves, and even natural bridges. Wulingyuan is made up of four national parks: Zhangjiajie National Forest Park, Suoxi Valley Nature Reserve, Tianzi Mountain Nature Reserve, and Yangjiajie Scenic Area.
Zhangjiajie is a great park to view the famous rock pillars and experience the stunning scenery. Here, you'll also find the tallest elevator in the world, the Bailong Elevator, which you can take to the top for panoramic views of the park. Tianzi Mt. Nature Reserve is the park surrounding the Tianzishan Mountain Range, a fantastic place to hike or camp.
Neighborhoods
Downtown Zhangjiajie is a fairly large area with plenty of restaurants and accommodation. This is where you'll find major bus and train stations, as well as the tourist offices and tour companies. Wulingyuan is small town located just outside of the Wulingyuan Scenic Area, not far from the Zhangjiajie downtown area. Not so much a neighborhood, but a popular accommodation and rest area, is actually inside the Zhangjiajie National Forest Park. This, and the town of Wulingyuan, are popular places for accommodation as they are close to the parks and offer higher quality accommodation than that of downtown areas.
Activities
Zhangjiajie National Forest Park is home to the Grand Canyon Glass Bridge, the highest and longest glass pedestrian bridge in the world. It provides some of the most scenic views of the park, and gives you a bit of an adrenaline boost! Hiking is also extremely popular in this area,you'll find countless trails that range from novice to advanced. If you prefer something more relaxed, spend the day floating down the Maoyan River on a tour boat to take in the scenery from the water.
A more recent addition to the region is the Zhangjiajie International Country Music Festival, which usually happens at the end of August or beginning of September. The festival brings acts from around the world, including many famous American Country music artists.
Food and Dining
The majority of food in this region sticks to traditional Hunan cuisine, which is often spicy and very flavorful. If you want to try something a little different, check out ShanGe Zhai restaurant, which has Tu Chia cuisine. Tu Chia comes from the local ethnic culture and tends to be a little spicier than Hunan cuisine. Restaurants in the area range from nice, sit down places to relaxed cafes. Most places have pictures of the food, although having a Hunan dialect dictionary may help you along.
Transportation
Zhangjiajie has a domestic airport that connects to major cities such as Beijing, as well as a shuttle bus that takes you from the airport to the city. Trains are also a popular option for getting into the city. Buses are the best option for getting to the various tourist destinations; there are city buses that are entirely efficient, as well as day tour buses if you prefer something more guided. If taking a taxi, keep in mind that there is a flag down fare added onto your bill. Also, be sure to ask for them to turn on the meter and get a receipt!
Related:
Looking for a
hostel in China
?
Traveling alone to
Beijing
or
Hong Kong
or want to party in
Shanghai
?