Shanxi On a Budget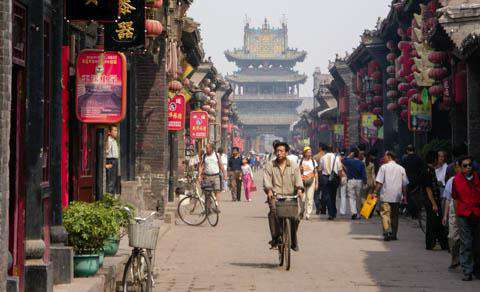 Sometimes your vacation can be your link to ancient history. Any visit to the Shanxi Province of China lets you wander through this region's long and cultured history. This area was once the cradle of Chinese civilization – which becomes obvious by simply taking a look around the old temples, traditional Qing-dynasty architecture and the caves of Lijia-Shan. They are still inhabited to this day!
Sights
One of the firs things you'll want to do in Shanxi is explore the stunning Buddhist cave art of the Yungang Caves. Dating all the way back to the 5th century, this attraction is filled with 51,000 ancient statues and celestial beings. If you know your history, you'll see distinct influences from Indian, Persian and Greek designs as these cultures were known to travel the Silk Road. The Tuoba began carving these masterpieces in AD 460 and finished all 252 caves over the next 60 years. This makes this the oldest collection of Buddhist carvings in all of China.
You also won't want to miss the views available on the cliffs of Mian Shan. This mountain area is sprinkled with temples along the breathtaking cliffs, and scenic walks provide visitors with some of the most relaxing and stunning sights they'll have in all of China. The road around the mountain is a moderate hike with buses that take you to the main attractions like Dragon Head Temple and the Sky Ladder.
And, of course, you have to see a bit of the
Great Wall of China
while here. The dilapidated sections begin to disappear over the top of Horsehead Hill at the Ba Taizi ruins. This area is all that remains of the Holy Mother Church built in 1876. The front gate and bell tower stand tall as the remains of this once great Gothic church. Getting to this remote area is a hike; so grab a few bottles of water.
If that little taste of the Great Wall wasn't enough, however, visit the Datong City Wall. This refurbished wall is still under construction in some parts. The city is rebuilding on top of the bricks and stumps the wall had been reduced to. This project is not without controversy, but once it lights up at night, you have to admit it's quite a sight to behold.
Many people also love to take a tour of the Qiao Family Courtyard. This 18-th century collection of courtyards is a true example of China's private residence halls. A maze of halls and doorways lead to more than 300 rooms. There are Qing-era furniture and clothes on display, but get here early. This site is very popular with tour groups.
And Pingyao is not to be missed. This old walled city is filled with picturesque towers and preserved buildings filled with shops and restaurants. You could wander for days with that historical feeling of awe inspired beauty in this town, which is also conveniently located on a main rail line.
While travelling in Shanxi, you'll have no problems finding plenty of Buddhist temples to admire. The Shuanglin Temple should be near the top of your list. Here you'll find intricately carved Tang, Song and Yuan painted statues. The current building dates back to 1571 with dozens of halls for you to wander and discover the most astonishing pieces of art. The Four Heavenly Kings date all the way back to the Tang dynasty while the Thousand Buddha Hall displays a Guanyin with 100 arms.
Food and Dining
There are traditional dishes of China you'll have to look for while you're travelling, but remember that Shanxi has its own cuisine. Setting itself apart from the tastes of Cantonese area, Beijing, Shanghai or Sichuan, Shanxi is known for its noodles of many shapes, doused with a variety of sauces.
Transportation
If you stay somewhere around the main provincial highway, you're pretty central to most sites. This highway runs through the capital city of Taiyuan, Pingyao and Linfen. So most major tourist attractions are accessible by car. Renting a car, however, is not so simple in Shanxi if you don't speak the language. Try to arrange a car hire through your travel agency or hotel for your convenience.
There is also a railway that runs along the same road and stops at the main cities. It is a good way to get from city to city. Make sure you check the schedules carefully because some cities don't have as many stops.
There is also a public bus system. There are local and long distance lines that tend to arrive to their destinations faster than the trains.
Related:
Looking for a
hostel in China
?
Traveling alone to
Beijing
or
Hong Kong
or want to party in
Shanghai
?