Taiyuan On a Budget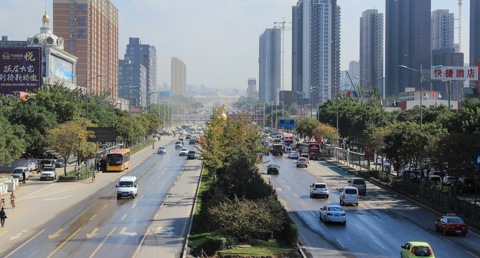 With sleek architectural designs and blossoming businesses, this metropolis is simply brimming with invigorating excitement and once-in-a-lifetime entertainment. Despite its glimmering skyscrapers and gorgeous fountains, Taiyuan, China has an extensive history of nearly 2,500 years. During ancient China, Taiyuan, or the "Dragon City," was a major military town. Presently, this city is now one of China's most important industrial cities, producing more than half of the national coal mining output. Taiyuan is both the capital and largest city of the Shanxi province of North China. It is bounded by mountains on three of its sides, allowing this great city to be surrounded by fantastic views of its landscape. Besides its economic significance, Taiyuan also achieves tourist significance due to its plethora of landmarks and sights. Some of these attractions include Jinci Temple, Forest Park, Mengshan Giant Buddha, and Shanxi Museum. Taiyuan is also celebrated internationally for holding their annual
Shanxi Taiyuan International Folk Arts Festival
, a celebration held in September that hosts exhibition of fine arts, painting, paper-cutting, sculpture, drama, acrobatic and the culture of costume. With such a great deal to do in such a limited window of time, it is best to make the most Taiyuan while you visit!
Sights
The most significant of temples in Taiyuan, the Jinci Temple is located at the foot of Xuanweng Mountain at the Jin Springs. Due to the scarcity of ancient temples found within China, the Jinci Temple works as an international landmark, readily explored by inhabitants and tourists alike. This ancient construction of architecture was built nearly 1,400 years ago during the Western Zhou Dynasty. After King Chen made his brother Yu leader of one of the Chinese states, Yu ruled in such a manner to make the overall state a prosperous one and became an honored figure in Chinese history. In commemoration of his leadership, his descendants built the Jinci Temple in his honor. As it expanded throughout the decades, its present-day form now holds a diverse collection of sculptures, buildings, terraces, and bridges. Many of the landmarks include the Goddess Mother Hall, the Never Aging Spring Pavilion, and the Iron Statues Terrace. The admission fee for the temple runs around 60 to 70 Chinese yuan depending on the time of the year. As the opening hours vary on the season and holiday, it is best to consult websites associated with the temple.
Food and Dining
Located in the Dunhuafan District of Taiyuan, a one-stop shop for authentic Chinese cuisine is none other than ShanXi HuiGuan. With friendly service and gourmet food, this restaurant has been attracting customers due to its sleek, modern designs within its historic building and top quality showmanship in the preparation of their food. Every night, ShanXi HuiGuan is proud to put on a show that features a man carving noodles as well as an entertaining vocal and dance routine. Listed as the top restaurant on TripAdvisor, most patrons hail ShanXi HuiGuan as an elegant fusion of gourmet Asian dining and live performance. Some of the dishes include dumplings with meat or vegetables, authentic ramen, pickled meats and vegetables, tofu dishes, and simple stir fries of meat and vegetables. There is a large variety of noodles as well as flour-based dishes, encapsulating the overall culture of ShanXi HuiGuan. Many of the juices available at ShanXi HuiGuan are quite noteworthy, such as the jujube juice that is both sweet while containing only natural flavors. If you enjoy local food combined with local entertainment, you will enjoy ShanXi HuiGuan. With such a pretty place, ShanXi HuiGuan will cost a pretty penny that is definitely worth it!
Transportation
With such a modernized city, you are bound to also acquire modern transport systems. Whether it be by bus, train, taxi, or rental car - Taiyuan is able to supply you with your preferred method of travel sufficiently and conveniently. Throughout the city, rental car services are provided that allow you to travel safely and independently. This is also recommended if you are looking to travel outside Taiyuan to other Chinese towns and cities. However, if you are looking for a cheap method of travel within the city, bus and train systems are amply available. Be sure to familiarize yourself with bus routes in order to get to your destination quicker. For instance, bus number 611 runs between the bus and train station, with five stops in total. Taxis are also readily found throughout the city and can be hailed or called within minutes. No matter how you travel, enjoy your time in Taiyuan, China!
Related:
Looking for a
hostel in China
?
Traveling alone to
Beijing
or
Hong Kong
or want to party in
Shanghai
?