Hat Yai On a Budget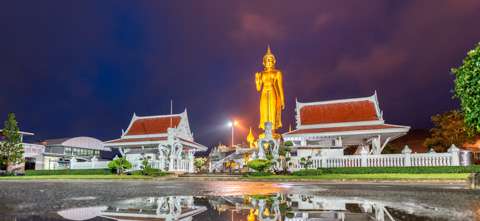 The fourth largest city of Thailand, Hat Yai is a popular tourist destination, especially on weekends and holidays for people in neighboring Malaysia and Singapore. It is best known as a commercial hub and shopping destination, and for its floating market and Buddhist temple.
Sights
While most people visit Hat Yai to immerse themselves in the shopping, there are several sights worth seeing. On the northern outskirts of the city, Hat Yai Municipal Park has a number of attractions. A cable car runs to the top of a hill where the golden Phra Buddha Mongkol Maharaj statue is located and the Bodhisattva Kuan Im (Guan Yin) Temple. The park is also home to the Hat Yai Observatory, which allows visitors to explore science and astronomy.
As far as statues go, the most famous is probably the reclining Buddha (Phra Phuttha Hattha Mongkhon) at Wat Hat Yai Nai. Measuring about 35 meters long, 15 meters tall, and 10 meters wide, it is thought to be the third largest reclining Buddha in the world and is well-regarded by locals and tourists alike. It is located near the Khlong U Taphao Bridge.
For those interested in escaping the city for a day, travel about 29 kilometers southwest out to Ton Nga Chang Wildlife Sanctuary. Here visitors come to admire the Ton Nga Chang Waterfall, which has seven levels of flowing waters. The third level is the most beautiful, separating into two streams. The general area is popular for swimming and recreation.
Neighborhoods
Due to its shopping reputation, the downtown of Hat Yai is mostly developed into shopping and entertainment venues. For a more unique experience different from typical shopping malls and department stores, head to the Klong Hae floating market and do some shopping there. Hat Yai has additional markets sprinkled throughout its streets, some of which really come to life at night with lights and colors. No matter where you turn, if you are wandering the streets of central Hat Yai, there will be plenty to see, do, eat, and experience at every corner.
Activities
Hat Yai is also host to a few seasonal events and festivals. The Hat Yai Ice Dome, for example, near Hat Yai Park is a venue for a display of ice sculptures by sculptors from Harbin, China. Another annual event in the park is Hat Yai Lantern, held alongside the park's lake at the beginning of each year. Because of the city's large Thai Chinese population, the Chinese New Year is also well-celebrated, especially in the city center. Other significant festivals include the Songkran Festival held in April in honor of the Thai New Year, as well as Loi Krathong held in November when people pay their respects to the goddess of water with beautiful floating candles and lanterns.
Food and Dining
Being a large city, Hat Yai is host to a large amount of different food options. While there are international chains offering Japanese and Western food for the less adventurous palette, Thai street food is abundant and a must for experiencing the local flavors. Here are some of the favorites:
Thai Boat Noodle (Doy Kuay Teow Reua): small bowl with slices of pork, a pork ball, bean sprouts, kang kong (water spinach), and garnished with spring onions and coriander, can be served dry or in soup.
Pad Thai Noodles: national dish of Thailand, includes freshly fried noodles, tamarind, garlic, chili, peanuts and sometimes vegetables.
Thai Grilled Pork Skewers (Moo Ping): seasoned with garlic, soy sauce, and sugar.
Thai Grilled Chicken (Gai Yang): Thailand's version of street BBQ
Pad Kra Pao: minced pork or chicken stir-fried with Thai basil and chilies and served over white rice
Pad See Ew: warm and comforting dish of wide flat noodles stir-fried in a dark soy-sauce with chicken, pork, or beef, and some vegetables.
Mango Sticky Rice (Khao Neeo Mamuang): served with a coconut milk syrup.
These are just a few examples of the many tasty Thai dishes to try in Hat Yai.
Transportation
The main point of entry by plane is Hat Yai International Airport, located about 25 minutes southeast of central Hat Yai by car. From the airport, travelers can take a taxi, limo, van, car rental, or a songthaew, which is the cheapest option. Songthaew are basically pickup trucks that have been converted with benches for passengers and are operated as local buses and sometimes taxis.
Hat Yai is also connected by train to several locations including Bangkok, Sungai Kolok, Surat Thani, and Malaysia. Additionally long distance buses are available to and from major cities in the area.