Pattaya On a Budget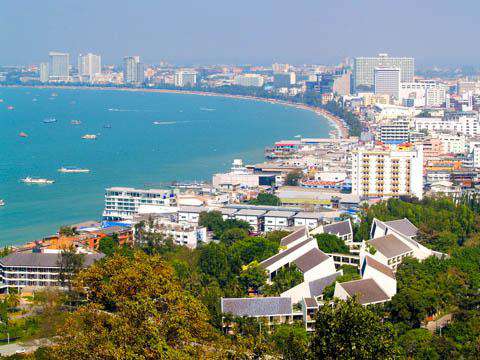 Go where the locals go. If that is your vacation motto, you will want to take a look at the popular weekend getaway of Pattaya, Thailand. This seaside resort on the Eastern Gulf Coast of Thailand is just outside of Bangkok, and full of resorts, beer bars and beaches.
Hosting more than five million visitors a year, Pattaya is easily accessed from the capital and the airport. Keep in mind, the sex tourism industry is still a large money earner for this city, but efforts by local authorities have created resorts and attractions for families and vacationers from all around the world.
Sights
The center of life in Pattaya is the Pattaya Beach. With hotels, restaurants and malls along the roads, this area of is vibrant and filled with culture. Just south of Beach Road is an area that springs to life at night with the sounds of rock music.
For a more family friendly lounging spot, head to Jomtien Beach. Located at the southern part of the city, this region is more calm and serene than other places.
This city is full of sacred spaces to see. Buddha Hill is one of the highest points in Pattaya. Once you've climbed to the top, you'll find the largest Buddha statue in the city. Wander around and find the gorgeous, sacred area dedicated to Confucius and Lao-zi.
A larger area of peace and tranquility is Chaloemphrakiat Park. This 6 acre stretch of land located at the foot of Khao Pattaya was built in honor of the King's sixtieth birthday in 1988. There are dozens of plants to stroll through, ad winding trails are perfect for joggers and walkers alike.
Neighborhoods
Pattaya's coast is divided into five sub-districts with names that typically cause a lot of confusion. In the middle are the three regions that share the main bus route. They are very similar and create a sort of downtown zone. North Pattaya is not the most northern part of Pattaya, but is adjacent to the most northern region. It is the northern section of the downtown area. South Pattaya is also not the most southern region – just the most southern part of downtown. Central Pattaya is also not in the dead center of Pattaya. In fact, some maps disregard Central Pattaya altogether.
Just outside the beaches are two more districts. Naklua is actually the most northern part of Pattaya. This area as the least expensive transportation, and is often the area of Pattaya that is skipped. Buddha Hill is between South Pattaya and the city's southernmost area, Jomtien.
Activities
If you're traveling with children, there are plenty of options to keep your little ones entertained in Pattaya. There are theme parks like the cartoon-themed waterpark
Cartoon Network Amazone
. Mini Siam is also a novelty attraction as a park with miniature replicas of iconic structures from all over the globe. Celebrating the heritages of Thailand, this is one of the most famous model villages in the world.
Another popular activity while in Thailand is visiting with the majestic elephants. The Pattaya Elephant Village is a camp that focuses on the daily life of elephants. Shows are held daily, and one hour elephant rides are available.
Food and Dining
Pattaya is full of restaurants, food carts, markets, tuk-tuks selling coffee, fruit stands and even motorcycle sidecar hotdog and meatball vendors. There are dishes for just about any traveler – the experienced, the adventurous and the safe. Be sure to seek out Pattaya specialty dishes that include fresh seafood and dried fruits. Don't miss out on the papaya salad and spicy-sour chopped pork salad.
Transportation
For shorter routes to and from Pattaya, it is recommended to book ahead. The best prices for buses and trains in Thailand
can be found on 12Go
. They let you search across all bus, train, and airline routes throughout Asia.
One popular way to get around the city is the iconic songthaew. These public passenger vehicles are pickup trucks converted to buses. They're fairly inexpensive, and generally easy to understand. The routes sometimes vary, but just ask the driver for clarification. Just make sure the driver doesn't mistake you asking for a charter request.
The local bus line is the Beach Bus that runs in a circular line, and taxis are also available throughout the Pattaya. Though most of them have meters, many of them won't use them. Be sure to haggle before you begin your trip.
Related:
Partying in
Chiang Mai
or other parts of
Thailand
?
Going to the
Full Moon Party in Koh Phangan
?
Hitting the beach in
Koh Samui
?