We had a wonderful stay and the staff was very accommodating. They even lent me phone chargers when our phones died. In a great location and we were easily able to walk everywhere we wanted in Florence. - Victoria
What sets them apart?
This is a clean hostel with a great free breakfast and a convenient location near the train station. It offers a quiet and relaxing atmosphere that's the perfect place to unwind after a busy day exploring the city.
Hostel Personality
Who's staying here?
This is a quiet hostel that's a great option if you want affordable rooms with a relaxing vibe. It can be a bit difficult to meet people, but there are walking tours of the city and a few places nearby if you want to socialize, just don't expect a social atmosphere in the hostel.
Insider Tip
Check out the pastry shop around the corner. It's excellent!
Archi Rossi Hostel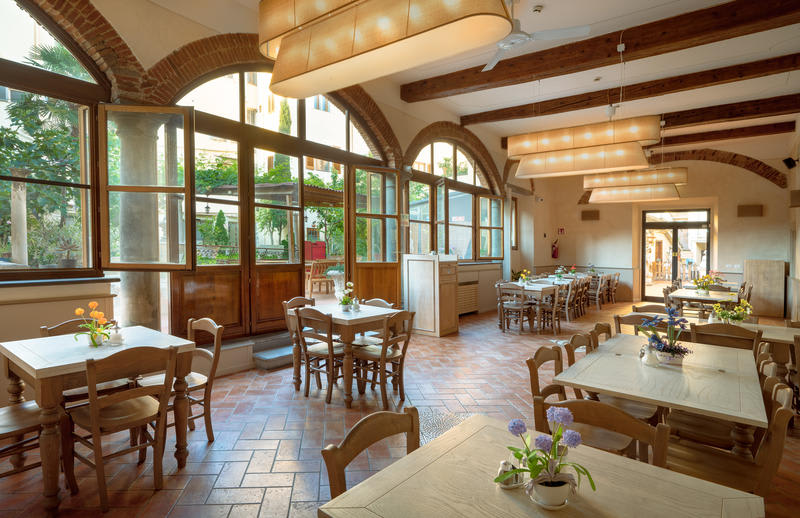 This hostel is located in a converted hotel, so it still has a bit of the vibe of a hotel. It's lobby and public areas are well decorated with art, and you really feel like you're in Florence here. The hostel has a comfortable and relaxing atmosphere and is in a convenient location, particularly as you arrive and depart. There are several common areas, including a small garden, where you can hang out, but most visitors stick to the groups they came with.
The free breakfast that's served every morning is delicious and filling. It includes both hot and cold items and is the perfect way to stay your day in Florence.
The Facilities
Dorms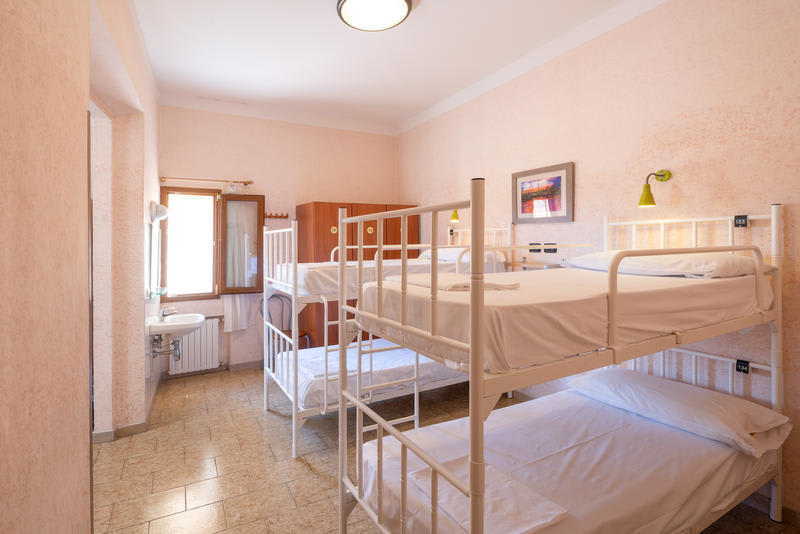 This hostel has dorms that sleep four, six, eight, or nine people. There are both co-ed and female only rooms available and most rooms have en-suite bathrooms. The rooms are relatively large and the beds are comfortable. They stay pretty quiet at night, but this is really dependent on the guests staying here at the time of your visit.
Private Rooms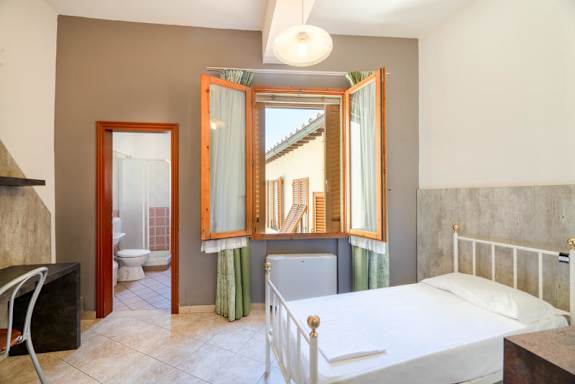 Archi Rossi Hostel also offers twin, double, and family style rooms. These rooms are perfect for couples or small groups who want to stay together and have their own space and privacy. The rooms have en-suite bathrooms and there are basic furnishings that create a nice setting for guests.
Bathrooms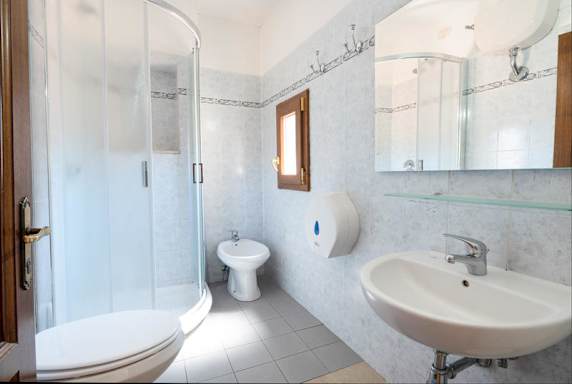 Because this hostel is located in a converted hotel, most rooms (both dorms and private rooms) have en-suite bathrooms here. The bathrooms are large, clean, and modern with reliable hot water. There are plenty of showers and toilets available for guests, so your wait should be minimal, even during peak times.
Common Areas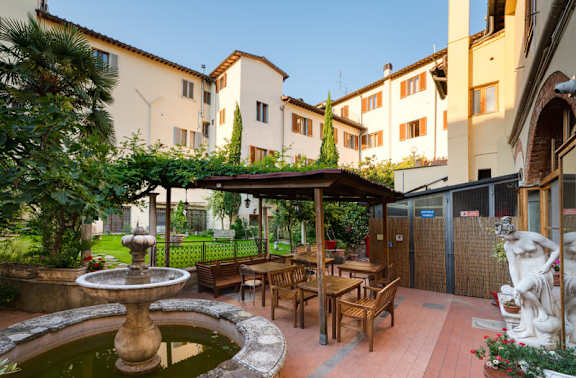 Although this hostel is a quiet place where most visitors stick to the groups they came with, there are still some nice common areas where you can relax. The indoor lounge area has a television and public computer. There's also a nice outdoor courtyard that's a great place to sit with a good book or eat a snack. It has tables and chairs as well as a little bit of shade to keep you cool on a sunny day. There's also a nice fountain and some artwork. A full buffet breakfast is served in the dining area every morning as well.
If you're traveling with kids, you'll really appreciate the children's outdoor play area, where you kids can burn off some of their energy and take a break from sightseeing for awhile.
The Location
Santa Maria Novella
What's Nearby?
Archi Rossi Hostel is in an area that has a lot of student housing, so there's a young vibe with a lot to do in the area, particularly at night. Head to the coffee shop down the street or Michael O'Conner's Irish pub if you're looking for a fun night where there's always something going on. There's also a market nearby if you want to grab something quick to eat.
The hostel is also a short walk from some of the city's most popular attractions. The Duomo and Accademia Gallery are both less than half a mile away. Ponte Vecchio and the Uffizi Gallery are less than a mile away.
Nearby Transportation
This hostel is very close to Santa Maria Novella Train Station, which can be reached in just a couple of minutes on foot. This is convenient for arrival and departure from the city.
Activities
This hostel is relatively quiet, but they do offer walking tours of the city. Ask when you arrive and they can give you information on when they leave and where they go.
Amenities
This hostel is large enough that it has a good number of amenities available to guests. Perhaps the favorite is the
free buffet breakfast
that's served every morning. With both hot and cold items available, it's a filling way to start your day. There are also the standard amenities available as well, like luggage storage, travel information, housekeeping, and more. There's not a true kitchen available for guests to use, but there is a microwave, refrigerator, and a water dispenser with both hot and cold water. Laundry facilities are also available.
If you're traveling with kids, you'll love the outdoor kids play area, where the kids can burn off energy and you can relax for a bit.
Staff
The staff here are available 24 hours a day, which is convenient if you have any questions. They can help you with any questions you may have and are quick to address any concerns or problems that might arise.
Heads Up
The biggest complaints with this hostel are the lack of a social atmosphere and the unresponsiveness of some of the staff members. This seems to vary by who's working at any given time.
Archi Rossi Hostel
Do you have a favorite hostel that you would like to review? Let us know!