Ios On a Budget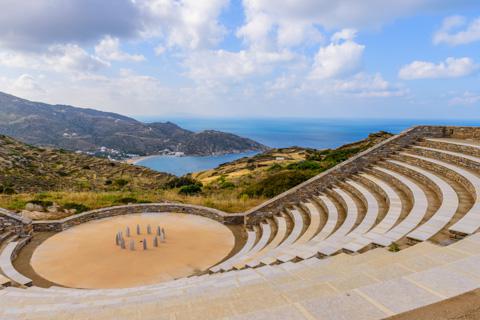 Ios is an island in the south of Greece, located in the Cyclades group of islands in the Mediterranean Sea. It is a peaceful beach getaway by day, and a lively party scene by night. While its main town is the hub for nightlife, it is also a charming place during the day, typical of a traditional Greek village with shops and cafes against a backdrop of whitewashed buildings and turquoise waters.
Sights
The center of activity on the island is main village of Ios, or Hora. It is very scenic with its small alleys and white-washed houses, and locals chatting the day away in outdoor cafes. During day up until the early evening Hora is a peaceful, quiet place with plenty of clothing and jewelry shops to explore as well as restaurants and cafes to indulge in. At night, this is the main party zone of the island.
Ios is probably best known for its beaches, where most visitors spend their days. The island boasts roughly 75 kilometers of white sand beaches and Mediterranean coastline. While Milopotas is the most easily accessible and certainly a beautiful place to spend the day, there are a number of stunning secluded beaches for those willing to make the trip. Some of these include Tzamaria Beach, Valmas (good for snorkeling), Paralia Magganari, Paralia Pikri Nero, Loretzaina, Paralia Agia Theodoti, and many others.
Other, off the beaten path attractions of Ios include the Tomb of Homer on the north end of the island, the archeological site of Skarkou just a few kilometers outside of Ios, and the archaeological Museum of Ios, which features items from the prehistoric settlement, including preserved pottery, tools, and utensils made of metal, stone, and bone.
Neighborhoods
The island of Ios has three major villages: Yialos (or Ormos), Ios (also Chora or Hora), and Milopotas. When arriving by ferry, visitors first set foot in Yialos where the port is located. While you can take a car or taxi up a long winding route to get up the hill to the main town of Ios, the most direct route is to take a long stair just before you get to the Kritikakis Village apartments. Chora or Hora, officially called Ios, is the capital town and largest settlement on the island. It contains many of the island's tourism facilities, which include hotels and apartments as well as restaurants and tavernas. For the most part, the town has some small roads for cars with many paths only accessible by foot. There is a taxi station here, as well as at the ferry port, Yialos. Milopotas is not very far from the main town Ios, just a few kilometers down the road. Located on the coast, it is home to one of the most popular and beautiful beaches on the island.
Activities
Many visitors come to Ios to go beachside by day and party by night. The beaches and extensive coastline offer great opportunities for watersports like snorkeling and diving, swimming, wind surfing, water skiing, and riding inflatable tubes behind speed boats.
The rugged landscape of Ios also makes the island a great venue for hiking. Visitors can opt to hike to the excavations at the prehistoric settlement of Skarkos, where they can witness ruins of the early Cycladic period. There are also a number of mountain peaks to climb, such as Profiti Ilias or Pyrgos, which will offer amazing views of the island and sea.
Food and Dining
Like most Greek islands, Ios has access to some of the freshest seafood available. Many of the local restaurants and tavernas will be serving fish fresh right from the boat. In addition to seafood, restaurants of the Greek islands serve up Greek-Mediterranean fare full of herb-rubbed meats, fresh vegetables, tzatziki, fresh baked breads, and olive oil. Local beers, wines, and spirits are also common. Ouzo and raki are two popular hard liquors, while retsina is a unique wine that resembles pine in flavor. In addition to the traditional tavernas offering these Greek favorites, Ios is unique in that there are a wide variety of restaurants that cater to international interests as well. Asian, Mexican, Thai, Italian-the restaurants of Ios have something for every taste. The hub of activity for dining is in the main city of Hora, where most visitors spend their time.
Transportation
Ios Car Rental Prices
Compare prices across all major rental companies:
The best way to reach Ios internationally is to fly into Athens International Airport, and then take a ferry or high speed boat from the port at Piraeus. Ios can also be reached by ferry from Santorini, Naxos, and Heraklion (Crete). Taxis are located right in front of the ferry boat pier for arranging transportation to different parts of the island. In the summer, public buses operate between the three main villages. Boats also run between the major coastal towns and beaches on the island.
Train and Bus Prices
The best prices for buses and trains in Greece
can be found on Omio
(formerly
GoEuro
). They let you search across all train, bus, and plane routes throughout Europe.