Paros On a Budget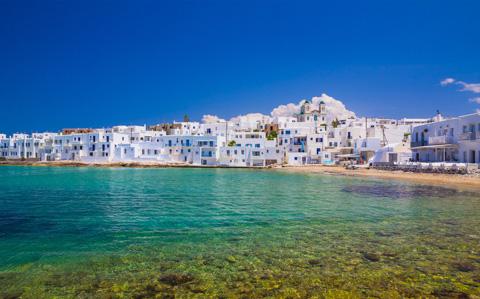 A popular vacation destination for visitors to the Greek islands, Paros is the second largest island of the Cyclades group. It is characterized by beautiful Mediterranean beaches and charming seaside villages.
Sights
Those who visit Paros are mainly looking to immerse themselves in the atmosphere of the Greek islands-beaches with clear waters, fishing villages with white-washed walls and blue doors, seaside tavernas serving the freshest seafood and ouzo, and a warm Mediterranean climate. Guests can spend entire visits wandering the narrow, cobbled streets of the islands, taking in the Greek pace of life, exploring shops, admiring quaint churches, and watching fishermen come in and out of the harbor. For more specific attractions, a few of Paros' top sites include:
Panagia Ekatontapiliani:
Also known as "Our Lady of a Hundred Doors," this Byzantine church dates back to the 4th century, featuring religious icons and other historic artwork. The church has a legend that says 99 doors have been found in the church, and the 100th will be discovered only when Constantinople is Greek again.
Kolymp?thres:
Also called Kolymbithres, this beach is one of the most popular on the island for its clear waters and unique granite rock formations. It can be reached by car or public transport, as well as by fishing boat ferry from the port of Naoussa.
Paros Archaeological Museum:
Located just behind the church mentioned above, the museum hosts unique ancient collections that date from the Neolithic period to early Christianity. The exhibits include artifacts, statues, and sarcophagi, such as a 6th century BC marble statue of Gorgon and a 490 BC colossal worship statue of Artemis.
Neighborhoods
Paros hosts a handful of towns, many of which can be easily reached by bus. Parikia is the island's port town and capital, and is where all ferries from the mainland arrive. The waterfront is busy with cafes, restaurants, tavernas, and bars, which are especially popular in the evenings when the nightlife is at its peak. Further inland, the narrow cobbled roads wind amidst blue and white houses. Livadia Beach is located at the north end of town. From the main port, visitors can easily rent vehicles or take a bus to other locations on the island. Naoussa is another busy port town on Paros, with plenty of accommodations, tavernas, and bars for tourists. An old fishing village, Naoussa has evolved into a tourist hub, specializing in harbor activities, boat excursions, and seafood restaurants. Other communities on Paros include towns such as Lefkes, Marpissa, Piso Livadi, Drios, and Aliki.
It's also possible to visit nearby Naxos from Paros, as they are very close by and ferries run frequently. If you're just there for the day, try the
Naxos Highlights Bus Tour
which gives you a great overview of the island.
Activities
When visitors are not exploring the island's winding streets and bustling ports, or enjoying ouzo and seafood on a Mediterranean evening, they are hopping
from beach to beach
taking in the sea air. In addition to Kolympithres, other beaches on Paros include Farangas, Parasporos, Krios, Kato yalos, Agia Irini, and Logaras. Paros is also a great destination for watersports, especially wind and kitesurfing. In addition to swimming, sunbathing, and watersports, the island also has opportunities for boat hire and rentals for bikes and other vehicles for exploring the island independently. There is also a waterpark called Aqua Park, which can be reached by boat from Naoussa, as well as a meditation center called Tao's overlooking the Aegean Sea.
Food and Dining
Like most islands, Paros boasts cuisine that is dominated by seafood. Choose from the abundant rows of tavernas crowded along the coastal roads, or find a hidden
seafood restaurant
in the winding back alleys of Paros' island villages. With so many local fishermen, the food is always fresh, the storefronts lined with octopus hanging to dry. Fish is cooked in a variety of ways-added to kakavies (soup), grilled, fried, and cooked with vegetables like eggplant, tomatoes, zucchini, and other greens. Paros specialties include gouna (sun dried, salted fish), salatouri (ray salad with fresh herbs and a lemon & oil sauce), kolios (grilled sun-dried mackerel), sardeles pastes (fresh salted sardines), and grilled octopus. Olive oil is central to Greek cooking, as are herbs like oregano, sage, and thyme. Every meal is accompanied by wine or spirits (especially ouzo), and local meats are always the best in taste and quality. Some other common ingredients include honey, capers, figs, and various cheeses.
Transportation
For international travelers, the best way to reach Paros is to first fly into Athens International Airport. From here, the closest port with ferry service to the island is Rafina. If planning on seeing Athens first, the nearest port for ferry service to Paros is Piraeus.
There are also daily air services from Athens and Thessaloniki, arriving in Paros at the southwestern end of the island.
Once on the island, there are bus services that operate between towns.