Kos On a Budget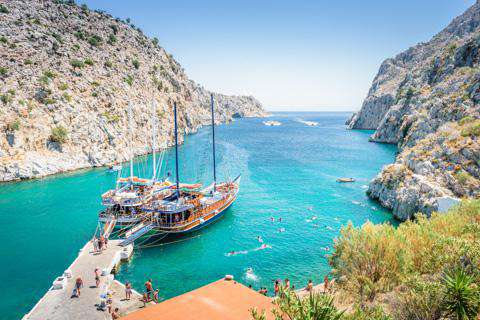 Kos is a Greek island and third largest island of the Dodecanese group, located near the Turkish coast in the southeast Aegean Sea. It is best known for its beautiful sandy beaches, which make it a popular tourist destination, as well as its ancient Greek and Roman landmarks.
Sights
Whether arriving in port or by plane, most visitors of the island flock to Kos Town to begin their Greek island experience. This harbor town's most prominent landmark is the 14th-century Neratzia Castle-ruins of a seaside fortress that offer panoramic views of the Kos harbor. The town is also rich with history surrounding the Greek physician Hippocrates. It is home to the Tree of Hippocrates, under which, according to legend, Hippocrates of Kos taught his pupils the art of medicine. Another important site to the physician, which can still be visited today, is the Asclepeion located about 5 kilometers from Kos Town. A healing temple sacred to the sacred to the Greek god of medicine Asclepius, this location was where Hippocrates would perform his work. In ancient times, patients would come here to receive both spiritual and physical healing.
In addition to these ruins of historical importance, the island is a treasure trove of sandy beaches. Kos is best known as a vacation destination and is well-developed to accommodate the tourists looking to enjoy some beach time. One of the most popular spots is a scenic cove called Paradise Beach, which features rentable chairs, water sports, and nearby resorts. This is just one of the many beaches of the Kefalos isthmus, which occupies the southwest part of the island. It is also near the island's ancient capital Astipalia, where there are still castle ruins.
Neighborhoods
The main villages on Kos Island are Kos Town, Kardamena, Kefalos, Tingaki, Antimachia, Mastihari, Marmari, and Pyli, as well as a few smaller ones, including Zia, Zipari, Platani, Lagoudi, and Asfendiou. Since it is the main port, Kos Town is the busiest of the island villages. It is a center of tourism and the local population with white-washed building that house hotels, restaurants, nightclubs, and other amenities. Almost all cafes and restaurants in Kos Town offer Wi-Fi access. Most of the island's Greek and Roman landmarks are also located in and around Kos Town, some of which include the 15th-century Neratzia Castle, ancient Agora ruins, and the 3rd-century Casa Romana. Beaches and vacation resorts are largely located at the opposite end of the island in Kefalos.
Activities
Kos Island is a destination for exploring historical ruins and landmarks, and enjoying beachside fun and relaxation. Watersports like wind and kite surfing are common, as is snorkeling, which is best close to Kefalos, especially on Agios Stefanos beach. Sailing and yacht charters are also popular in the waters surrounding Kos. The marina of Kos is located at the old harbor and is known worldwide for its ability to service just about any kind of boat.
In addition to your typical sandy beaches, Kos also has access to coastal hot springs. Following the coast southeast from Kos Town and passing the cape of Agios Fokas, visitors will find Thermae. On this beach, after a steep descent, thermal waters are at a temperature of around 40-50°C (104-122°F) year-round.
Food and Dining
Like most Greek islands, Ios has access to some of the freshest seafood available. Many of the local restaurants and tavernas will be serving fish fresh right from the boat. In addition to seafood, restaurants of the Greek islands serve up Greek-Mediterranean fare full of herb-rubbed meats, fresh vegetables, tzatziki, fresh baked breads, and olive oil. Local beers, wines, and spirits are also common. Ouzo and raki are two popular hard liquors, while retsina is a unique wine that resembles pine in flavor. Kos Town has many traditional tavernas offering these Greek favorites, as it is the hub of activity for dining on the island. For a quick bite, pita gyros are a popular fast food item all over Greece, and usually consist of roasted lamb or beef shaved on a pita with onion, tomato, tzatziki, and French fries.
Transportation
The Kos International Airport "Hippocrates" is located at the center of the island near the village of Antimachia. Flights arrive daily from Athens International Airport via Olympic Air and Aegean Airlines. In the summer there are also flights from Thessaloniki via Astra Airlines. Ryanair also operates flights as do some charters from European airports. There is a bus from the airport to Kos Town, taking about one hour travel time.
Alternatively, Kos Town receives direct ferries daily from Piraeus, Rhodos, Patmos, and Leros, and several times daily from Kalymnos. Some ferries also operate from locations in Turkey, such as Bodrum.
Train and Bus Prices
The best prices for buses and trains in Greece
can be found on Omio
(formerly
GoEuro
). They let you search across all train, bus, and plane routes throughout the region.