Rome is a large city with diverse neighborhoods and sights. Within each neighborhood, it's relatively easy to walk, but because of the city's vast size, traveling between neighborhoods is best done by bus, metro, or car. Although the city has a small metro system, it actually passes many popular attractions. Buses are also a great way to get around, once you figure out the system. If you're more interested in ease and flexibility than money, then taxis are a great way to get around as well.
Public Transportation
Rome Metro
Rome's metro system is one of the smallest in Europe. It has just three lines - Line A (Orange), Line B (Blue), and Line C (Green). The metro's development has been limited by the number of archaeological ruins that lie beneath the city. Despite its small size, the metro does pass by many popular sights and attractions and is a very convenient way to get around.
Line A
Line A runs from the northwest to the southeast. The most notable stops for tourists include:
Cipro - Musei Vaticani:
the closest stop to the Vatican museums
Ottaviano - San Pietro:
a short walk from St. Peter's Square and St Peter's Basilica
Spagna:
Near Piazza di Spagna and Villa Borghese
Barberini - Fontana di Trevi:
The closest station to the Trevi Fountain, Piazza Navona and the Pantheon
Termini:
The Roma Termini railway station. From here you can also take the Leonardo Express to Fiumicino Airport
Line B
Line B runs from the northeast to the south of Rome. Important tourist stops include:
Termini:
The Roma Termini railway station. From here you can also take the Leonardo Express to Fiumicino Airport
Colosseo:
Convenient for the Colosseum and the Roman Forum
Line C
Line C opened in 2014 and runs from San Giovanni to Pantano, to the southeast of Rome. Further expansions are planned but progress has been slow. It is the first Metro line to go beyond the city boundaries.
Buying a Metro ticket is relatively easy. Tickets are available at the metro station, at newsstands, and at many small shops. The metro runs from 5:30 am to 11:30 pm (1:30 am on Fridays and Saturdays).
Buses in Rome
Rome has an efficient bus system that operates over 350 lines. If you're looking for a more comprehensive way to get around Rome, then this is a better option than the metro. There are several types of bus routes available. These include Urban lines (U), Night buses (N), Express buses (X), and Exact buses (E). Urban lines run between the hours of 5 am and midnight and during other times the Night buses operate. Express lines are best for those traveling to the outskirts of Rome and Exact lines connect the city center with nearby neighborhoods.
The bus system in Rome is quite complicated and can be difficult for visitors to understand. You'll find the standard information such as the bus route and schedule at each stop. Many stops also have screens that project the next buses arrival time.
Like metro tickets, bus tickets can be purchased as\y any metro station, many newsstands, and corner shops. You must validate your ticket on the bus with the validation machine.
Tram
- Most visitors don't use the trams in Rome because they don't enter the city center. There are six lines available, and they run from 5:30 am until midnight.
Types of Transportation Tickets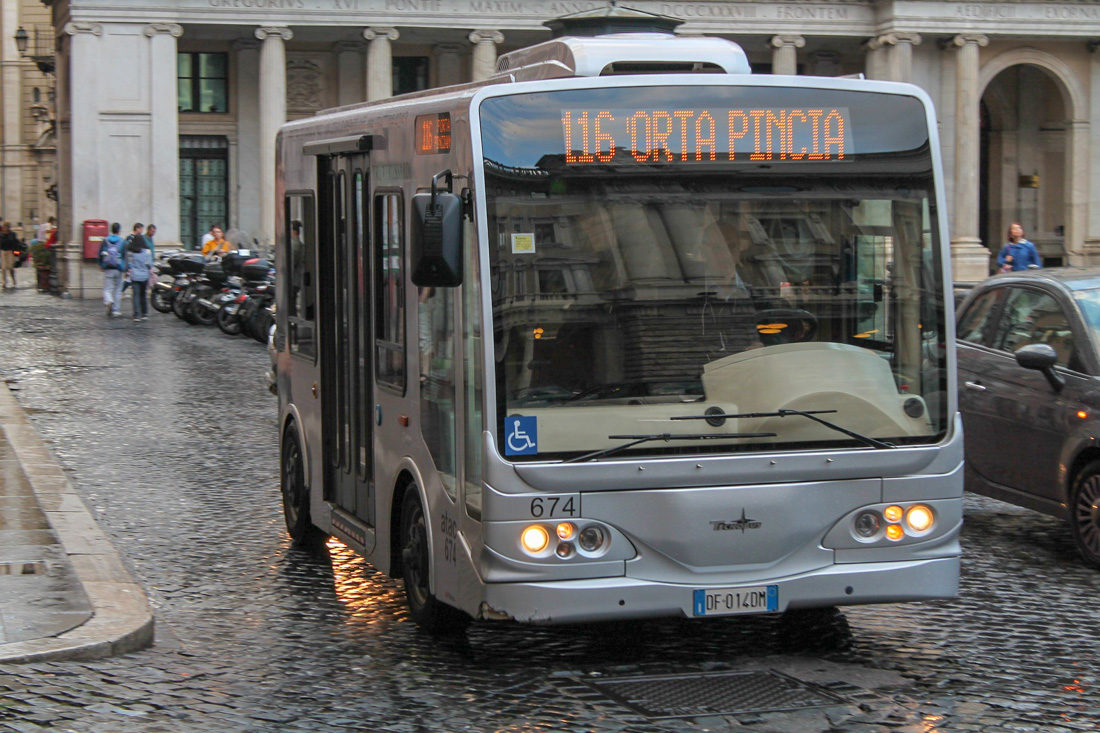 There are several types of tickets that are of interest to tourists.
One-way ticket (BIT) - €1.50
- This ticket is good for 75 minutes after its first use and lets users travel with unlimited transfers on the metro, buses, trams, and urban trains. The one exception is that if you leave the metro, you must purchase a new ticket to ride on the metro again.
Day pass (BIG) - €6
- This ticket lasts from the time of purchase until midnight of that same day.
3 Day Tourist Pass (BTI) - €16.50
- This ticket is good from the purchase time through midnight of the third consecutive day.
One Week Pass (CIS) - €24
- This ticket is good for one week after its first use.
Other Transportation Options
Taxis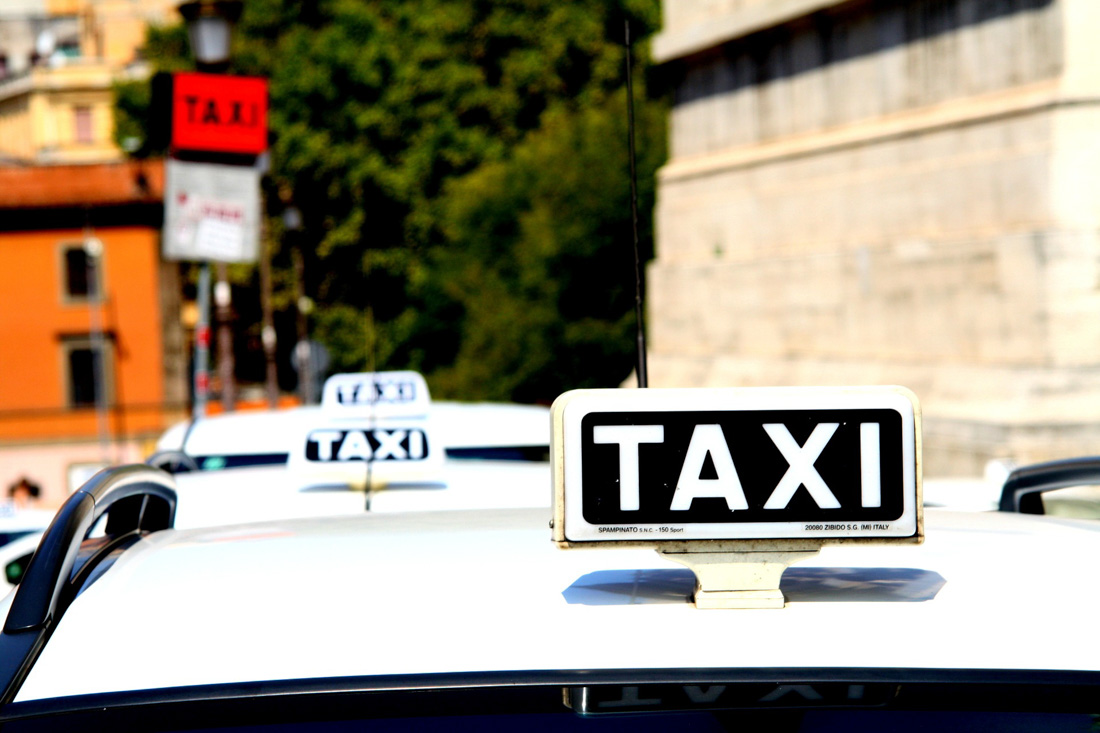 - Like many cities, you really need to watch out and make sure you're not overcharged on a taxi ride in Rome. Even if you're charged the standard fare, the prices can be surprisingly high. If you're on a budget, public transportation is the best way to go whenever possible.
Standard prices for taxis are below:
Weekday minimum fee:
€3
Public Holiday Minimum fee:
€4.50
Night minimum fee (after 10 pm):
€6.50
The
rate per kilometer
can range from
€1.10 to €1.60
. You can also expect to pay an additional fee for each suitcase over one per passenger. If you reserve the taxi by phone there's also an additional €3.50 charge. On
average
, most passengers pay
between €6 and €8
for a taxi ride within the city center.
From Fiumicino Airport
to the city center the standard fare is
€48
.
From Ciampino Airport
to the city center the standard fare is
€30
(for up to four passengers).
From Termini railway station
to the city center you will pay
between €8 and €15.
Walking in Rome
- Many sites in Rome are accessible on foot, but if you really want to enjoy everything that Rome has to offer, it's best to at least orient yourself to the public transportation system. Many of the main sights are spread out, so walking between them isn't particularly efficient. Once you arrive in a particular neighborhood though, take your time, walk around, and immerse yourself in everything you find there. Many of Rome's most hidden gems are the places you stumble upon without a plan or a schedule. Let yourself be lost for a bit, but then be prepared to take a bus back to your hotel.
If you have a limited amount of time for your journey, see our advice about how much time to spend here: Should I spend 1, 2, or 3 days in Rome?, Should I spend 3, 4, or 5 days in Rome?, Should I spend 1 or 2 weeks in Rome? and Is Rome Worth Visiting?