This was a great place to stay for cheap and just a short ride to the city center! Great pubs and restaurants nearby and the staff was very friendly! - Eliza
What sets them apart?
This hostel's convenient location, friendly staff, and low price make it a popular option for backpackers in London.
Hostel Personality
Who's staying here?
This is a backpacker's hostel and all guests must be between the ages of 18 and 40. In reality, most guests are under 30. The staff aim to keep the atmosphere young and fun. There are social events and activities that are specifically geared towards this age group.
Insider Tip
It's worth getting an en-suite bathroom if you want easy access.
Astor Kensington
Astor Kensington is a great hostel option for young budget travelers who want a relaxed but social environment. While it's not a party hostel, it's easy to meet other guests. The staff are friendly and the rooms are in good condition.
This hostel has a strict age restriction between 18 and 40 (with most guests being under 30). The staff are often travelers themselves and there's a young and fun vibe to the hostel. It's located in a quiet area but there's still a ton of restaurants and things to do nearby. The tube is also very close by, which offers access to everything that London has to offer.
The Facilities
Dorms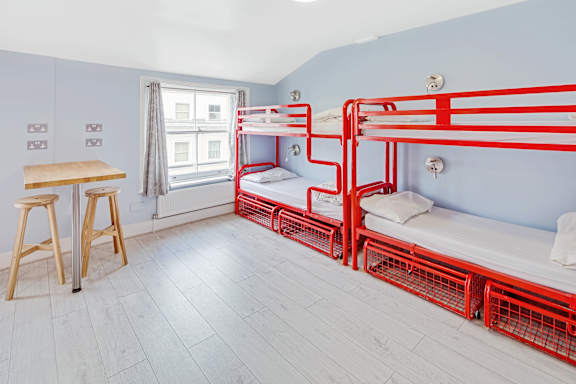 Dorms are at this hostel sleep anywhere from 4 to 12 people. There are both mixed and female only rooms available as well as rooms with shared or en-suite bathrooms, so there really is something for every travel style or budget. Some of the rooms have triple bunks.
Private Rooms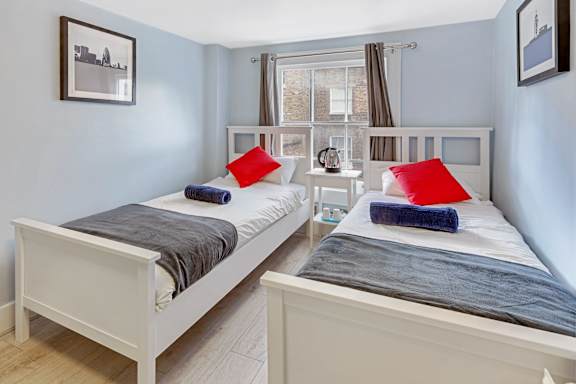 In addition to the dorm rooms there are some twin rooms available that are a good option for young travelers who want the hostel atmosphere, and everything that it offers, without the inconveniences of staying a dorm. The rooms are light but compact with two twin beds and some basic furnishings.
Bathrooms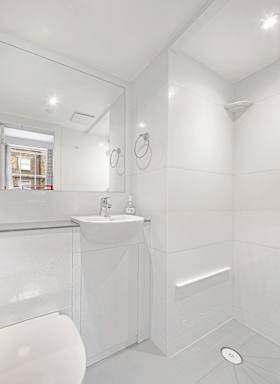 Rooms are available with either shared or en-suite bathrooms. The shared bathrooms can be a bit of a walk from some of the dorms, but overall they're clean and in good condition. The hot water is strong and reliable too.
Common Areas
This hostel has a shared lounge area where guests can hang out as well as a shared kitchen where you can prepare meals. Things feel a little compact, but it's easy to meet other guests and there's a friendly and social vibe to the hostel.
The Location
Notting Hill
What's Nearby?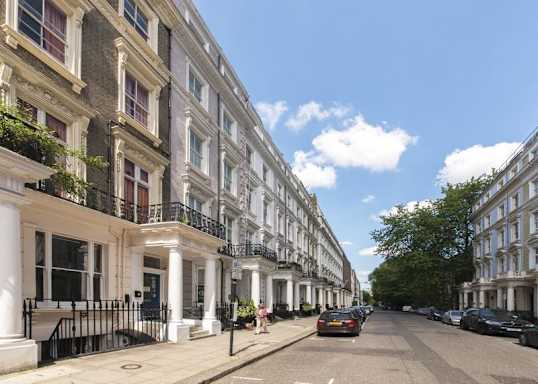 Astor Kensington has a great location in Bayswater, near many sights and attractions. It's just a short walk to Notting Hill, Hyde Park, and Kensington Palace. The area makes the perfect base for exploring the city. You can easily reach Portobello Market, Kensington Gardens and the surrounding neighborhood has many upscale restaurants, shops, and cafes.
Nearby Transportation
In addition to being in a beautiful neighborhood, the hostel is also well connected with all types of public transit. Queensway and Bayswater tube stations are both within short walks. There are also buses that run 24 hours a day. From this location you can really access any part of the city.
Amenities
This hostel has a variety of amenities available to guests. There are laundry facilities, luggage storage, travel information, and plug adapters. There's also a filling breakfast available for a very low donation that goes directly to a local charity.
Staff
The staff here are young and fun. Many of the staff members are travelers themselves so they know what young travelers are looking for in a hostel. There's a relaxed and social vibe and the staff are readily available to address any concerns you may have.
Heads Up
Some guests feel the layout of the hostel makes it a bit hard to social. Many guests felt the hostel was clean, while others didn't believe the cleanliness was up to their standards.
Astor Kensington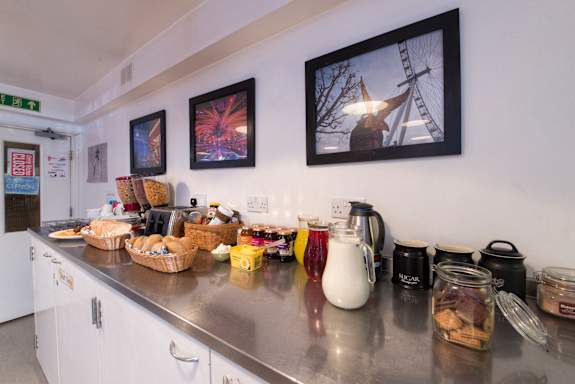 Do you have a favorite hostel that you would like to review? Let us know!