Beautiful historic building, friendly staff, storage lockers for each bed, clean bathrooms - what else could you ask for? Would highly recommend. - Anonymous
What sets them apart?
The unique character, friendly staff, and overall cleanliness of this hostel make it a great option for travelers.
Hostel Personality
Who's staying here?
This hostel has a social atmosphere without being a party hostel. There's a chill bar and lounge where guests enjoy hanging out and a friendly vibe that's inclusive and welcoming.
Insider Tip
Check out Primrose Hill for an impressive view of London.
Palmers Lodge - Swiss Cottage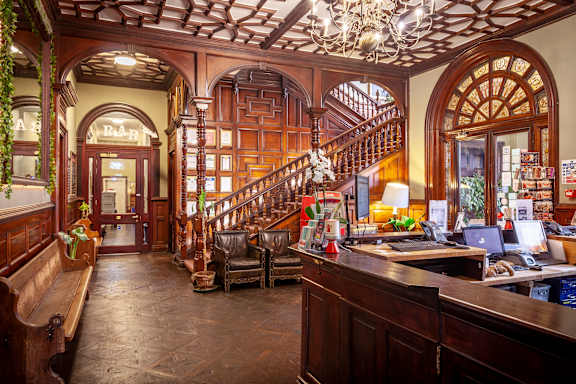 Palmers Lodge is located in a beautiful Victorian building that gives guests a unique experience. It offers a lot of character and larger rooms than many dorms. The staff is friendly and the atmosphere is relaxed but social.
The hostel is located a bit outside of central London, but it's easy to get anywhere by subway. The rooms are larger than you'll find in most hostels around London and the privacy curtains on each bed is a nice touch. Everything is also well maintained and very clean.
The Facilities
Dorms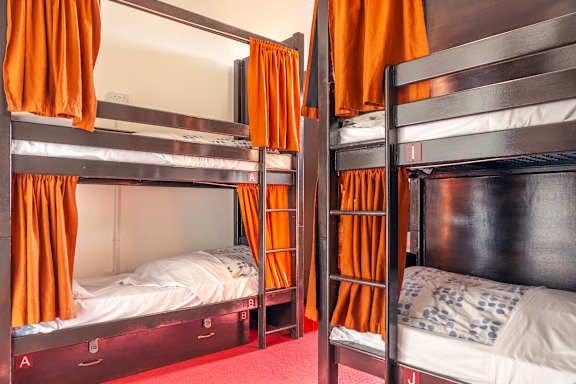 This hostel offers dorms that sleep anywhere from 4 to 18 people. The dorms have bunk beds that each have their own privacy curtain and luggage locker. While the lockers are small, there are larger security lockers available that you can rent for a fee. There are both mixed and female only rooms to choose from.
Private Rooms
Private rooms are also available for guests who want some space to themselves. There are twin, double, triple, and quad rooms, so whether you're traveling with friends or as a couple, there's a private space available to you.
Bathrooms
Some rooms have private en-suite bathrooms while others use shared bathrooms. Extra toiletries are available at the reception area if you forgot anything you might need.
Bar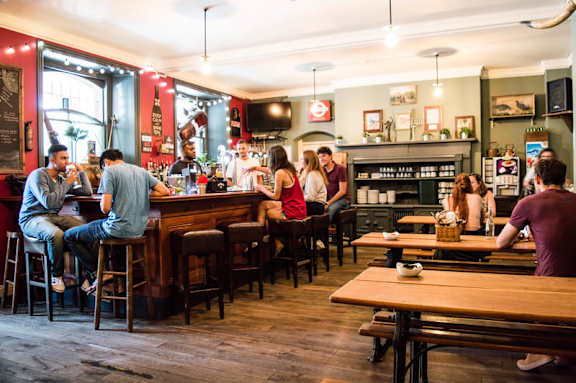 Head to the on-site pub for live music, cold drinks, and some good food. It's both a restaurant and bar with a relaxed but fun atmosphere. The prices are reasonable and it's easy to strike up a conversation with other guests.
Common Areas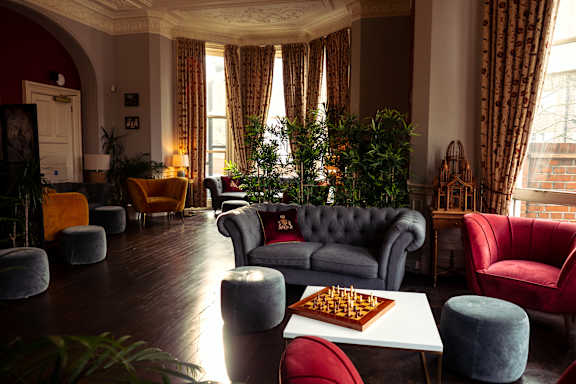 The ornate style of this hostel will leave you feeling like you stepped back in time. The common area has fancy sofas and a lot of character so it's a great place to hang out and read a good book.
Outdoor Space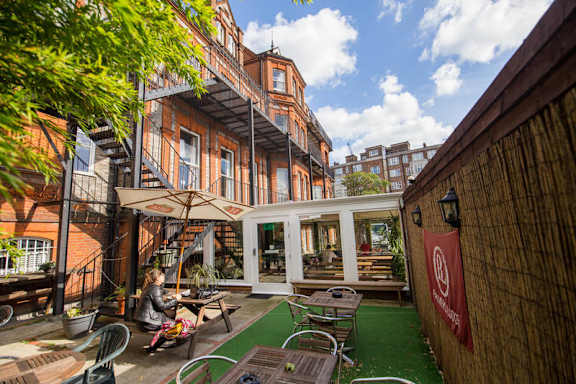 The hostel has an outdoor terrace with tables and a little shade. Make a meal and head out to this quiet oasis if you want to enjoy the nice weather.
The Location
Swiss Cottage
What's Nearby?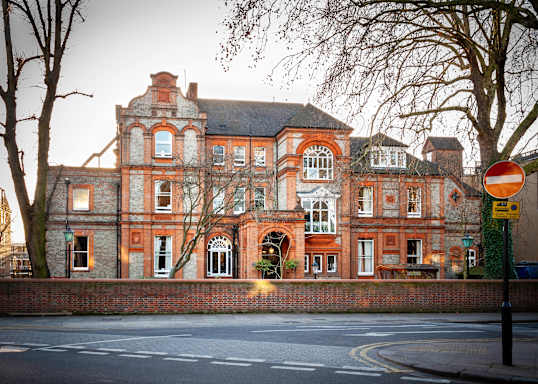 This hostel is located a bit outside of the main sights of central London, but there's easy access to public transit. Camden is also about 1.5 miles from the hostel. Also make sure you head over to Primrose Hill for a nice view of London.
In the area right around the hostel you'll find some restaurants and a farmer's market. There are also grocery stores nearby if you want to grab some ingredients to make your own meals.
Nearby Transportation
This hostel is just a five minute walk from Swiss Cottage underground station and from there the Jubilee Line will take you into central London in about 10 to 15 minutes. The tube offers easy access to Soho, Buckingham Palace, and the many theatres of West End.
Activities
The on-site pub is the place to hang out if you want to meet other guests. They sometimes have live music as well as affordable food and drinks.
Amenities
This hostel has a number of great amenities for guests including board games, PlayStation, movies, and a pool table. There's breakfast available in the morning for a price and vending machines if you need a snack. The hostel also has small lockers available to guests and larger security lockers that you can rent if you need too. Both car and bike parking are also nearby.
Staff
The staff here are friendly and welcoming, and they really keep things running smoothly. The hostel has a welcoming feel so don't hesitate to reach out if you need anything.
Heads Up
This hostel is fairly strict with their check in time so plan accordingly. They're also a bit outside of central London, but it's easily accessible by tube.
Palmers Lodge - Swiss Cottage
Do you have a favorite hostel that you would like to review? Let us know!