London On a Budget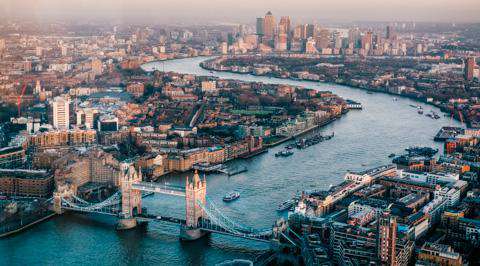 The capital of the United Kingdom is a thriving multicultural metropolis. Steeped in iconic landmarks, world-class museums and royal parks, London is energetic, majestic, ambitious and one of the world's greatest cities. London is a cultural and fashion capital, a great place to go out, an amazing place to eat and one of those cities that is constantly changing with new and exciting things sprouting up almost every day. History and tradition greet you at every turn in the UK's capital. London is also a city with an edgy underbelly, delighting in neon pink dive bars, cheeky graffiti and mind-blowing street food. When you need a break from the action, pop into a pub or relax in one of the city's many parks. Blow through the city on a double-decker bus, and take a pinch-me-I'm-in-London walk through the West End. As one of the most visited cities in the world, London is busy, vibrant and very tourist friendly. The only problem with London is that it's very expensive; it can eat away at your budget if you aren't careful. Luckily, there are also tons of free or cheap things to do in London that can fill your time.
When to go?
There's no right or wrong time to visit London, but there are a few things to consider when choosing your dates. The United Kingdom can be visited at any time of year, as its climate is relatively temperate and, in general, doesn't experience extremes during either summer or winter. Bare in mind that no matter when you travel, you should always pack an umbrella, as the UK is notorious for experiencing misty days and showers year-round. Indeed, England has a bit of a bad reputation when it comes to weather, but one of the joys about the country is that, in fact, it does the seasons very well. Weather and daylight hours are usually the biggest factors for choosing the best time to visit London. Therefore many travellers enjoy a trip to the city in the warmer months. Overall, spring, from March to June, and autumn, from September to November, are the best times to visit, as it is not too busy with tourists and not too cold. Spring is full of new life, with daffodils blooming and Easter egg hunts and autumn dazzles when the trees turn bright red and orange. However, England during summer is all about eating ice cream and picnics in the parks and winter brings snow and cosy nights in front of a roaring fire. Late spring, along with summer is London's high tourist season so hotel and flight prices reflect the surge. December in London is also an incredibly popular place to be during the holidays, so expect the streets to be crowded with both English and international tourists.
Sights
Famous Landmarks
London is home to some of the most famous and iconic attractions in the world. Buckingham Palace is the Queen's official and main royal London home. It has been the official London residence of Britain's monarchy since 1837. When the Queen is at home, you can see her royal flag flying from the flagpole on top of Buckingham Palace. Five regiments of Foot Guards guard the Palace. They wear red jackets and tall, furry hats called bearskins. A familiar sight at Buckingham Palace is the Changing of the Guard ceremony that takes place in the forecourt each morning. Buckingham Palace is open from 9:15am to 7:45pm from July 23rd to August 31st and until 6:45pm from September 1st to October 2nd. In order to see the inside of the Palace, you will need to book a tour beforehand, and there are three different tours available. The Royal Day Out Tour includes The State Rooms, The Queen's Gallery and the Royal Mews and costs £37 for adults, £20.80 for children between the ages of five and 17 or disabled adults, or £33.80 for seniors and students. There are also family tickets available for two adults and three children for £94.80. The State Rooms Tour costs £21.50 for adults, £12.30 for children between the ages of five and 17, and £19.60 for seniors and students. Family tickets are available for £55.30. The State Rooms and Garden Highlights Tour includes a guided tour of the Buckingham Palace gardens as well as the State Rooms and costs £30.50 for adults, £27.50 for seniors and students, and £16.40 for children between the ages of five and 17 or disabled adults. Children under the age of five can get in for free for any of the tours. This is definately a must-see, especially if you only have
one day in London
.
Westminster Abbey
is one of the oldest buildings in London and one of the most important religious centers in the country.
The Palace of Westminster, known also as the
Houses of Parliament
, is where the two Houses of the Parliament of the United Kingdom, the House of Lords and the House of Commons, conduct their sittings. It is the place where laws governing British life are debated and passed. The Palace of Westminster contains the bell
Big Ben
, perhaps London's most famous landmark. Westminster Abbey is open from 9:30am to 3:30pm on Monday, Tuesday, Thursday and Friday, until 6pm on Wednesdays, until 1:30 pm on Saturday from September to April and 3:30pm on Saturday from May to August. Admission tickets cost £20 for adults, £17 for seniors and students, £9 for children between the ages of six and 16, £40 for families with two adults and one child or £45 for two adults and two children. Children under the age of five are allowed to enter for free as long as they are accompanied by an adult.
St Paul's Cathedral
is located within the City of London on Ludgate Hill, the City's highest point. The Cathedral seen today is the fourth reconstruction, built between 1675 and 1711 by Sir Christopher Wren. From the observation balcony you can look out over the modern skyline of the city of London. The dome of St Paul's Cathedral is the second biggest dome in the world, after St Peter's in Rome. At the dome's base is the Whispering Gallery, a circular walkway halfway up the inside of the dome. Due to the acoustics of the curved surface, a phrase whispered against one wall can be heard against the far wall 112 feet away. The Cathedral is open for visits from Monday to Saturday, from 8:30am until 4pm and costs £18 for adults, £16 for students and senior, £8 for children from 6 to 17 years old and £44 for a family with two adults and two children.
Tower Bridge is a spectacular bridge built in the late Victorian era. The city's most famous bridge has gained a daring glass floor on the high walkways, meaning visitors can now look straight down to the road and river 42 metres below and take in the stunning views of London to the east and west from the windows. The Tower Bridge is open to visitors from 10am to 5:30pm from April to September, and 9:30am to 5pm from October to March. Tickets cost £9 for adults, £3.90 for children, and £6.30 for students, and children under the age of five can get in for free.
The Tower of London complex has been a popular London attraction since the Elizabethan ages to learn more about the city's grim yet fascinating history riddled with tales of imprisonment, execution, murder and scandal. Discover the collection of diamonds, crowns, tiaras and scepters that make up the Crown Jewels.
Visiting the Tower of London with kids
is always recommended! The 900-year-old Tower is one of the country's finest historical attractions and has enough to see to fill a whole day. Tickets cost from £23 to £25 for adults and £10.50 to £12 for children aged four to 15 years old. Opening times vary during winter (November to March, open from 9am to 4:30pm from Tuesday to Saturday and from 10am to 4:30pm on Sunday and Monday) and during summer (open from 9am to 5:30pm from Tuesday to Saturday and from 10am to 5:30pm on Sunday and Monday).
The Shard has quickly become an iconic London landmark, despite only
opening to the public
a handful of years ago. The view from "the tallest building in Western Europe" is spectacular. Be prepared to schedule at least 45 to 60 minutes if you want to visit The Shard's viewing gallery, and you will also need to pass through an airport-style security scanner once you enter the building. You can save money by purchasing pre-booked tickets, which cost £24.95 for adults and £18.95 for children, and there are also a limited amount of "walk-up" tickets available each day, costing £29.95 for adults and £23.95 for children, if you don't mind waiting for the next available session. Otherwise, you could pay as much £100 if you want to go up to The Shard's viewing gallery immediately. Children under the age of four can get into The Shard for free, however their tickets need to be booked beforehand through The Shard's official website. The Shard's viewing platform is open everyday from 10am to 10pm from April 1st to October 24th, until 7pm on Sunday to Wednesday from October 25th to March 31st and until 10pm from Thursday to Saturday from October 25th to March 31st.
Parks
Approximately 40% of Greater London's total area is said to be green space. They provide a green haven for Londoners and visitors alike for walking, biking, jogging, horse riding etc. Wander into Hyde Park's vast greenery. Admire the city from the top of Primrose Hill in Regent's Park. The country's largest collection of roses is found in Regent's Park. Queen Mary's Gardens are home to around 12,000 roses of more than 85 varieties, including the unique Royal Parks rose. The fragrance is fantastic throughout the year, but visit in early June to see the blooms at their best. Spot pelicans in St James Park, deers in Richmond Park and peacocks in Holland Park. The latter has many great assets including sports facilities, play areas, woodland and an eco centre, but it also has a remarkable hidden treasure: a traditionally designed Japanese garden, created as part of London's Japan Festival in 1992. Established in 1759, Kew Royal Botanic Gardens is both a world leader in botanic research and an extraordinarily beautiful and popular public park. The entrance fee of Kew Gardens is of £17 at the gate and £16 online for adults, £8.50 at the gate and £7.50 online for students and £5 at the gate and £4 online for children.
Neighborhoods
Strolling from one neighbourhood to the other, it's easy to see why each and every one of London's many neighbourhoods is unique and special in its own way. Soho tends to be the first famous neighbourhood in London that comes to mind, as it's home to sites like
Piccadilly Circus
, Covent Garden and London's bustling theatre district. Piccadilly Circus, which is often described as the "Times Square of London", is one of the most famous intersections on the planet, and it is estimated that nearly 100 million people walk through Piccadilly Circus each year. There is a handful of delights located throughout the square that are worth taking a picture of. The Shaftesbury Memorial Fountain is located at the center of Piccadilly Circus, and was built in 1893 to commemorate the famous philanthropist Lord Shaftesbury. The statue at the top of the fountain depicts the Angel of Christian Charity, however, it was later renamed Eros, after the Greek god of love and beauty. The London Pavilion is another notable attraction in Piccadilly Circus, as well as the Criterion theatre and the world-famous Lilywhites department store. But the ultimate must-do for any first-time visitor to Piccadilly Circus would be to pose for a photo underneath the Piccadilly Lights. Trafalgar Square is named in honour of the British victory, led by Admiral Lord Nelson, at the Battle of Trafalgar in 1805. All you have to do is stroll around Trafalgar Square once to see why it's considered to be the epicentre of London's festivities. The most important monument on the square is Nelson's Column located at the centre, which has four lion statues at its base as well as fountains which were designed by Sir Edwin Lutyens. On the north side of Trafalgar Square is the National Gallery, which houses one of the biggest picture collections in the world. On the southern side of the square you will see a bronze equestrian statue of Charles I which was placed in in 1678, and also two statues of James II and George Washington on the lawn in front of The National Gallery. To the east of Charing Cross Road lies Covent Garden, the famous marketplace turned shopping mall. The bustling tourist neighborhood of Covent Garden is known for a market full of outdoor cafes and quirky street performers, unique shops and restaurants and cultural attractions like the Royal Opera House. Soho is perhaps one of the most expensive neighbourhoods in London for accommodation and restaurants, and souvenir shops tend to be overpriced as well.
Notting Hill has become a household name since the release of the classic 1999 Hugh Grant and Julia Roberts film Notting Hill, and is also home to many celebrities, the Notting Hill Carnival, and world-famous street markets. Do not forget to wander around Portobello Road Market before you leave. Filled with stalls selling food and new goods through the week, Portobello Market is at its best on Saturdays, when you will find some serious treasures in the antiques and bric-a-brac stalls at the Chepstow Villas end of the road.
Shoreditch has become the capital of alternative culture in London since the 1990s thanks to its impressive collections of street art, and is also home to a ton of different street markets, music venues and nightclubs which attract visitors from all over the world.
Gone are the days when Camden Town was characterized only by punk music and grunge. "Sophistication with a little bit of edge" is a good way to sum up the neighborhood nowadays. Venture to the Camden Markets to find great deals on clothing, accessories and other handicraft items. From hot sexy fashion, to hip children's clothing, there's no telling what kind of fashionable items you'll come across at the Camden Lock Market, which is located to the north of The Regent's Canal. Not just limited to clothing, here you can also find food stalls offering food from all over the world, as well as handmade jewellery, second-hand clothing, books, and other random household items you won't find anywhere else in the city.
The City of London is not only one of the oldest areas in London, but also the financial heart of the English capital as well. Here you can find several historic sites like the London Wall and The Tower of London, as well as some of the most jaw-dropping modern architecture in the city like The Shard. The City of London is also quite pricey as many of its restaurants, cafes and shops cater to those working in the area.
Located in West London, Kensington and Chelsea is the smallest borough in London and the second-smallest district in England. One of London's most exclusive neighbourhoods, Chelsea is the place to go for designer labels, expensive brunches and one of the city's top football clubs. London's elite spend their days shopping down the King's Road to then take a break in the Saatchi Gallery for a dose of top contemporary art. Marylebone is a chic residential area with a village feel.
Activities
Museums
Not only is the
British Museum
one of the oldest museums in the world, it's also one of the largest museums in England. Originally the British Museum's collection consisted of manuscripts, books, ethnographic material and various natural specimens and antiques; but over time the museum expanded, and today it contains more than seven million objects which cover over two million years of history and culture. With so many things to see, here is a
list of must-see items at the British Museum
. It's free to enter, and is open from 10am to 5:30pm every day.
Another iconic museum in London is the
National Gallery
. It is one of the most famous art museums in the world and contains some of the biggest and most diverse painting collections on the planet, with artwork from the French Impressionists, the Italian Renaissance, the late medieval period and much more. The National Gallery is free to enter, and is open every day from 10am to 6pm.
From dinosaur fossils and chunks of moon rock, to exotic plants, and even a dodo skeleton, the
Natural History Museum
is home to more than 70 million specimens (with at least 500,000 items being added each year), making it one of the largest collections of natural history in the world. The Natural History Museum is free for anyone to enter, but there may be charges for some of the temporary exhibitions. It is open every day from 10am to 5:50pm.
The building which is now the
Tate Modern
was originally the Bankside Power Station which was built after World War II. Love it or or hate it, this massive art museum will certainly spark a reaction out of anyone who passes through its doors. Entry into the Tate Modern is free (although some temporary exhibitions may have a fee) and is open from Sunday to Thursday (10am to 6pm) and Fridays to Saturdays (10am to 10pm).
The
Victoria & Albert Museum
is the largest museum of both decorative and applied arts in the world. It is also the world's leading museum of art and design, and houses a variety of items which range from architecture, ceramics, art and furniture, to fashion, sculptures, jewellery and even theatre and performance. The collections at the Victoria and Albert Museum are separated into different categories which focus on different areas of the world (South Asia, the Islamic Middle East, Europe from 1600-1815 and Japan), or specific areas of interest.
There are also a variety of temporary exhibitions held at the
V&A Museum
throughout the year. The V&A Museum is free and is open everyday from 10am to 5:45pm and stays open until 10pm on Fridays. Be aware that there are some exhibitions that may have an entrance fee.
Attractions
Originally constructed to mark the Millennium, The London Eye is a slowly circling wheel that looms over the Thames and continues to be one of the city's most-loved icons. Providing astonishing views of the skyline and cityscape, many of London's landmarks are visible from the 135-metre high wheel. The London Eye is open every day except on Christmas, however opening and closing times vary depending on what time of the year you visit. During the winter months, the London Eye is generally open from 10am to 8:30pm and from 10am to 9:30pm during the summer months. It is highly recommended that you purchase your London Eye ticket beforehand and save at least 10% on ticket costs. There are Saver Tickets of £21.20 for adults which you book online beforehand, but if you want to skip the long queues it may be a good idea to purchase a Fast Track ticket, which costs £28 for adults.
Head to the The Globe Theatre to get transported back in time. In the era of Shakespeare, many theatregoers would stay on their feet whilst watching a play. Somewhat charmingly known as groundlings, those who stood would get an ace and up-close view of the show. At the Globe Theatre the groundling tradition has endured, where you can watch one of the Bard's plays for as little as £5.
For a fun day out with children, check out the London Dungeon, where you can expect to meet some of history's most notorious criminals, such as Jack the Ripper, plus fictional Victorian terror Sweeney Todd and his tasty meat pies. The London Dungeon is open seven days a week, every day of the year except Christmas Day. Opening and closing times vary depending on what time of the year you visit. During the summer months, The London Dungeon opens as early as 9:30am, and closes as late as 8pm. There are a variety of ticket options which range in price from as low as £19.95 to £65, however, general admission tickets to The London Dungeon usually cost £23.20 online or £27.83 at the door for adults, £18.20 online or £21.83 at the door for children and £20.20 online or £24.23 at the door for seniors and students. There are also discounts for groups of ten or more people which can cost as low as £14.95 to £19.50 per person when booked online beforehand.
Madame Tussauds is also a fantastic activity for children when visiting London. The wax museum features more than 400 life-like replicas of some of the most recognizable faces in the world, ranging from legends and superstars, historical icons and geniuses, and even religious figures and murderers. It is highly recommended that you pre-book your tickets online beforehand, as you can save a great deal of money on ticket prices and get faster entry into the museum as well. An adult ticket at the door costs £34 and £22 online and a children (from 4 to 15 years old) ticket costs £29.50 at the door and £18 online.
See an all-singing, all-dancing West End show in London's Theatre District. Broadway transfers like 'The Book of Mormon' and 'Kinky Boots', but also homegrown success, such as Andrew Lloyd Webber's epic 'The Phantom of the Opera', Cameron Mackintosh's 'Les Miserables' and the RSC's 'Matilda the Musical' are among the hits. Last-minute tickets from the Leicester Square ticket booth are usually your best bet for a bargain.
Harrods is the world's most famous luxury department store with the latest men's and women's designer fashion, luxury gifts, food and accessories. It's also a great place to pick up some of the
best London souvenirs
. The upscale food court inside Harrods is a fabulous place to have lunch, too.
Plenty of activities and sights can also be found just outside of London. Many can be visited in a day by train or bus. If you're interested in more information, read this article about
10 great day trips from London
.
Food and Dining
Today London is one of the world's leading culinary centers, with creative new restaurants opening all the time. London is a foodie adventure full of restaurants and street markets where you can get authentic food from around the world.
Afternoon tea in London is a must, and there's no shortage of places to have it. Traditionally comprised of finger sandwiches, scones with jam and cream as well as pastries and your choice of tea, afternoon tea is meant to be an experience so make sure you reserve a couple hours to enjoy yourself.
And of course, no London travel guide would be complete without the mention of pubs. Here are traditional English meals and dishes that are worth a try. A full English breakfast is a hearty meal. Most often it includes a fried egg or two, smoked bacon, sausages, baked beans, a grilled tomato half, hash browns, and sauteed mushrooms.
There is nothing that says British Food like Fish & Chips. Although fish & chips is best eaten on the seaside, in Brighton, Blackpool or Whitby, it is possible to get great fish & chips in London.
A real pleasure for many Brits is to spend leisurely weekend afternoons in the local pub socializing with friends and family over a Sunday Roast. This may be roast chicken, lamb, beef, or pork with crispy chunks of potato, carrots, and other steamed veggies such as broccoli, green beans, or Brussels sprouts. And a Sunday roast would not be complete without an airy and crispy Yorkshire pudding, gravy sauce and a Sticky toffee pudding for dessert.
Another classic British treat is the simple and delicious Eton Mess, named after the prestigious boys school. This is a wonderful mix of crushed meringue, cream and strawberries.
If you want to taste it all, and experience some of the best food in the center of London, then you should consider taking a food tour. One of the best is the
London Bridge Food Tour
which visits a number of terrific establishments within a short distance of the famous and historic bridge.
Transportation
It is much better to buy an Oyster Card than to use separate tickets - it's just plain more convenient. First of all, It is not possible to buy tickets on the bus. Also it is much cheaper to travel with the Oyster card than buying separate tickets as it provides a bulk discount. In the centre of London you will easily save up about 50% per journey! If you have a credit card or bank card that allows you to pay wirelessly, you can also use it to travel. The fees are the exact same as with an Oyster card and the system is even easier: you just use your bank card to touch on and touch off, and you don't have to top up any credit at any time.
Many tourists in London choose to use the tube because of the 'mind the gap' experience. However the bus is cheaper (£1.40 per journey), and allows you to see much more of the city. It's like a free tour bus! Well, not exactly, but you can see all of the buildings and shops along the road while you travel. Taking the bus is just one of many ways to
travel to the UK on a budget
, so make sure you consider it.
Also, you simply can't leave London before you've taken a ride on a double-decker bus. The 'tube' or 'underground' is your fastest option in most cases, but if there is no tube station close by, your best call might be the bus, which often drops you off right where you have to be.
The tube system is very easy. It has a few lines, which can be differentiated by their name and color, and you can easily see how and where you have to transfer. If you miss your train, you usually only have to wait between 2 and 5 minutes for the next one. However, the tube in London is very expensive, with a single journey costing £2.40. Try to avoid the tube as much as possible during peak hours and summer because it gets extremely hot and sweaty.
There are five types of trains in London: the overground, the Tfl Rail and the DLR (Docklands Light Railway) where you can use your Oyster Card. With Airport Express trains (Heathrow Express, Gatwick Express, etc) and other trains travelling outside of London, you can't use your Oyster Card on them but you have to buy tickets at the ticket machines.
The
Santander Cycles
are a true phenomenon in London. The concept is quite simple: you can find these bikes on almost every corner, where you can rent them and bring them back to any station you'd like. In order to use them, you have to pay £2 per 24 hours. This is a fixed price and you have to pay with your bank card. The journeys are free, as long as you put them back within 30 minutes. After that it will cost you £2 for every 30 minutes. While the black cabs are a phenomenon in London, they're quite expensive! Uber is very useful and cheaper, especially if you share your trip with multiple people, or if you use UberPool, where the driver picks up other people. It will only cost you a few pounds to get from one side of London to the other.
Useful free apps for public transport in London include Citymapper. It's very easy to use. You just put in your destination and it will tell you all the ways to get there by public transport (bus, tube, train), how long it takes and what time you will arrive at your destination.
Tube Map London Underground
is another simple app where you can look at a tube map of the London underground. You can easily see how the line runs and where to transfer. Of course Google Maps gives you travel advice as well.
London has several large airports, the busiest being Heathrow and Gatwick. Many travelers end up here on a layover, so check out this
guide to sleeping at Heathrow airport
.
Tips to Save Money in London
Budget living in London may be difficult but not impossible! Bare in mind that many public museums and walking tours offer free admission in London. It's a great way to learn about science, influential artists, immerse yourself in the country's history, and waste a rainy day without paying a cent. Walking tours usually last a few hours and are a great way to see the city. Whether you want to marvel at amazing works of art at a free exhibition or just want to relax and read a book at the British Library, the list of things you can do for free is endless. In London, rely on walking and public transport, especially buses, to get around. Private cars and taxis can ratchet up the cost of your trip significantly because fuel costs in Britain are high. Visitor Oyster cards and contactless payment cards offer the cheapest ways to travel in London. Using a Visitor Oyster Card is more than 50% cheaper than buying one-day paper Travel Cards or single tickets with cash. A good way to lower your food expenses is to stick to eating out during lunch only. Restaurants offer fabulous lunch specials where you can get multi-course meals for around 10 GBP. For good cheap and filling meals, visit the local pubs. Most serve good meals for less than 10 GBP and are a great way to meet the locals! Don't let London's reputation for expensive accommodations put you off visiting. For budget accommodation, look no further than London's friendly hostels, budget hotel chains, B&B's and Halls of Residence. If chilly days don't bother you, January is the cheapest month to take a vacation to London. The hotels have the lowest prices, and since tourism is usually weak, restaurants, theaters and museums offer deals to boost business.