The hostel was very close to the Kings across station, but just far enough away to be quiet. Lovely clean beds. A nice continental breakfast (at £4 extra) and clean bathrooms and toilets. - Anonymous
What sets them apart?
This hostel's location near King's Cross and all kinds of public transit make it a popular option with budget travelers. They organize a number of activities for guests and offer a fun environment.
Who's staying here?
This hostel is very close to the Eurostar station so many guests spend just one night here before catching the train. It's a convenient place to crash for a night and it's very affordable so it typically attracts budget travelers who are just passing through.
Insider Tip
The breakfast is a bit small so pay a little more and grab something at a cafe.
Clink261
Clink261 Hostel is a well established hostel in the popular are of King's Cross. The hostel is well connected to public transit with both the King's Cross tube station and the Eurostar station nearby.
There are a wide variety of dorm sizes here as well as some twin private rooms. While the rooms are quite compact, the beds are comfortable and there's a small partition between each bunk that offers a bit of privacy.
The nearby Clink78 (just a few minutes walk away) has a bar that many guests enjoy hanging out at. There's often live music or a DJ as well as drink specials and games.
The Facilities
Dorms
This hostel has a wide range of dorm sizes and styles available, so you can find a room that meets your budget and privacy preferences. There are rooms that sleep anywhere from 4 to 18 people (with everything in between), so whether you want a cheap bed in a social room or a bit more privacy, there's something for you. There are also female only rooms available. The dorms have bunk beds that each have their own reading light, plugs, and locker. Make sure you bring your own padlock. The rooms are very small, but this is central London so that's not uncommon.
Private Rooms
If you're traveling as a couple or with a friend, you might appreciate the twin private rooms that the hostel has available. The rooms are simple and use a shared bathroom in the hallway. It's a nice space if you want all of the amenities of a hostel without the hassle of staying in a dorm.
Bathrooms
The bathrooms are shared and in the hallway. Some floors have separate bathrooms for men and women while others do not. The bathrooms are clean and in good condition. Guests in the private rooms are given a towel free of charge, while those staying in dorms can rent one.
Bar
Although this hostel doesn't have its own bar, guests are welcome to go to ClashBAR, at the nearby Clink78 Hostel. It's just a minute's walk away and there are all kinds of events and drink specials for guests. They host frequent DJ nights, live music, and more. Make sure to check it out!
Common Areas
This hostel has a cozy lounge with comfortable seating and some games for guests. There's also a shared kitchen that's perfect for preparing your own meals. There are also some tables available where you can chat with other guests or enjoy your meal with a good book.
The Location
King's Cross
What's Nearby?
Clink261 is located in the popular King's Cross area. This neighborhood has many popular clubs and a creative vibe and plenty of great restaurants, shops, and cafes. Make sure you check out 'Kerb' Street Food Market at nearby Granary Square. The Camden Market is about a half hours walk away, as is the British Museum. Many of the city's most popular sights can easily be reached by public transit.
Nearby Transportation
This hostel is easily accessible from all types of public transit. The King's Cross Tube Station and St. Pancras International Station are less than a five minute walk away. This is a major transit hub for the city. From there you can access almost any part of London you'd like to explore. St. Pancras International Station is also where the Eurostar Terminal is found.
Activities
Most of the activities are held at the nearby Clink78 Hostel. It's just a short walk away and you can head to the bar for drinks, music, and socializing.
Amenities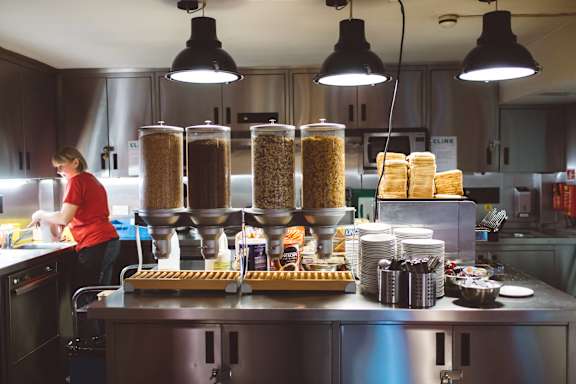 This hostel has a variety of amenities available for guests including laundry facilities, luggage storage, Wi-Fi, and a book exchange. Breakfast is served every morning for a small price, but most guests prefer skipping out on the small breakfast and heading to a nearby cafe for something more substantial.
Staff
The staff here is friendly and helpful. They organize a number of activities for guests and genuinely seem to enjoy helping people out. It's a friendly and welcoming atmosphere and feels like a true backpacker's hostel.
Heads Up
The rooms in this hostel are pretty small, but the location makes up for that. Some guests feel the hostel could have better ventilation and some of the facilities need to be updated. But in general guests think the beds are comfortable.
Clink261
Do you have a favorite hostel that you would like to review? Let us know!