AMAAZING! Location is absolutely perfect - slap bang in the middle of the action. The place is kept spotlessly clean, the beds and clean and comfortable and you even get breakfast! I don't think it would be possible to get better value for a central London location. Stay at SoHostel!! So good! - Anonymous
What sets them apart?
This central hostel is close to everything and offers excellent value for the money. It's very clean, includes a free breakfast, and has many great events that makes meeting other guests easy and fun.
Hostel Personality
Who's staying here?
This is a fun hostel with a social atmosphere. They host a number of events, particularly on weekends, and cater to a younger crowd.
Insider Tip
The beds can be a little shaky, so if possible claim a bottom bunk.
SoHostel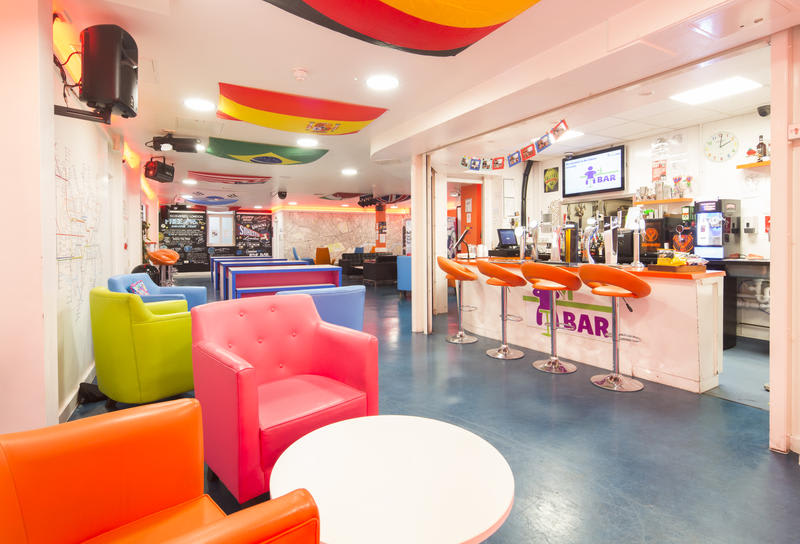 SoHostel London offers an excellent value for budget travelers who want to be near everything. It's just a short walk from two underground stations and is in a fun neighborhood with great clubs, international restaurants, and plenty of shopping. There's also a grocery store right across the street.
The hostel is basic but very clean. There's an on-site bar and a number of activities available to guests, particularly on the weekends. Breakfast is included in the price of the room, and it's pretty filling. If you want to upgrade to a full English breakfast there's a very minimal charge for that.
The rooms range in size and you can choose anything from a 3 bed to an 18 bed dorm, with everything in between. There are also private double and twin beds available.
The Facilities
Dorms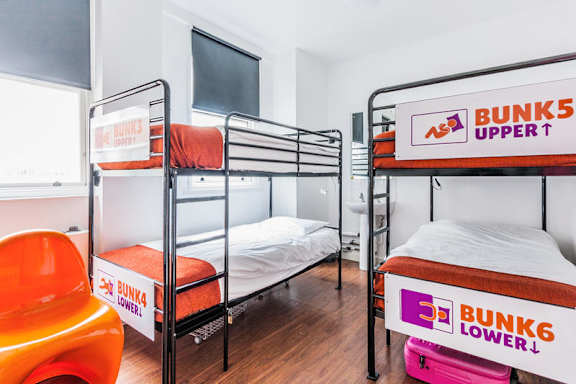 This hostel has a wide variety of large and small dorm rooms to choose from. There are dorms that sleep anywhere from 3 to 18 people, with everything in between to choose from. There are also female only and mixed rooms available. Some of the rooms can feel a little cramped, but this is London so that's not unusual. The beds are a bit basic, but everything is very clean. Overall it's a great value for the money.
Private Rooms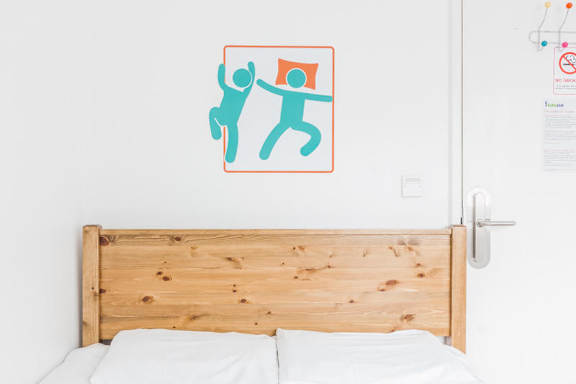 If you're travelling as a couple, or just want some space to yourself, you'll likely appreciate the double or twin private rooms that the hostel has available. The rooms use the shared bathrooms, but have basic furnishings in a private setting.
Bathrooms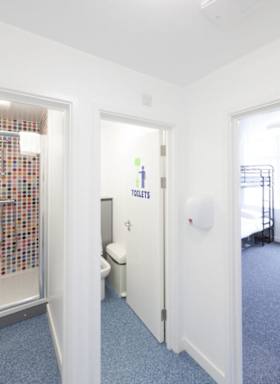 Some rooms have private bathrooms while others use shared bathrooms. The bathrooms are cleaned regularly and the showers are great with good water pressure. There's also a separate space with hairdryers and hair straighteners that many guests appreciate.
Bar
This hostel has a great on-site bar. Many guests head there first before heading out on the town. There are daily drink specials and happy hours. They host Friday night karaoke sessions and live music on weekends.
Common Areas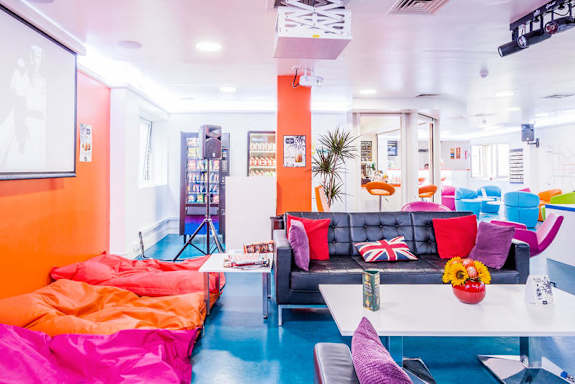 In addition to the on-site bar, there are some nice common areas in this hostel where guests like to gather. They can get a bit crowded at times but it's usually pretty relaxed and a nice space to meet other guests. Like the rest of the hostel, the rooms are brightly colored with comfortable seating and lots to do. There are vending machines, board games, and more.
Outdoor Space
The hostel also has outdoor space with some seating and a place to grab a drink. It's a nice area to hang out when the weather is nice.
The Location
Soho
What's Nearby?
This hostel is right in the heart of the bohemian Soho neighborhood. It's central to many interesting parts of the city and is less than a ten minute walk from the shops of Oxford Street and Covent Garden's West End theaters. Head to Leicester Square if you want to grab a last minute discounted ticket to a show. Piccadilly Circus is also about a seven minute walk away and the famous Trafalgar Square is 11 minutes away on foot. There's plenty of places to grab a bite to eat in the area and some of London's best clubs are nearby, so you won't be bored in the fun lively neighborhood. The restaurants offer a great international mix where you can try almost any kind of cuisine you'd like and there's a grocery store right across the street if you need to pick up supplies.
Nearby Transportation
The closest Underground stop to the hostel is Tottenham Court Road. It's less than a five minute walk away and offers access to pretty much anywhere in the city you'd want to go. If you're flying in to London, you can take an express train from any airport to central London and then take the underground to the hostel.
Activities
This hostel has a number of great activities for guests. During the day you can explore the city on one of the hostel's free walking tours. In the evening, head to the on-site bar to see what's going on. Weekends tend to be the most active with Friday night karaoke night and live music shows.
Amenities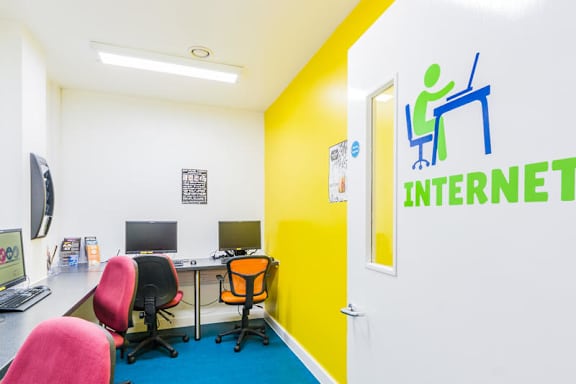 This hostel has some great amenities available to guests including a free breakfast which can be upgraded to a full English breakfast for a minimal charge. There's also laundry available, free luggage storage, travel information, and more.
Staff
The staff here are professional and helpful. They keep things running smoothly and organize a variety of activities that guests enjoy.
Heads Up
Many guests complain that there aren't enough power outlets in the dorm rooms, particularly the larger dorms. The rooms themselves are a bit small, but this is typical of London.
SoHostel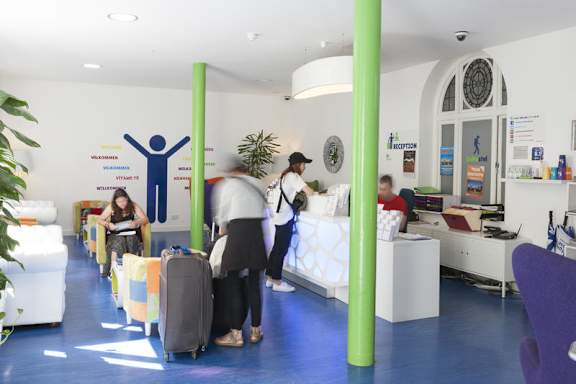 Do you have a favorite hostel that you would like to review? Let us know!