Great hostel, not far from underground and it's clean. - Anonymous
What sets them apart?
This hostel's cheap price and basic accommodation make it a good option for budget travelers and young backpackers visiting London.
Who's staying here?
This is an affordably priced hostel a bit outside of the central part of London. It is a large hostel and it's not uncommon for large school groups to stay here. Solo female travelers have said they felt uncomfortable in the neighborhood and staying at the hostel.
Insider Tip
Familiarize yourself with public transit (bus and tube options). This is the best way to explore the city.
Safestay London Elephant & Castle
Safestay London Elephant & Castle Hostel is an affordable but basic hostel a bit outside of central London. It's easily accessible to the tube most of the city's top tourist attractions can be reached in just a 15 minute train ride.
The hostel has a large number of rooms and can accommodate large and small groups. It's not uncommon for school groups to stay here, but this hostel is also popular with budget travelers who want good value for their money. There are regular activities available to guests and there's an on-site bar that's a fun place to hang out.
The Facilities
Dorms
Dorms are available that sleep 4, 6, or 8 people. There are both mixed and female only rooms to choose from as well as rooms with en-suite or shared bathrooms. The rooms are bit a small, but this is typical for London hostels. There are also secure luggage bins available where you can lock up your belongings and curtains on the beds provide a little privacy.
Private Rooms
Twin, triple and quad rooms are available that can be reserved in their entirety. These are good options for small groups of friends that don't want to share a dorm room. The rooms are basic but comfortable and are available for a decent price.
Bathrooms
Guests can choose between rooms with ensuite bathrooms and rooms that use shared bathrooms. Some guests feel that the bathrooms could be cleaner and kept in better condition, but they serve their purpose.
Bar
The on-site bar is a popular place to hang out and grab a drink. Drinks are reasonably priced and it's a fun place to hang out.
Common Areas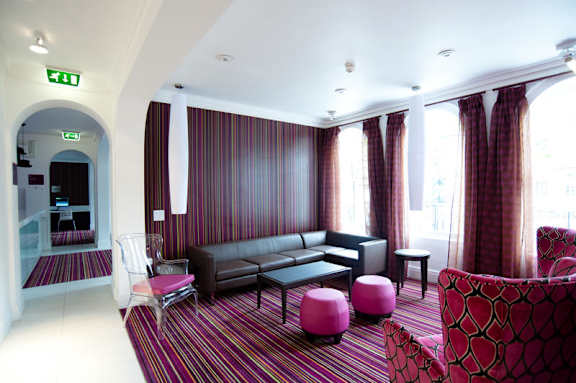 This hostel has a few common areas where guests can hang out, read a book, or use the Wi-Fi. There's a pool table and a couple places to chill out and chat with other guests during your visit.
The Location
South London
What's Nearby?
Located in an 18th century Georgian building in South London, this hostel is close to the River Thames. It's near a wide variety of restaurants, bars, and cafes. It's within just a 15 minute tube ride of some of the city's top sights including the London Eye, Big Ben, Oxford Street an Leicester Square.
Nearby Transportation
This hostel is just a five minute walk from the Elephant and Castle tube station and from there is just a few stops from the London Bridge, Leicester Square and Piccadilly Circus. Many of the city's top attractions are within a 15 minute tube ride of the hostel.
Activities
This hostel organizes a number of activities for guests. There are free walking tours of the city, pub crawls to some of London's best clubs, and almost daily activities that help you meet other guests. They also have interesting activities like boat tours or group trips to shows. If you need help purchasing tickets to activities or sights, the staff can make those arrangements for you.
Amenities
This is a large hostel with some decent amenities available to guests. There's breakfast in the morning for a small price. There are also laundry facilities and 24 hour reception service. There is Wi-Fi, but it could be stronger throughout the whole hostel.
Staff
This is a large hostel and at times the staff can get a bit overwhelmed by the crowds. Many guests had positive experiences with the staff, while others felt there wasn't a particularly welcoming vibe.
Heads Up
Some guests feel the bathrooms could be cleaner. There have also been complaints that each bunk does not have it's own outlet and USB port. There's also not a shared kitchen.
Safestay London Elephant & Castle
Do you have a favorite hostel that you would like to review? Let us know!