I loved this hostel! The staff was friendly and easy to work with, very clean space, and met some dope people. Overall really good experience. It's worth it to get the pods! - Anonymous
What sets them apart?
This hostel's on-site bar, Belushi's, is the place to be if you're looking for a party. The comfortable pod-style beds are a favorite of guests, and the location of the hostel is excellent.
Hostel Personality
Who's staying here?
This is a party hostel with dorms that can sleep up to 33 people. You can expect a young crowd looking to save money and have a good time. As part of an established hostel chain with a good reputation, they offer plenty of activities throughout the week. If you want a social atmosphere then this is your place.
Insider Tip
Skip the breakfast and head to a cafe for something more filling.
St Christopher's Village
St. Christopher's Village is part of a popular hostel chain that's famous for it's on-site bar (Belushi's), lively parties, and fun activities. There are regular happy hours and weekend dance parties that last late into the night. They also organize pub crawls and game nights, so if you're looking for a party, this is the place.
The hostel has a wide range of dorms that sleep anywhere from 4 to 33 people. The pod style beds offer a bit of privacy, and there are unique capsule beds available as well if you want your own small space.
The Facilities
Dorms
This hostel has an absolutely huge range of rooms you can choose from. There are the smaller dorms, that sleep 4, 6, or 8 people all the way up to a room that sleeps 33 people (with options in between). The 33 person dorm is the lowest priced, and fits people on triple bunk beds. A privacy curtain gives you a little escape from the other travelers. There are also private capsules available in a 26 bed dorm. Your personal capsule is fully enclosed and soundproof. This unique option is a bit pricier than a bunk bed, but worth a try if you're up for something different.
Private Rooms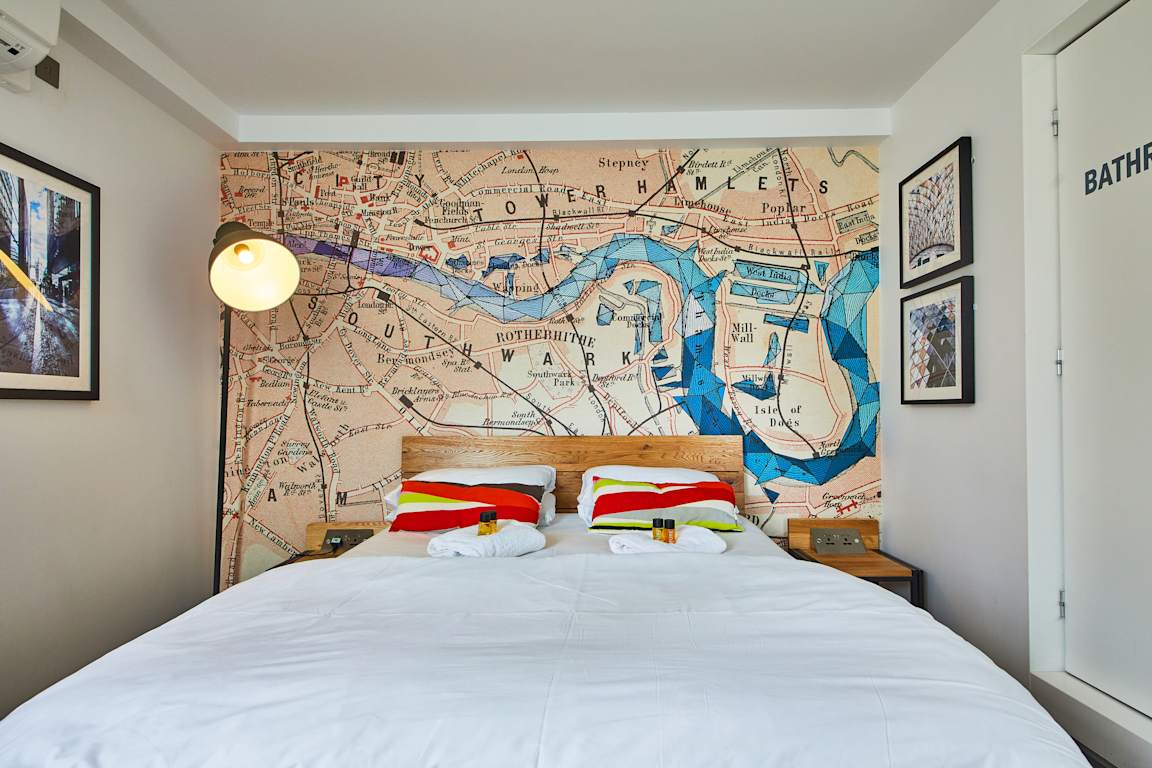 In addition to the private capules, which give you your own private, soundproofed space, there are double and twin rooms available. These rooms are perfect for couples traveling together who want affordability but also want their own space.
Bathrooms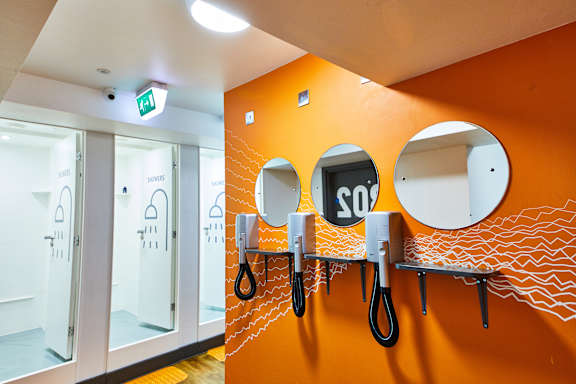 All of the rooms use shared bathrooms. The bathrooms are cleaned regularly and in decent condition with good hot water. There are a large number of guests using the bathrooms, so you can expect the normal inconveniences, but in general they're kept in good condition.
Bar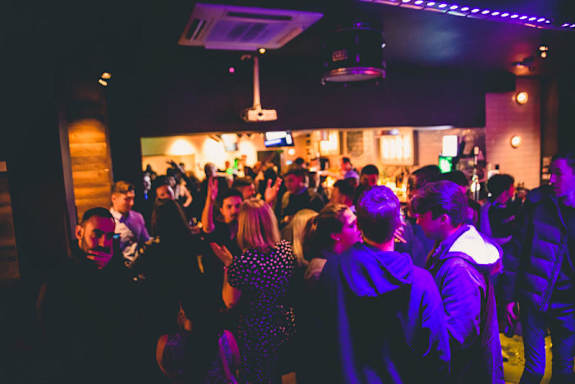 Belushi's Bar
is this hostel's famous, on-site bar. You can head there to watch sports or enjoy a drink and on weekends there are parties that last late into the night. The DJ keeps the music and dancing going strong until 3 AM. If you need to refuel, grab a burger which is surprisingly good and affordable.
Common Areas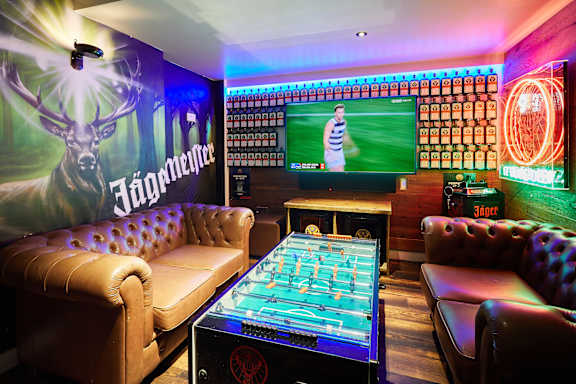 The hangout room is a bit smaller than you'd expect for this size hostel, but it's still a comfortable place to relax for a bit. This space, combined with the bar and outdoor terrace, make relaxing with friends easy and comfortable.
Outdoor Space
The outdoor terrace is a nice place to pass the time when the weather's nice. There are tables where you can enjoy a good meal or a drink, or just chat with friends.
The Location
Southwark
What's Nearby?
St. Christopher's Village is conveniently close to many sights and attractions in London. It's walking distance to the London Eye and Tower Bridge (around a mile away). It's also near Borough Market, which is the perfect place to try some new and interesting foods. The area has many great restaurants and shops, and it's a nice place to base yourself during your time in London.
Nearby Transportation
This hostel is also easily accessible from public transit. The London Bridge tube station is less than five minutes away and Borough station is also very close by. From there you can easily access London's major airports or anywhere else in the city you might like to go.
Activities
This hostel is all about the activities. It's a popular party hostel, and the events won't disappoint. There's often live music, beer pong tournaments, and all kinds of activities at Belushi's, the hostel's on-site bar. There are nightly pub crawls that hit up some of London's best nightclubs and on weekends you can hang out until 3AM at Belushi's to dance and drink. There are also regular happy hours with great drink specials.
Amenities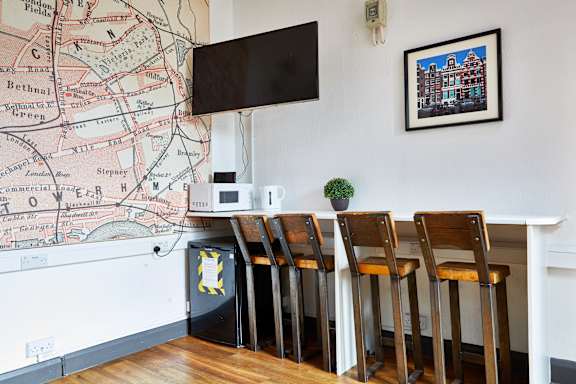 This is a large hostel with all of the amenities that you'd expect from a chain hostel. There are laundry facilities, Wi-Fi access, vending machines, and travel information. There's also an elevator, and breakfast for a small price.
Staff
This is a large hostel and the staff can get a bit overwhelmed. The activities and atmosphere are fun, but many guests felt the service could be improved.
Heads Up
Guests frequently complained about the service they received, but this is a large hostel with many employees, so one group's experience does not reflect everyone's. Many guests also complained that the pillows are very uncomfortable. Also note that there is no kitchen.
St Christopher's Village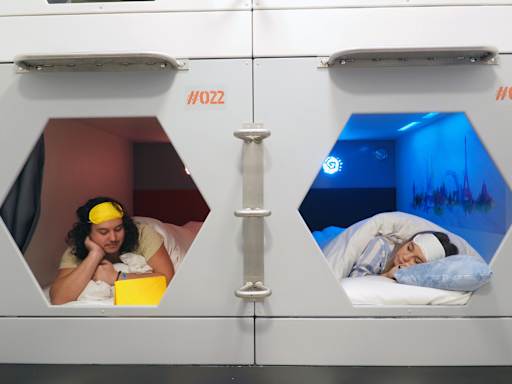 Do you have a favorite hostel that you would like to review? Let us know!