Really great hostel. Very clean and the staff are friendly and happy to provide recommendations. Large lockers to lock up valuables in room and the beds were surprisngly comfortable. - Jennifer
What sets them apart?
This hostel's central location, friendly staff, and basement bar make it a very popular option for budget travelers headed to London.
Hostel Personality
Who's staying here?
This hostel is social and fun but the rooms are still quiet and comfortable. It's a large hostel that can accommodate many types of travelers. It has a very safe and secure feeling, so independent female travelers say they never feel uncomfortable staying here as well.
Insider Tip
No need to bring a padlock - your room keycard also unlocks your security locker.
Wombat's City Hostel London
Despite being a large chain hostel, Wombats City Hostel in London managers to maintain some of the personal touches. The rooms are comfortable and clean and the staff are very friendly and accommodating. The basement bar is a social and fun place to hang out. It's really easy to meet other guests, even if you're traveling alone. If you're headed to bed early, you'll appreciate that the rooms stay very quiet and you can't hear any noise from the activities downstairs.
This hostel is in a convenient location near popular sights such as the Tower of London. It's also walking distance to the underground. The more popular nightlife areas are a slightly further walk, but still accessible.
The Facilities
Dorms
This hostel has dorms that sleep 4, 6, 8, or 10 people. Both mixed and female rooms are available. Each guest is given a security locker and a smart card that provides access to both the room and the locker. No worries about bringing your own padlock. Each bed also has its own shelf, plug, and reading light. The rooms are very clean and the beds are surprisingly comfortable.
Private Rooms
Traveling as a couple? Check out the private double or twin room options. They all have their own en-suite bathroom. The rooms are comfortable and clean and the privacy is a nice alternative to sleeping in a dorm. The rooms are of the standard you'd find at a mid-level hotel.
Bathrooms
All of the rooms have private ensuite bathrooms with showers. Like the rest of the hostel, the bathrooms are clean and in good condition. Guests are given free towels with their room.
Bar
Head to the basement bar to meet other travelers and enjoy a cold beer. The bar stays active and fun into the night, but it's separate from the rooms so you won't hear the noise if you head to bed early.
Common Areas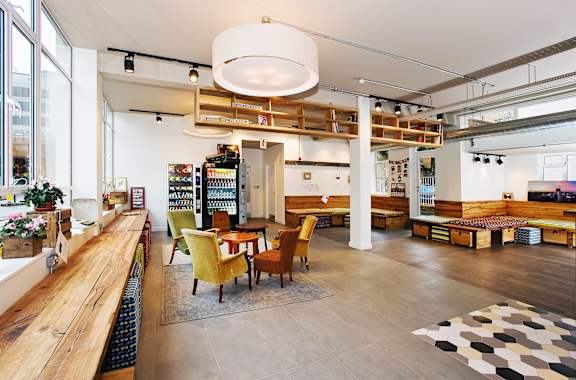 The lounge area and common space is large with comfortable seating. There are board games and other activities available, or you could use the Wi-Fi to connect with friends and family back home. There's plenty of space to hang out and meet other guests or you could challenge your mates to a game of pool.
Outdoor Space
The outdoor courtyard is a nice place to hang out and enjoy the sun when it's out.
The Location
Whitechapel
What's Nearby?
Located in the Whitechapel area, this hostel is very convenient for visiting London. It's close to some of the most iconic landmarks including the Tower Bridge, the Tower of London, and Wilton's Music Hall. The area has plenty of places where you can grab a bite to eat, or you could head to nearby Shoreditch, which has lively nightlife, popular restaurants, and a number of cafes.
Nearby Transportation
Located in central London, this hostel is well connected to public transportation and the underground. It's about a ten minute walk to the closest underground station. Tower Hill, Aldgate East, and Aldgate underground stations are all accessible from the hostel. These will take you to the fascinating Brixton and Notting Hill neighborhoods.
Amenities
This is a large hostel with many great amenities. There's laundry facilities, a shared kitchen that guests can use, travel information, pool and foosball tables, board games, vending machines and more. Breakfast is available for a reasonable price. The building itself is also very safe and secure with keycard access and 24 hour reception.
Staff
The staff here are friendly and professional. This is a large hostel, but they keep things moving smoothly and still offer the personal attention that you'd expect at a smaller hostel. Despite being a larger chain hostel, there's still a community vibe here that makes it easy to meet people.
Heads Up
This hostel is a bit expensive, but offers good amenities. It's also a bit of a walk from the underground stations.
Wombat's City Hostel London
Do you have a favorite hostel that you would like to review? Let us know!