Very happy with my stay at PubLove. Great location, very close to Victoria station and within walking distance to many of the major tourist sites. Staff were very helpful and friendly, and everything was extremely clean. - Anonymous
What sets them apart?
This hostel's prime location, friendly staff, and social pub make it a great option for visitors to London. The hostel is clean and guests enjoy discounts at the bar.
Who's staying here?
Most guests choose this hostel for its excellent location. Most of the rooms are dorms, so it's popular with budget travelers who prioritize convenience and price over everything else.
Insider Tip
The bunks are three beds high so try to request a lower bunk.
PubLove @ The White Ferry, Victoria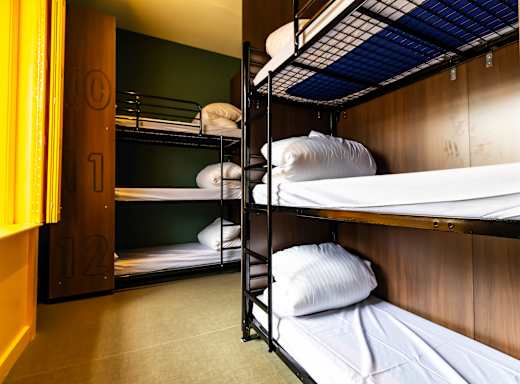 PubLove is part of a chain of hostels and is located above a British pub. This hostel has dorms that sleep anywhere from 3 to 12 people. The rooms are clean and the value for the money is good. The pub is a great place to hang out where you can meet locals and travelers alike.
The location of this hostel can't be beat. It's walking distance to many popular sights and is right by a tube station. There are many great restaurants in the area and there's a supermarket where you can grab food as well.
The Facilities
Dorms
Dorms are available that sleep 3, 6, 9, or 12 people. The smaller 3 bed rooms are perfect for travelers who want a quieter shared space to sleep, while the 12 bed bunks are more affordable and offer a social setting with other travelers. The beds in each room include outlets, hooks, security lockers, and more. The bunks are three beds high, so many guests prefer the bottom bunks.
Private Rooms
If you're traveling with friends, you'll appreciate the triple private room, where you can have a bit of space to yourself but still pay hostel prices.
Bathrooms
Most of the rooms use shared bathrooms. The bathrooms are decent with plenty of hot water. There's usually plenty of bathrooms for the number of guests but the showers and toilets are in the same room which can be a bit inconvenient and the floors can get a bit wet.
Bar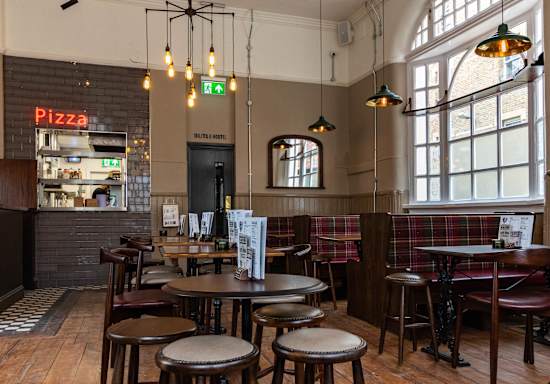 PubLove is a chain of hostels that are all located above a British pub, and PubLove @ White Ferry is no exception. The pub offers a great local atmosphere that attracts locals and travelers alike. It's popular with work from home employees so if you've got your computer and need to get some things done, you'll feel right at home.
The pub is open through the night so you can grab a drink any time, day or night. The beers are cheap and the drinks are good.
Restaurant
The pub serves up the standard pub food and it's a great place to grab a burger or enjoy brunch, which is available all day. The meals are good and reasonably priced.
Common Areas
The common space at this hostel is the downstairs pub, where guests enjoy hanging out and chatting. It's a chill place to hang out where guests and locals alike can enjoy a shared space.
The Location
Pimlico
What's Nearby?
This hostel is well situated to explore many of London's top sights. It's walking distance to the River Thames and Buckingham Palace and the area has great restaurants and interesting shops. What isn't accessible on foot can be reached by public transit. Oxford Street, Big Ben, Hyde Park, and the London Eye are all about 30 minutes away by the tube.
Nearby Transportation
This hostel is in London's Zone 1 and is just a short walk from three different underground stations. Victoria Station, Pimlico, and Sloane Square stations are all nearby. From there you can reach almost any popular sight in London and many famous neighborhoods. Victoria Coach Station is also nearby.
Amenities
This hostel offers the standard amenities to guests including Wi-Fi, luggage storage, travel info, and even bike parking. There are board games that guests can play and security lockers where you can store your belongings.
Staff
The staff here are friendly and helpful. They can give you any advice on where to go and places to eat. Don't hesitate to ask if you have any questions.
Heads Up
Guests love the pub below this hostel, but that's really the only common space available for guests. The bunks are also three beds high, so they can be a bit shaky and the bathroom floor tends to flood from the shower.
PubLove @ The White Ferry, Victoria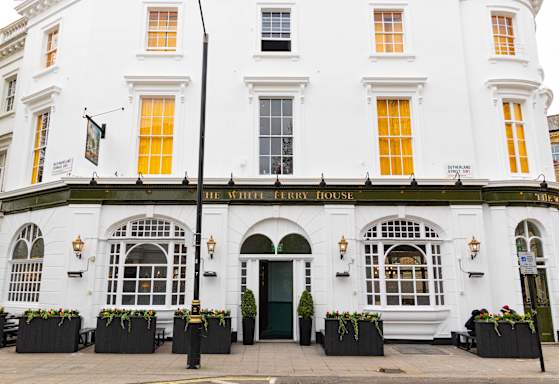 Do you have a favorite hostel that you would like to review? Let us know!