Acapulco de Juarez On a Budget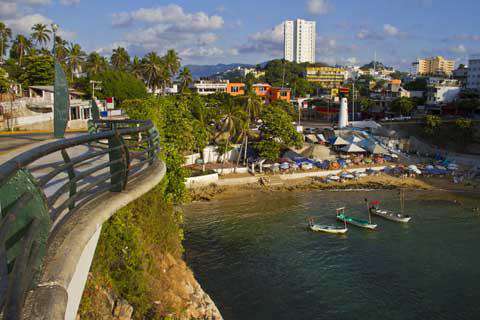 Located on the southwestern Pacific Coast of Mexico is the beautiful beach city of Acapulco de Juarez. Acapulco is one of the original travel and resort destinations in Mexico, and it's still considered a popular spring break destination for Americans. Known as simply "Acapulco" to many travelers, this region is a popular spot for cruise lines to stop and timeshares to grow. Thanks to those cruise lines and timeshares, tourist activities like water parks and jet skis have experienced considerable growth.
Sights
You don't have to be a thrill seeker to enjoy watching others get their adrenaline rush. Watch as fearless cliff divers jump from impressive heights into the shallow streams at the bottom part of La Quebrada. This tradition is a unique experience that has been an Acapulco tradition since 1934. Check for show times to be sure you witness this unique endeavor.
On the western side of La Costera is Acapulco's town square Zocalo. During the day you'll find a shady and peaceful area with two fountains and really stunning multi-trunked trees. Zocalo offers visitors more local culture than other areas of the city. Make time to visit Acapulco's cathedral and have a meal at one of the many restaurants or sidewalk bistros. Be sure to return after the sin goes down, as many street performers come out to entertain at night.
If you're looking for a family-friendly beach with shallow waters, make your way to the smaller bay just east of Acapulco to settle down on the beach of Isla de la Roqueta. You can get there by water taxi from Caleta Beach. With numerous trails, a lighthouse, beautiful snorkeling opportunities and sightings of the yachts of the rich and famous, your day at Isla de la Roqueta will certainly be filled with entertainment.
But if it's an escape from the tourism you're looking for, take a trip to a small bay just east of Acapulco known as Puerto Marquez. One side of the bay is covered in beachside restaurants full of friendly owners and staff. Have a lunch of seafood and cervezas. Then wade in the waters while taking in the stunning sunset.
Neighborhoods
Most beaches are along "La Costera" boulevard. If you're interested in surfing head to the stretch of sand in front of Fairmont Acapulco Princess and Fairmont Pierre Marquis Hotels.
Activities
Another great option, especially for those traveling with kids, is a trip to the CICI water park. Located right on the Acapulco waterfront, you can't miss CICI with its giant balloon right out front. Here you can enjoy several water slides including one that stretches more than 200-feet. Also relax in a wave pool, visit the aviary and aquarium and visit with the park's dolphins. Jump into one of the two large pools for the opportunity to swim with these dolphins and make friends!
Acapulco has so much in the way of activities to enjoy during the day that don't involve the beach. For the ultimate adrenaline junkie there is bungee jumping on La Costera. For the man or woman looking to work on their handicap, there's numerous golf courses, and for the party animals, Acapulco does not disappoint in the way of nightlife. There are bars up and down the beaches including "Palladium," which offers a breathtaking sight of the whole bay.
Food and Dining
As one of the premiere spring break and cruise ship destinations in the world, Acapulco has cuisine ranging from cheap bar food to top dollar, authentic Mexican dishes. While the city covers the spectrum in available genres and flavors, you'll definitely want to try the local dishes before settling for North American bar food.
Transportation
Getting around Acapulco is simple and every traveler has a whole host of options. Taxis are everywhere, but be sure that you agree on the price before you get in the car. Cabs in this city aren't metered and they love to take advantage of tourists. Be sure to negotiate to the best of your abilities.
If you can drive a car with manual transmission, renting a car can be a cheap but stressful way around. Traffic can be very heavy and drives are really aggressive. Parking is not easy to find and the streets can be very confusing.
The bus systems in Acapulco are privatized meaning they can be decorated however they want. Don't be surprised to see pink buses riding around with Mexican music next to buses blasting club music. Because buses are private they frequently compete for passengers, so expect them to stop and ask you to board even if you're walking in the same direction they're going.
Related:
Looking for a
party hostel in Mexico
? Heading to
San Diego
or
LA
?