Mazatlan On a Budget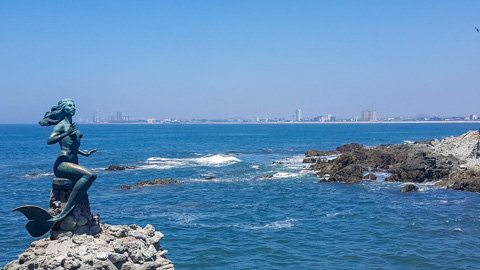 Mazatlan is located on the Pacific coast in the Mexican state of Sinaloa. The city has a population of almost 500,000, making it the second largest city in the state. It is a popular tourist destination because of its beautiful beaches and resort hotels. Most people head to Mazatlan specifically for its beaches, but the city itself is somewhat large and diverse with many different cultures and ethnicities represented. Many foreigners come here not only to vacation, but also to retire. You'll meet people from all over Europe, as well as Canada and the United States.
Mazatlan's climate is dry, wet tropical. There is a distinct dry season between the months of December and June. Summer months are prone to high humidity, making the temperatures feel significantly higher than they actually are. Summer highs are typically in the low 90s Fahrenheit and winter highs are in the high 70s Fahrenheit.
Sights
Centro Historico is the city's old town, and is not to be missed during a visit to Mazatlan. It's easy to organize a tour of the area, but self guided tours are just a fun.
There are many sights spread throughout the town. Mazatlan's lighthouse is the highest natural lighthouse in the world and offers wonderful views. You can find it by following the signs around town that say "Faro".
If you've heard of the cliff divers in Acapulco, you'll find something comparable here, although they dive from a lower height into shallower water. It's still entertaining to watch.
El Mercado is the largest marketplace in the city and is located in the historic city center. Here you'll find everything from souvenir t-shirts to homemade handicrafts. It's also a great place to try your hand at bartering.
Olas Altas Beach is a popular nearby beach that is lined with restaurants. It's a great place to walk around for a while.
Neighborhoods
Mazatlan has several different inner city districts as well as a few outlying suburbs. The two districts that are most significant to tourists are Zona Dorada and the Centro Historico. The Zona Dorada is north of the city and has many beaches that attract vacationers. Centro Historico is the historical part of town that is quite attractive with many plazas and nicely refurbished houses. This area is where you will find El Mercado, which is the city's largest marketplace. Machado Square is a famous square in Centro Historico. Teatro Angela Peralta, Pedro y Lola's Restaurant, and a beautiful hotel are all situated on the square. Four blocks from the square is Olas Altas Beach. This beach is popular with the residents of Centro Historico and has many restaurants.
Activities
Most people spend a significant amount of time on the beautiful beaches of Mazatlan. The miles of beach also offer a variety of water sports including jet skiing, water skiing, and parasailing. Surfing is also an option at several locations.
Mazatlan has an excellent nightlife with many popular bars including Senor Frog's, Valentino's, Sumbawa, and Joe's Oyster.
Other activities in the area include playing golf at Estrella Del Mar Golf Course and visiting Estrella Del Mar Sea Turtle Sanctuary.
Food and Dining
As a relatively large city, Mazatlan has restaurants to meet every budget. Predictably, seafood in the area is excellent. You can also find cafes that serve sandwiches or snacks. International food is available including pizza, hamburgers, and Asian options.
In addition to restaurants, there are many bars around town where you can grab a drink. Most seafront bars are frequented by tourists while the locals typically spend their time at the inland bars. These local options usually have an excellent atmosphere.
Transportation
The two main ways to get around Mazatlan are by bus and taxi. There are really two different bus options. Large green buses pass by most of the tourist destinations. They are of high quality with air conditioning and cost about US$0.70. There is also a regular bus service that caters more to locals and costs US$0.45.
In addition to traditional taxis, you'll also find pulmonias around town. These are open top taxis that are abundant and easy to find. Do ask the price before getting in as prices are negotiable and you should pay about 30% less than the original asking price.
Related:
Looking for a
party hostel in Mexico
? Heading to
San Diego
or
LA
?