Oaxaca de Juarez On a Budget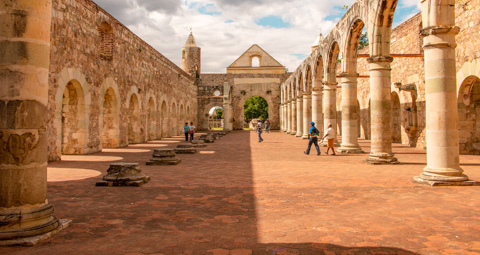 Officially known as Oaxaca de Juarez, Oaxaca is the capital and largest city in the Mexican state of Oaxaca. It's a beautiful colonial city in the foothills of the Sierra Madre. The city has beautiful architecture and a variety of festivals as well as a tree lined square called El Zocalo. Oaxaca's economy is heavily dependent on tourism and it is a wonderful place to see Mexican art and handicrafts. There are many artists and artisans in Oaxaca and the contemporary art scene is on the rise. The artists combine the area's rich indigenous culture and tradition with a modern twist. While you're in the area you should definitely make a point of experiencing the area's wonderful museums, interesting architecture, charming hotels and unique twist on Mexican cuisine.
Oaxaca has a relaxed environment with a laid back atmosphere. There are often festivals and events that fill the streets and city squares, giving the city a vibrant and fun flare. The most popular festival is the month long cultural event called "Guelaguetza". This festival showcases Oaxacan dance, music, and a beauty pageant for indigenous women.
Oaxaca has a tropical savanna climate with a wet and dry season. The dry season is between late October and April and the wet season is from late April to early October. Average highs are in the low 80s to 90s Fahrenheit year around.
Sights
There are many churches and cathedrals throughout the city, some of which are worth a visit. Head over to the Cathedral of Our Lady of the Assumption, which is the third cathedral built on this site, the first two having been destroyed by earthquakes. This third, and final cathedral was begun in the year 1702 and completed in 1733. Just four blocks north of this cathedral is the church and former monastery of Santo Domingo de Guzman. Built between the years 1555 and 1666, it is of renaissance style and has served many uses over the years.
Also visit the Basilica de Nuestra Senora de la Soledad which was built between 1682 and 1697 by Father Fernando Mendez. Inside this building you'll find all kinds of historical relics including paintings, sculptures, and an impressive pipe organ.
Museums in town include Museo de las Culturas de Oaxaca and Rufino Tamayo Museum.
There are also many impressive archaeological sites in the area, the most impressive being
Monte Alban
. It's possible to book a tour through your hotel or travel to the site independently. Other nearby archaeological sites include Arbol del Tule, Mitla, and Yagul.
Neighborhoods
Oaxaca has a compact downtown area that is fun to explore. Most of the city's impressive architecture is found in this area. Zocalo is a great area to visit as there are street performers, sidewalk cafes, and shopping areas. It's also near most of the main tourist attractions.
Activities
There are many festivals that are held in Oaxaca, the most famous being Guelaguetza. This festival takes place in July and is a great way to experience the area's traditions and cultures. The city also has a popular Dia de Los Muertos festival as well as a great FilmFest.
If you're still not sure
what to do in Oaxaca
, check out the many language courses, cooking lessons, and shopping areas around town.
Food and Dining
As a tourist town, there are plenty of restaurants where you can grab a bite to eat. Many places have wonderful atmospheres, beautiful courtyards, or rooftop views. If available, always as for a table with a view.
There are several markets in town that offer fruits, vegetables, meats, and more. Mercado Benito Juarez has many ingredients that allow you to prepare your own meal, while there is cheap, ready made food available at Mercado 20 de Noviembre. This market has food stalls that serve tlayudas and tostadas, soups, and desserts. It's a great place to try local specialties.
Transportation
Oaxaca has a small airport just outside of town. Most flights originate in Mexico City, but it is possible to coordinate flights from other cities that have a layover in Mexico City. There are also direct flights from Houston to Oaxaca. There are also comfortable buses that arrive from many different cities. Driving is not a good option as there are tolls, checkpoints, and annoyances along the route.
Once you're in town, it's easy to walk around most areas. Streets are well marked and the town is organized for tourists. There is also no shortage of taxis in town. Buses travel most places but stop running at 9 pm.
Related
Looking for a
party hostel in Mexico
? Heading to
San Diego
or
LA
?