Cabo San Lucas On a Budget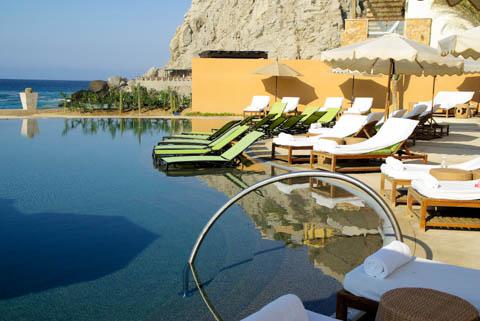 Cabo San Lucas ("Cabo") is on the far southern end of the Baja Peninsula. It has countless resorts and activities for visitors. There are world class golf courses, fine dining options, and five star resorts. Prior to the 1980s, Cabo was a quiet fishing village but with the construction of a nearby airport in 1977, the city rapidly grew into one of Mexico's most popular resort vacation spots. Today, Cabo has one of the country's most vibrant nightlife scenes. It also has plenty of water sport activities, and a great beach scene.
Cabo San Lucas has a tropical desert climate. Winter is the high season and you can expect large crowds between the months of November and February. Nighttime low temperatures rarely drop below the 50s Fahrenheit and summer temperatures can climb into the 90s Fahrenheit. Sea temperatures in the winter months are in the low 70s Fahrenheit and during the summer they are in the low 80s Fahrenheit. Rain and humidity are at their highest between the months of July and September. Hurricanes are not uncommon and it is best to plan your vacations around this time.
Sights
Cabo San Lucas is filled with character. There are plenty of natural attractions and monuments in the area, but most people visit for the beaches.
Land's End is a great place to visit with excellent views. There are
large rock formations
that have been carved by the wind and water. It's possible to walk here during low tide along Playa del Amante. Also make sure you check out the Church of San Luca and the Cultural Center in town so you can understand some of the history in the area.
If you're in town between the months of January and March then you must go whale watching. It's easy to find a boat and the sight is very impressive.
Neighborhoods
Cabo is divided into three different areas. San Jose del Cabo is known as the "Old Town". This area has old world Mexican charm intermingled with new, high end resorts. It's also the area closest to the airport.
The "Main Town" is further from the airport and houses most of the entertainment options in town. There's plenty of nightlife and shopping here, as well as the famous arch.
The highway connecting the two areas is known as "the corridor". It is lined with golf courses, new condos, and resorts along the coastline.
Activities
Water sports are abundant in Cabo San Lucas. Scuba diving is particularly good and there plenty of dive shops to choose from. Snorkeling is also an option.
Cabo is also considered a top fishing destination in the world. Marlin, sailfish, tuna, dorado and wahoo are all common in the waters where the Pacific Ocean and the Sea of Cortez meet. There are large charter boats and prices and trip length can vary.
Other interesting
things to do in Cabo San Lucas
include boat trips, buggy rides, and hiking. With enough activities for every member of the family, no one will be bored here!
Food and Dining
Cabo is a "high end" tourist destination, and as such there are plenty of fine dining options available. You'll find everything from French cuisine to Italian, sushi, and steak. Of course, there is also plenty of Mexican food and seafood. Some of the more expensive and popular restaurants can get crowded and require reservations. There are also some great casual restaurants where you can enjoy fajitas, tacos, or other typical and classic Mexican dishes. Plenty of markets and grocery stores are also in the area if you plan to cook your own meals. Check out
La Comer in Cabo
which has everything from fresh produce and seafood to clothing and other necessities.
Transportation
Most people use taxis to get around Cabo. They are usually abundant and easy to find. They are also reasonable in cost. It's also possible to rent a car. There are plenty of rental agencies around town, and this option gives you more freedom and flexibility with your travel plans. A more interesting and unique option for transportation is to rent a BMW motorcycle. There are also scooters for rent as well. It's great to rent a bike and head out of town to experience some of the countryside. You should only rent a vehicle if you're experienced with driving in Mexico and you are fluent in Spanish. You will need to get third party liability insurance.
There are also many public buses in the area. The most convenient bus for tourists goes between Cabo San Lucas and the airport. It runs every 20 minutes during daytime hours and is 35 Peso. Shared and private transportation options are also available through a variety of companies.
Related
Looking for a
party hostel in Mexico
? Heading to
San Diego
or
LA
?