Merzouga On a Budget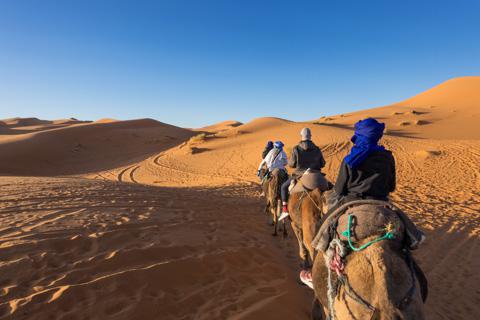 Let's say you want to truly get away. I don't mean putting your ear buds in on some beach with a stronger on the next chair over. I mean really get away, and find yourself deserted. Merzouga, Morocco lets you do just that. This land of sand dune after sand dune is ideal for anyone yearning to ride a camel to the ends of civilization.
One of the main draws of this area is camping under the stars in the desert, which is sometimes called
desert glamping in Merzouga
. However, if sleeping on the sand is not your cup of tea, don't worry. There are plenty of sleeping accommodations available in Merzouga. The locally owned Auberge Soleil Bleu is a traditional Kasbah hotel just a five minute walk from the Erg Chebbi sand dunes. Another traditional, family-run Kasbah hotel is the Ksar Bicha. Suite style rooms are arranged around two courtyards of plants, and the employees speak English, French, Spanish, German and Italian. For the nearest hotel to the actual dunes of Erg Chebbi, find a room at the Complexe Touristique de Merzouga. The unique experience includes a restaurant, bar, terrace, pool, bivouac and they will arrange a 4x4 or camel excursion for your group.
Sights
One of the most stunning things you'll see in Merzouga is the sunrise and sunset over the Erg Chebbi sand dunes. Take in this spectacular beauty while also watching out for all the friendly critters that call Merzouga home. You're likely to see ducks, flamingoes, and rare birds like the ruddy sheldrack, Tristram's desert warbler, the Egyptian nightjar, the Arabian buzzard, falcons and more. Also be cautious of the reptiles in this desert. Steer clear of Algerian sand lizards, Berber skins and snakes.
Activities
The most unique thing you can do while in Merzouga, is walk the dunes of Erg Chebbi on foot. You can also enjoy some off-roading with a 4x4, motorbike or even camels. The camel safaris typically include a one night stay on a permanent nomad settlement in the middle of the dunes. You may also want to consider looking into a night trek by camel. There's nothing quite like the stars over a quiet desert.
If you're looking for an all-inclusive tour, the Wustentouren Morokko Day Tours offer a fantastic package of backpacking out to the biouvac. Enjoy some time with your guides and fellow travelers as you make tea, listen to music, point out the constellations, cook crepes and explore this unique region.
Birding is also a fun activity in the spring. Try and spot all the species soaring above during the spring when the lake next to the village fills with water. This is when all the migrating birds make their stop.
If you're looking for a more spiritual way of connecting to your higher self, there are some retreats available for the wandering, spiritual traveler. During the winter months you and your fellow travelers can go out in the sand dunes in Erg Chebbi for a week of meditation, yoga, dance, music and storytelling.
Food and Dining
Most people in Merzouga find their meals in their hotels, but a few restaurants are scattered around town should you feel so inclined. Visit the Mac Aldi for a good place to try the Berber
tajine
(or tagine). Prepare for a bit of a wait, though, as tajine is always made fresh.
Transportation
The only way to get around the village of Merzouga is by walking. The area is pretty small and easy to navigate on foot. If, however, you're visiting in the summer months, make sure you are prepared to handle the midday heat. To visit attractions outside the village, you'll want arrange transportation like a car, quad or motorbike.
Getting into Merzouga is through Rissani. Once you arrive in Rissani, you'll drive through the town and follow the road southeast to Merzouga. The road into town has recently been re-paved with asphalt. Beware of guides in Rissani or Erfoud who offer to take you to Merzouga for a cheap price, but then strand you at their
auberge
kilometers away from the village. Then, they will try to charge you for camel rides and lodging. Unfortunately, by that time, if you refuse it's quite difficult, and expensive, to make your way back to town.
Related:
Looking for a
hostel in Marrakesh
,
Cape Town
,
Nairobi
, or
Zanzibar
?