Lake Tekapo On a Budget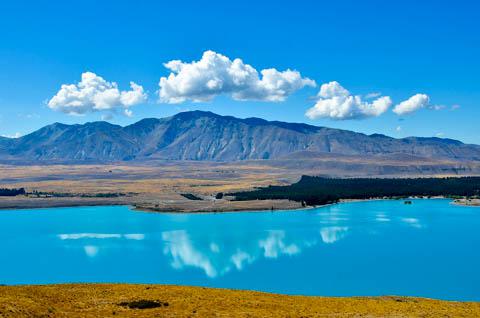 Tekapo is a lakeside town on the South Island of New Zealand, and it is part of the Mackenzie District of Canterbury. This is one of the bluest lakes in the country and is surrounded by the mighty mountains of the Southern Alps.
Sights
The first thing to see is quite obviously the lake, which is hard to miss. It appears turquoise and sits below the beautiful alps in the background. There are many trails around the lake with great views as well as accommodations and campsites.
The Church of the Good Shepard sits on the shores of the lake, and services are regularly held there. It is a quaint little stone chapel that was built in 1935 in memoriam of the Mackenzie Country pioneers.
Neighborhoods
Lake Tekapo is about one hundred kilometers east of Mount Cook National Park, where you can find beautiful hikes and places to camp. Lake Pukaki runs almost parallel to Lake Tekapo and is another lake known for its astounding turquoise color. The two largest cities close to Lake Tekapo are Dunedin, which is about four hours south, and Christchurch, which is about three hours east. Of course, there are also many small towns nearby as well like Twizel, Timaru, and Wanaka.
Activities
For those looking to go hiking around Lake Tekapo, Tekapo High Country Trek is a great company that offers a three day guided hike through the Southern Alps with stunning views of the lake throughout the trek. If you are there in the winter (which is, of course, the summertime in the Northern Hemisphere), you can go skiing at Roundhill or Mt. Dobson. Although a bit further away, you can also ski at Fox Peak and Ohau Ski Field.
Seeing Lake Tekapo and surrounding lakes and mountains from above is an incredible experience. Tekapo Helicopters and Air Safaris Scenic Flights are two companies that offer great air tours. For those looking for a different kind of thrill from 12,000 feet (or more) above ground, you can skydive in Tekapo.
Tekapo and the surrounding areas have been named some of the best places in the Southern Hemisphere to stargaze at night, as there is little to no light pollution. Earth & Sky Star Gazing is a great company to contact for more information on this as well as nighttime observatory tours. For the clearest skies, it is best to avoid a full moon.
Tekapo Springs is another great activity; there are three hot pools with different temperatures. There are also spa services here too including massages, facials, and nail care.
Food and Dining
Traditionally, seafood, lamb, and other types of meat are favorites among Kiwi's (that is a slang term for someone from New Zealand). Apart from the actual food itself is the way that the Kiwi's dine, which is as relaxed and laid back as possible, and you will notice is the general attitude throughout the country.
If you find yourself at the Mount John Observatory during your stargazing endeavors, there is a great cafe on site to eat at. The Observatory is south of Tekapo Village. There are many different options for the type of cuisine you are looking for in Tekapo. Kohan Japanese Restaurant, Thai Tekapo, and Jade Palace Chinese Restaurant are just a couple places to go if you are looking for international flavors. However, there are also many places where you can find classic New Zealand food too. Tekapo Tavern, McKenzie's Restaurant and Bar, and Rakinui Restaurant are all great places to try while visiting Tekapo.
Transportation
As mentioned above, Tekapo is just three hours from Christchurch, and four hours from Dunedin. It is easily accessible via highway 8 if you plan on renting a car while in New Zealand. Highway 8 is the most popular tourist route in New Zealand so it is likely that you will find yourself driving along it during your travels on the South Island.
If you don't plan on renting a car, there are other options of ways to get to Tekapo. Minibuses and coaches are probably the best options. Some companies that can offer transportation services are Atomic Shuttles, Great Sights, Intercity Newman's, Wanaka Connexions, Cook Connection, and Southern Link Coaches.
Once in the town of Tekapo, walking is probably the best option. The town isn't too big, so it is possible to walk from where the bus drops you off to your accommodation. A lot of accommodations (hotels/hostels) can set you up on hiking trips, which usually includes transportation. You can always call a taxi if your destination is too far for walking.
Related:
Looking for a party in
Auckland
or somewhere else in
New Zealand
?
Traveling
alone or with a group
?