Te Anau On a Budget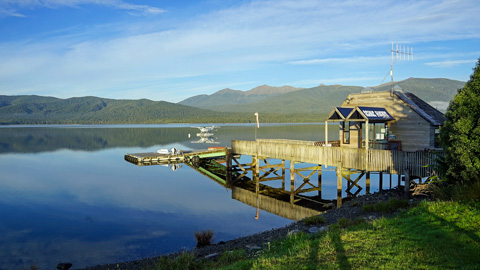 Te Anau is a town on the South Island of New Zealand, best-known as a gateway to Fiordland National Park and Milford Sound. The region is a major destination for ecotourism as it is home to rare species like the endangered flightless takahe bird and natural features like caves, waterfalls, forests, lakes, glacial valleys, and mountains.
Sights
Many visit Te Anau as a waypoint on the way to see the nearby areas of
Fiordland National Park
and
Milford Sound
. The national park covers over 1.2 million hectares in size, encompassing mountain, lake, fiord, and rainforest environments. A beech forest trail on the sandy Milford shore offers views of towering Mitre Peak, one of the most iconic in the country for its pointed shape. Its location near Milford Sound also draws attention, adding to the spectacular view of the well-known fiord. Nearby, the rugged Earl Mountains are reflected in the glassy surface of Mirror Lakes, where visitors can also catch sight of waterfowl amidst wetland plants. On the Cleddau River, the Chasm Walk passes over two foot bridges with views of powerful waterfalls that have sculpted shapes and basins in the rock. The Doubtful Sound is another well-frequented feature, with a more enclosed feel than the Milford Sound rich in flora and fauna like New Zealand Fur Seals and Fiordland Crested Penguins. And, of course, there are the Te Anau Glowworm Caves, where interesting rock formations and flowing water make the cavernous home for the entrancing glowing creatures (only accessible via guided tour). As a whole the national park and its features are a part of an UNESCO World Heritage Site called Te Wahipounamu, which encompasses a total of four national parks: Aoraki/Mt Cook, Fiordland, Mt Aspiring, and Westland.
Neighborhoods
Te Anau is a small town and the one nearest to Fiordland National Park. December and January are the busiest times of year for visitors and so reservations for bed and breakfasts, hotels, cabins, and campsites must be planned in advance. There are other small towns located along State Highway 94, however, during peak season accommodations fill up quickly. Visitors sometimes are required to stay as far as Gore, which is about 1.5 hours away (140 km). Te Anau itself has the basics. The main supermarket is called Fresh Choice, and is also the best place to buy beer and wine. For free internet, stop at the Te Anau Library, where visitors can use their 5 computers for up to 30 minutes for free or their wireless room for unlimited wireless access for free. The Te Anau Wildlife Centre is just a short walk from town, as are many beautiful scenic features.
Activities
There are many programs, day-trips, and events around Te Anau tailored for exploring the unique features of the region's wildlife and scenery. The road to Milford Sound is just as scenic as the fiord itself, and many local coach and cruise operators are available for those hoping to learn more about those highlights. Cruises often travel the length of the fiord to open ocean and return on one of the many cruise options available in 1.5 to 2 hours cruising time. Lake cruises are also available on Lake Manapouri or Lake Te Anau, as are scenic flights via fixed wing, helicopter, float plane, or vintage biplane. There are even off-road tours dedicated to the daring adventurers, as well as photo tours which take visitors to some of the best photographing locations in the park.
Additional activities are available at the Department of Conservation Visitor Centre, which houses exhibits dedicated to the unique features of the fiords. There is also the Fiordland Cinema which has a wine bar and shows both local and mainstream movies, a golf course with views of the beautiful lakes and mountains, and a spa for a day of rest and relaxation. Other activities within the park include cycling and bike hire, guided and independent hiking, fishing, hunting, horseback riding, scuba diving, jet boating, and kayaking.
Food and Dining
For stocking up on groceries, Fresh Choice is the go-to. Te Anau also has a pizzeria and a couple of popular cafes like the The Sandfly Cafe best known for its breakfast or Miles Better Pies and more which has a range of fresh pies, sandwiches, and coffee. For dinner and/or drinks, the favorites include The Ranch Bar & Grill (casual, young crowd), The Moose Bar & Restaurant (casual pub), and Redcliff Cafe (more upscale with New Zealand mains and wines, live music). Native New Zealand food is derived from the Maori people. Today, popular dishes include a boil-up of local pork, potatoes, kumara (sweet potato), and dumplings, as well as another dish called pork and puha (an herb called sow thistle).
Transportation
The nearest major airport is Queenstown International Airport, located 2-3 hours (166 km) from Te Anau depending on transportation. The route from Queenstown follows State Highway 6 to New Zealand State Highway 94/State Highway 94. Visitors can arrange for a car rental, or take a bus from the airport. Buses are also available between Te Anau and Milford Sound.