We booked 2 beds in a 3 bed dorm and ended up getting our own room, which was nice. The breakfast was good. We got a croissant, bread, coffee, tea, and cereal. It is a little far from city center, but there is a close train and walking there is doable. There were a lot of stairs to get to the hostel and to get to the room. Overall, it was a nice place and pleasant experience. - Claire, USA
What sets them apart?
This hostel resides in an older historical building full of Parisian charm in a terrific neighborhood: Montmartre. It has small rooms with a quiet, hotel-like feel, free breakfast, and amazing views.
Hostel Personality
Who's staying here?
A mix of guests stay here from younger backpackers to older guests, and everyone is from all over the the world. It appeals to travelers looking for budget accommodations who are interested in exploring Paris.
Insider Tip
If you're looking to meet other travelers, spend some time in the common areas, especially at breakfast. Otherwise, the vibe here is fairly quiet.
Caulaincourt Montmartre by Hiphophostels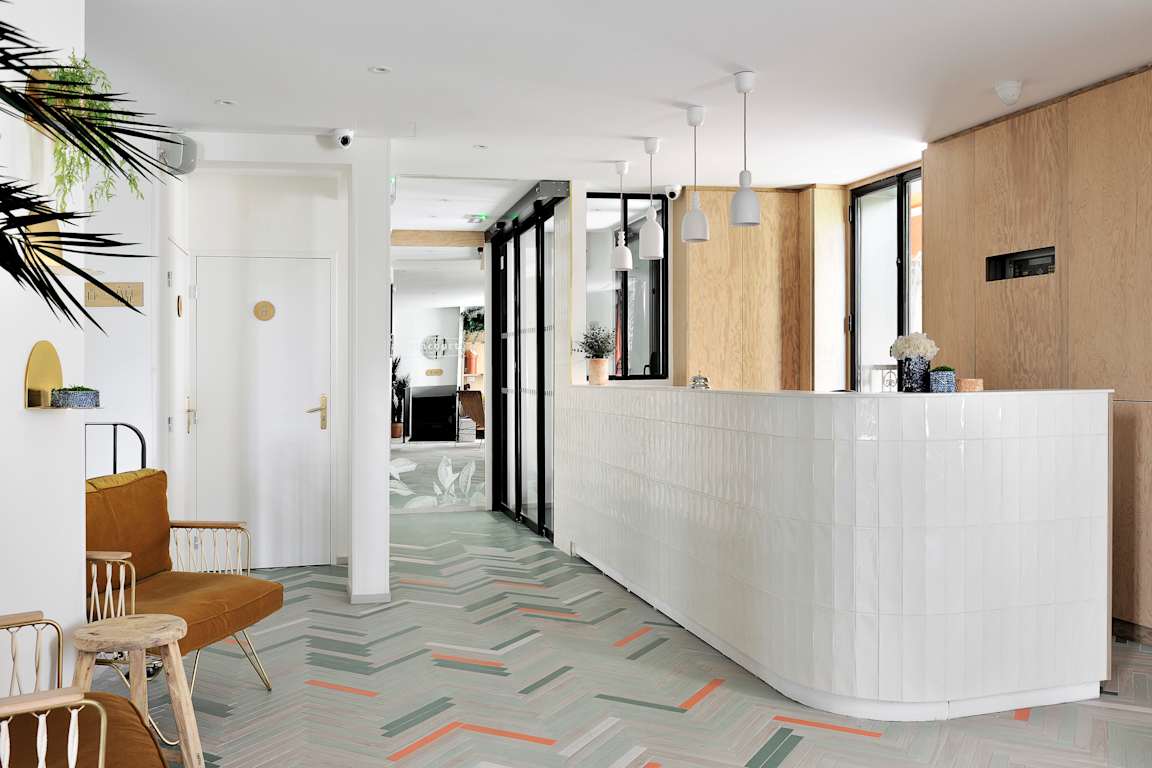 Up some stairs in the historic alleyways of Montmartre sits this fantastically quaint hostel and hotel combination with a B&B feel to it. The rooms are small but comfortable, the staff is friendly, the views are nice, and the breakfast is great. The location is fun, close to the Sacre Coeur, and not far from public transit, too. If you're looking for a quiet and comfortable place to stay on a budget with plenty of character, this is it!
Run by Hippohostels, you can expect fairly good quality here. This hostel chain is popular throughout Europe, and maintains a good standard of quality and service in all of its locations.
The Facilities
Dorms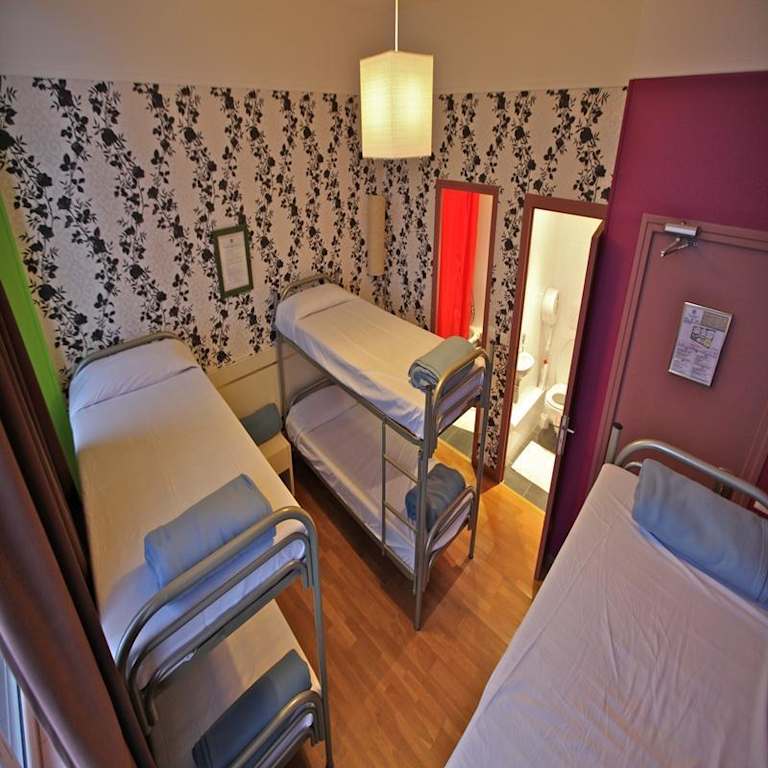 The dorm rooms here are basic with ensuite bathrooms. Many rooms only have 3 beds, but some have up to 6 bunks. An all-female option is available. The bunks are basic, but some of the rooms have great views over the surrounding neighborhood and skyline of Paris. Don't expect many frills here, you're really paying for the location and the nice common areas.
Private Rooms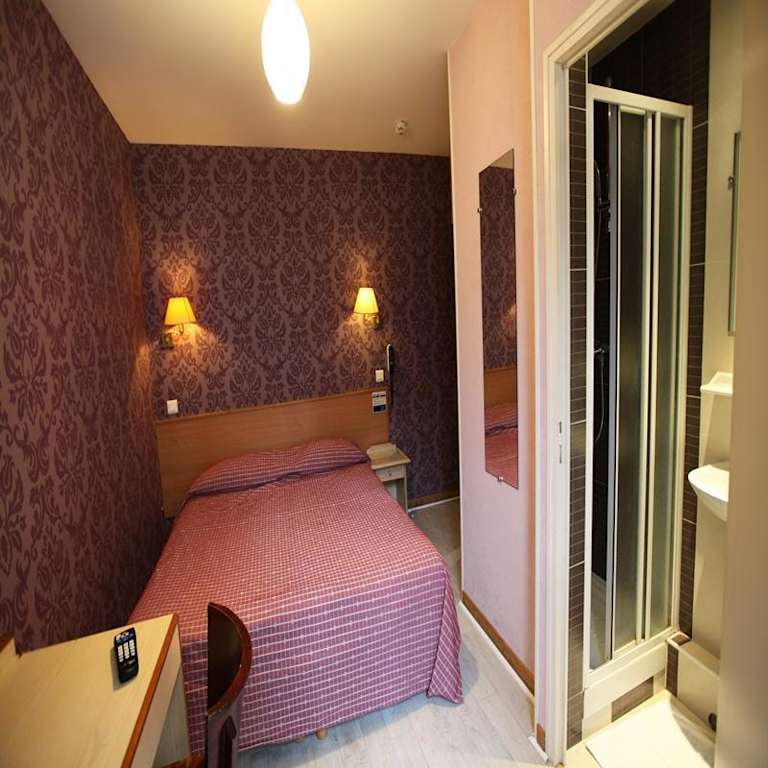 Private rooms here have the feel of a basic hotel room, and most rooms have ensuite bathrooms, although some use the shared hallway bathrooms (decide upon booking). The rooms have TVs, a desk, and some of the views are spectacular. Even though this is a budget style hotel room or B&B, the location is fantastic and the cafe area on the ground floor is very nice.
Bathrooms
Bathrooms at the Caulaincourt are small, but very modern and clean. The fixtures are all somewhat new, so you don't have to worry about any "historical charm" in the bathrooms which we all know translates to old and not-so-good. In many of the rooms, the toilet and shower rooms are separated, which is nice if you're sharing a dorm. Plenty of hot water is available, and towels are available for rent if you need one.
Restaurant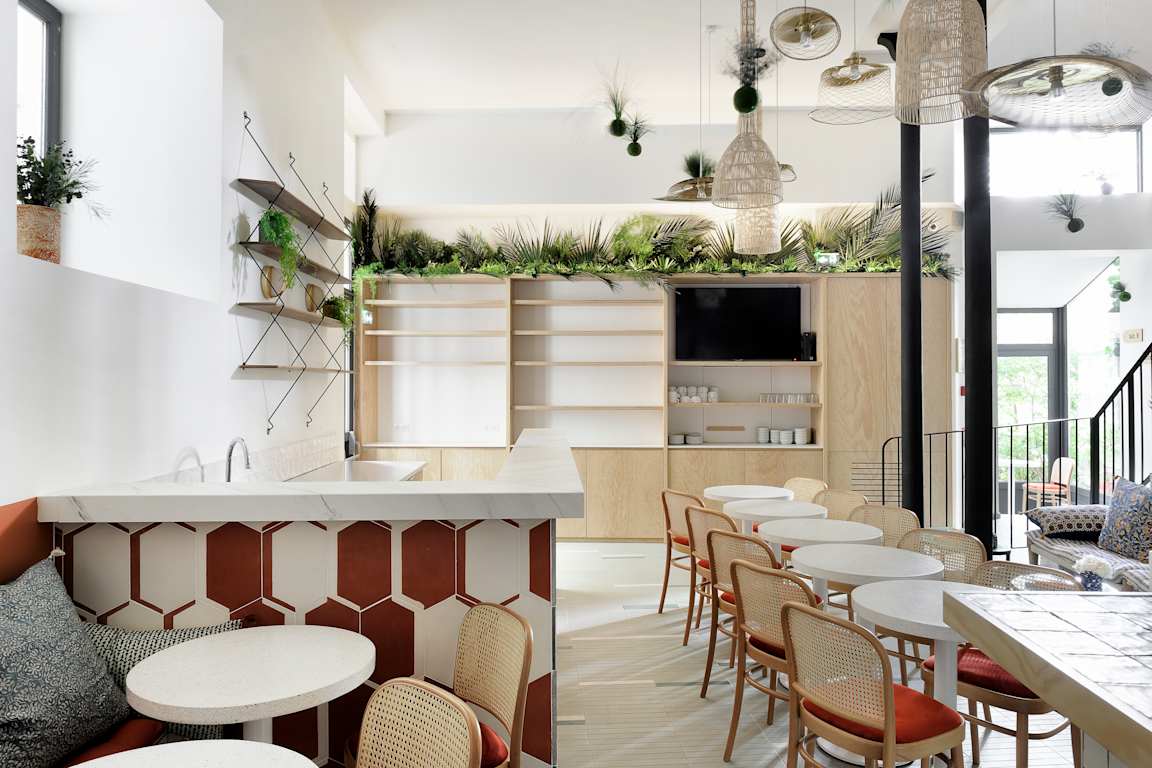 On the ground floor is a large cafe area with a bar and plenty of tables. Breakfast is served here (often free depending on how you book it). The entire area makes for a great spot to mingle with other guests, enjoy a coffee or tea, or just sit back and plan your excursions around Paris.
Common Areas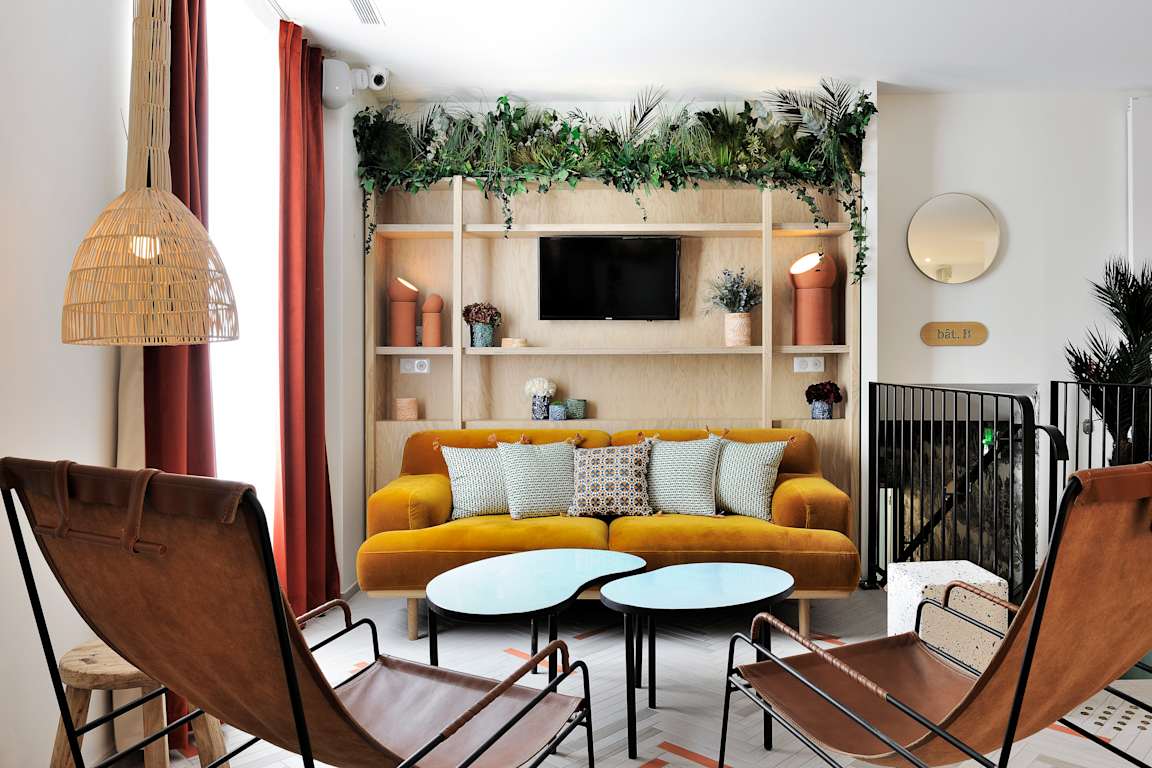 Other than the previously mentioned restaurant area on the ground floor, other lounge areas can be found around the hostel. These include the lounge area with sofas and a TV, an area with public computers, and a small kitchenette area to prepare some of your own meals if you like.
The Location
Montmartre
The historic and delightful Montmartre neighborhood is full of shops, restaurants, and residences all centered around the famous Sacre-Coeur cathedral on the north side of Paris. Wind your way around the old narrow streets, many of which are made of stairs, to find the next hidden gem. Don't forget your camera!
What's Nearby?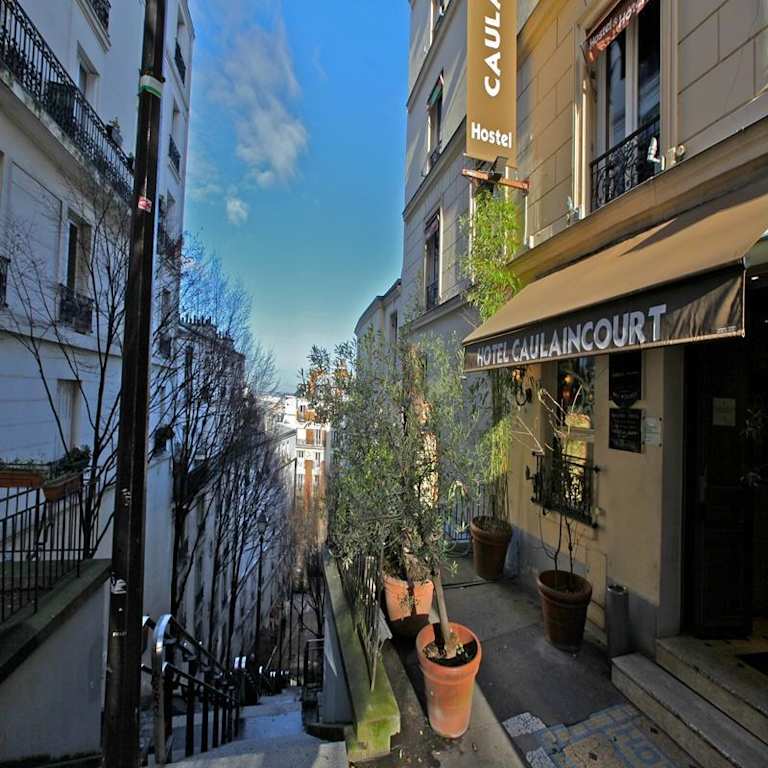 With a prime location in the hidden alleyways of Montmartre, you will feel immersed in Parisian culture and history here. The famous Sacre-Coeur cathedral is only a few minutes away on foot. Also nearby are all of the famous restaurants, cafes, shops, bars, theatres, and museums of this historic neighborhood. Several public parks are in the surrounding blocks as well. While the Montmartre neighborhood does not sit in the center of Paris, it is a great alternative to the busy streets of the center and provides a quaint but dense walkable experience.
Nearby Transportation
Naturally, you'll want to see all of Paris even though this hostel is in Montmartre. Don't worry, because the Lamark-Caulaincourt metro station (line 12) is only 2 blocks away. Other nearby metro stations include Place de Clichy (lines 2 and 13), Guy Moquet (line 13), and Jules Joffrin (line 12). Several bus routes also pass through the neighborhood, including one that runs on the road at the bottom of the steps from the hostel.
Amenities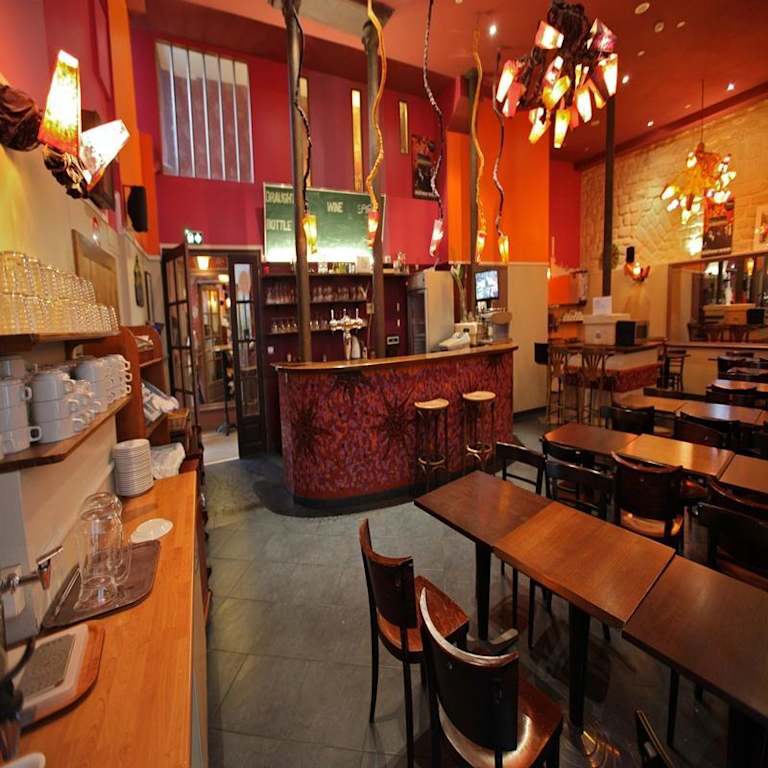 Standard hotel and hostel amenities are provided here, including a
free breakfast
, free Wi-Fi, hair dryers, 24-hour reception, luggage storage, and more.
Staff
The staff is friendly, professional, and helpful.
Heads Up
This place has a hotel-like feel. If socializing with other guests is one of your primary goals, then this is probably not the hostel for you, as it is quiet and small. However, if you're looking for a great place to stay with quiet rooms to get a good nights' sleep while you explore Paris, then look no further. This is it!
Caulaincourt Montmartre by Hiphophostels
Do you have a favorite hostel that you would like to review? Let us know!