What sets them apart?
The Canal location of the St. Christopher's Inn hostel has won numerous awards, and it is generally considered to be the best hostel in Paris by thousands of guests. You really can't go wrong here. They offer nice rooms, plenty of activities, and an amazing bar and restaurant that turns into a club with a DJ in the evenings. They also have a full list of nice amenities as well as balconies overlooking the canal. If you're looking for an amazing hostel with a fun and social vibe, this is it.
Hostel Personality
Who's staying here?
Plenty of younger travelers flock to this hostel looking for a great place to see Paris with a social and party atmosphere. From backpackers to budget travelers to students, this is the place to be.
Insider Tip
If you want to get some sleep, find a room away from the bar and ask for earplugs at the front desk.
St Christopher's Inn Canal
This hostel offers everything that a budget traveler could ask for in Paris. The ideal combination of comfortable rooms with a full list of amenities, as well as a party vibe in the bar every night make this a winning hostel for everyone. It's repeatedly labeled as
one of Paris' best hostels
.
The bar,
Belushi's
provides food during the day and drinks at night along with DJ's or live music. They also host plenty of other activities for guests to have a good time getting to know one another. How about a Mojito class or a beer pong competition?
The location is also convenient, as the metro can whisk you into the center of Paris in a matter of minutes.
As part of the popular and reputable St. Christopher's Inn chain of hostels, you will know that you're being taken care of in a safe, fun, friendly, and interesting environment.
The Facilities
Dorms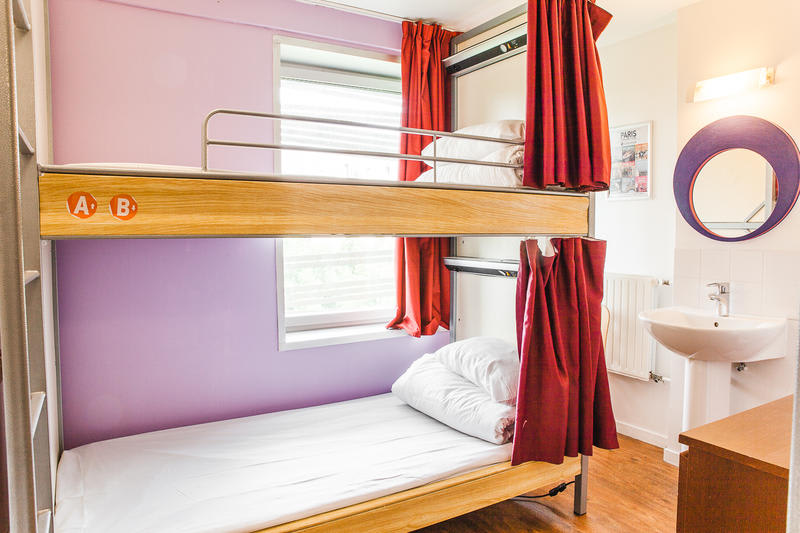 Dorms here have all of the comforts and amenities that a budget traveler could want or need. Dorms come in various sizes from 4 beds all the way up to 12. The larger rooms are much more affordable, but come with an obvious lack of privacy. Female-only dorm rooms are provided, too. Most of the dorm rooms utilize the shared bathrooms on the halls.
Beds are described as being in the POD style, which is really just a custom-built bunk bed with a light, plug, curtain, and storage locker. They are comfortable and well organized, and the rooms are large enough for everyone to move around freely.
Private Rooms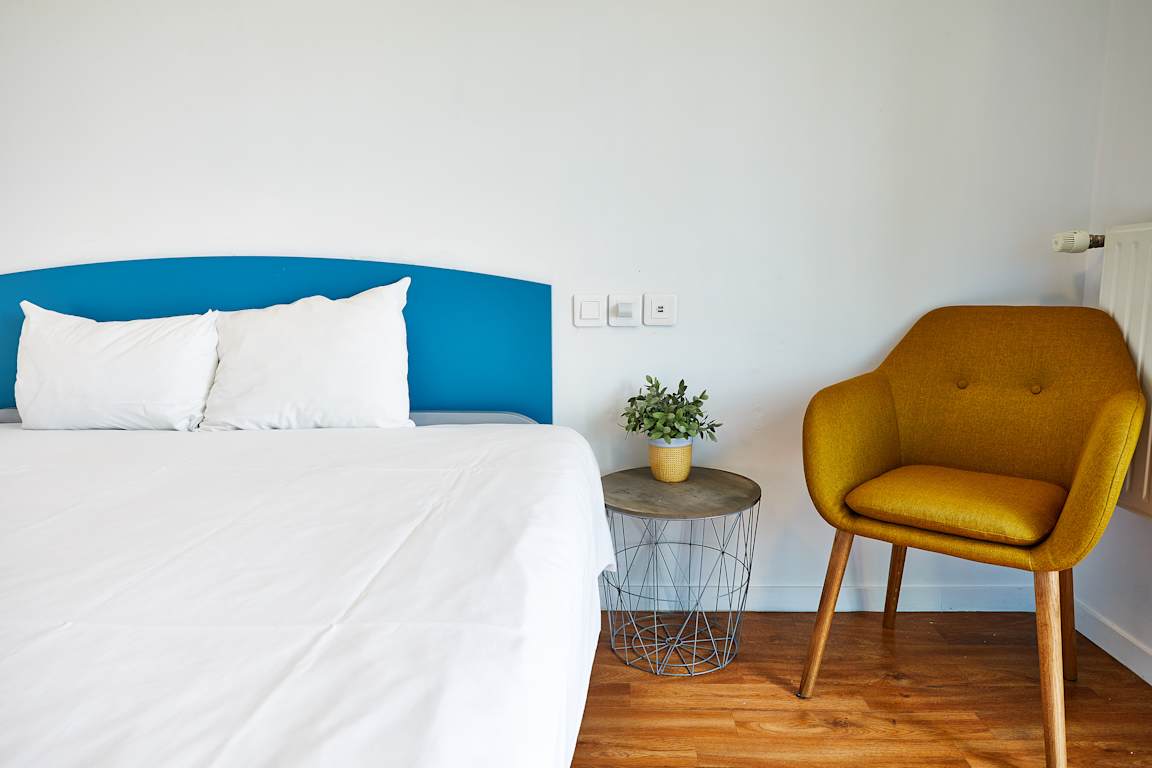 Private rooms here are similar to budget-style hotel rooms, as they come equipped with double beds and ensuite bathrooms. Other furniture such as tables, chairs, and dressers are also provided. The windows let in plenty of natural light, too. This is a great option for a couple looking to stay somewhere on a budget and take advantage of the hostel's social atmosphere.
Bathrooms
Bathrooms here are modern and provide everything a traveler needs. Even though this is a larger hostel, the staff works hard to keep them clean. Hot water flows freely and hair dryers are available, too.
Bar
The backpacker bar
Belushi's
is on the ground floor of the hostel, and is the main area where everyone hangs out. They provide meals during the day. At night, though, the lights turn down and the music starts pumping. Either a DJ or live music is provided to keep the action going late into the night. In addition to this, happy hours and other activities take place here such as beer pong tournaments or drink mixing classes.
Restaurant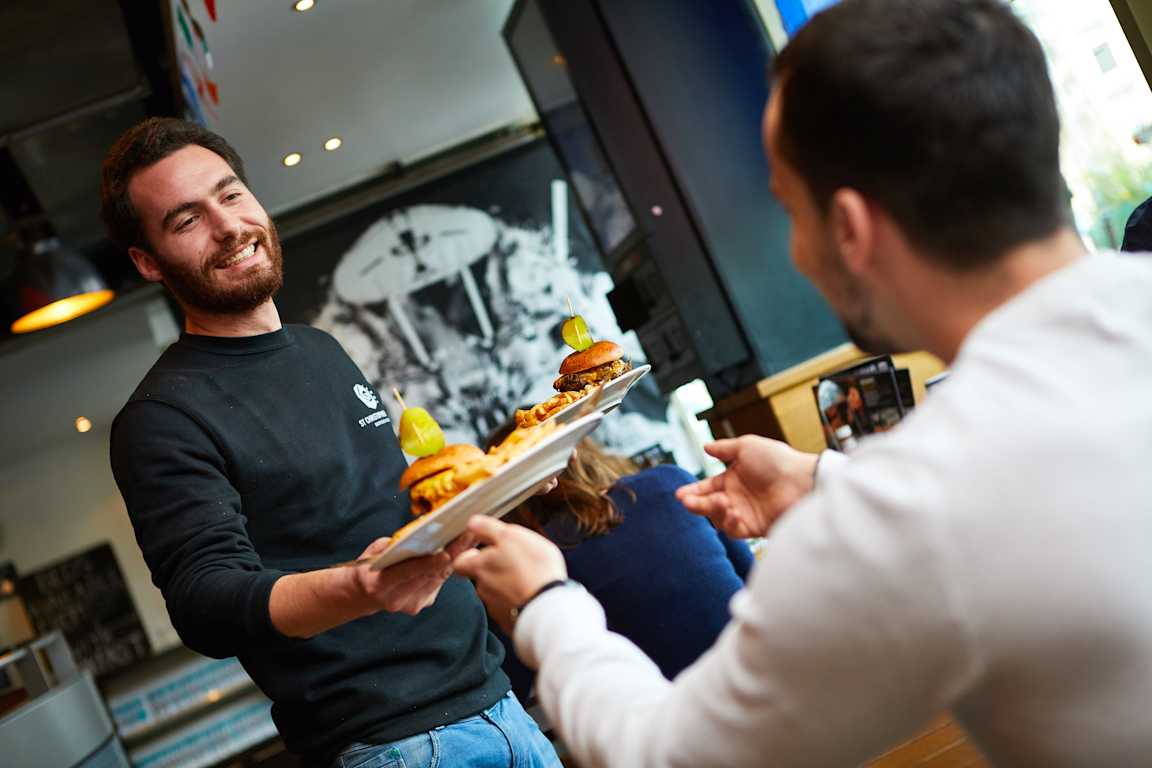 Belushi's serves up some very good food, as most of the guests can attest to. From breakfast all the way through to dinner, you can grab a meal here for an affordable price.
Common Areas
In addition to the other common spaces, the large outdoor terrace along the canal is a nice place to relax. Here you can have some food, plan your outings in Paris, read a book, or chat with some of your new friends.
The Location
Canal / 19th Arr.
On the north side of the city center of Paris, a canal stretches up through the 19th Arr. amongst shops, restaurants, and residences. This urban neighborhood is well connected to the rest of the city and provides plenty of Parisian atmosphere at a more affordable price.
What's Nearby?
This neighborhood centers around the scenic canal which stretches to the northern part of the city in Paris. Here you can find plenty of restaurants, shops, cafes, bars, and more to keep you entertained. Several large parks are also nearby, and make for great spots to have a Parisian picnic.
Nearby Transportation
Multiple metro stations are within just a few blocks of this hostel. The Crimee station is on line 7, the Laumiere station is on line 5. Or, walk a little further to the Jaures station for lines 2, 5, or 7. Either of these stations can take you into the center of Paris in just a few minutes. The Gare du Nord train station is only 3 stops away, too. Furthermore, a few bus routes run along the main streets near the hostel.
Activities
The St. Christopher's Canal hostel has no shortage of activities. If you're a single traveler looking to meet up with others, this is the place for you. Breakfast in the morning is always popular. After that you can participate in various events such as beer pong, sports watching parties, drink mixer classes, happy hours, and of course the evening parties.
Amenities
The long list of amenities here starts with free Wi-Fi, laundry machines, key-card access, security lockers, hairdryers, a microwave, and a travel desk. As this hostel is part of a larger chain, they provide everything you need, and even things you never thought about.
Staff
The staff deserves a lot of credit for the level of quality for this hostel. They have received plenty of awards, and it's because the staff here knows how to take care of their guests. No matter what you need, they can help. They keep the entire place running smoothly for everyone.
Heads Up
This hostel can be somewhat loud due to the party atmosphere in the bar late at night. If you're not interested in partying, request a room away from the bar - otherwise, this may not be the place for you.
St Christopher's Inn Canal
Do you have a favorite hostel that you would like to review? Let us know!