Absolutely lovely, the hostel is so clean, fairly good location, right in the middle of two metro stations. The staff were all very friendly, I adored my stay here!! Would definitely go back!! - G. from Canada
What sets them apart?
The Vintage is a quality hostel in a nice Parisian neighborhood. With a great location, this hostel caters to travelers who are looking to see Paris and make some friends all on a backpacker's budget. Close to several metro stations, you can zip around Paris quite easily if you stay here. It's also close to the Gare du Nord train station so it's easily accessible however you arrive in Paris. And yes, it also has an exercise room.
Hostel Personality
Who's staying here?
Mostly younger backpackers stay in the dorms here, while a mix of other budget travelers stay in the private rooms. Solo travelers and young professionals are quite common here as well. The breakfast can be fairly social as people meet up and plan their adventures in Paris.
Insider Tip
You won't be able to cook your own breakfast in the mornings due to the provided breakfast, but plenty of other cafes are nearby if you want to venture around the neighborhood.
Vintage Paris Gare du Nord by Hiphophostels
This cozy and comfortable hostel is in a great location and is full of other travelers. The vibe here is fairly social, and the rooms are modern and clean. While the rooms are a little small (this is Paris, after all), the staff is very friendly and the amenities are all nice. The location is also fantastic, as you can reach anywhere in Paris on the metro. It's not far from the Montmartre neighborhood. It's very close, but just far enough away to have much lower prices.
The Facilities
Dorms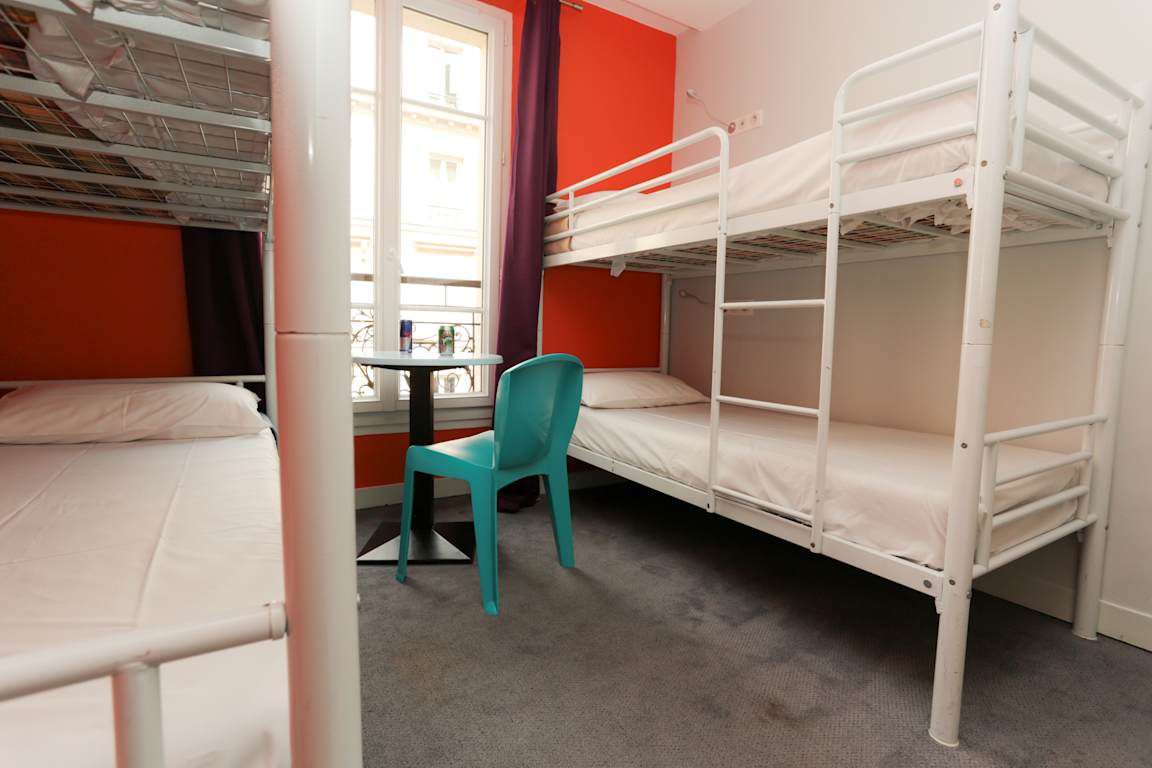 Dorms here come in 4-bed rooms with bunks. The rooms can feel a little small but they are kept clean and comfortable. An all-female room is offered, too. Every room has an ensuite bathroom. They are also a little small, but you're not sharing them with many people, and they are very modern.
Private Rooms
Private rooms here feel like small budget-style hotel rooms. Some rooms have twin beds while others have double beds, and all have ensuite bathrooms. It's also possible to get a dorm room with bunks as a private room for a small group of friends. Some of the rooms have TVs, too.
Bathrooms
Even though this is an older building, the bathrooms here are modern and the staff keeps them clean. The showers have plenty of hot water, which is nice for the cooler days in Paris. Towels and hair dryers can be rented from the front desk.
Common Areas
The common area is comfortable and has a nice social vibe. Full of tables with a few sofas, this is a good spot to have a snack, eat your meal, or get some work done. A foosball table is also here, as are some large TVs for entertainment.
But let's not forget about the gym! If you want to exercise, this hostel claims to be the first hostel in Paris with a free gym. A few treadmills and weight machines can be found here (they are in great condition), along with some smaller items for working out. If you're staying in Paris for a longer period of time, this would perhaps be a good option if you are looking to stay in shape.
The Location
Gare du Nord / 10th Arr.
The neighborhood around the Gare du Nord and Gare de l'Est train stations are a convenient place to base yourself in Paris. From here, transportation is easy and frequent. Plenty of restaurants, bars, shops, cafes, galleries, and museums are also nearby. Montmartre is also not far, and the city center can be reached in a matter of minutes by Metro.
What's Nearby?
As mentioned earlier, the Gare du Nord station is nearby. Montmartre is also close by, and this makes for a great place to find some restaurants, cafes, shops, bars, and museums. The surrounding neighborhood around the hostel is also home to many residences, restaurants, and shops. A few grocery stores and markets are also in the surrounding blocks, as is a pizza place.
Nearby Transportation
The Gare du Nord station is 10 minutes away on foot. Here you can also hop on the metro. Other nearby metro stations include Barbes-Rochechouart, Anvers, and Poissonier. From any of these stations you can quickly get to anywhere in Paris.
Activities
The staff organizes events in the evenings. Game nights, meetups, tours, and a variety of other ways to meet your fellow guests are offered. The morning breakfast is also quite social.
Amenities
This hostel has a gym, which is quite unique. They also have a great kitchen (open in the afternoons and evenings) for cooking your own meals. Otherwise, standard amenities can be found here such as Wi-Fi, laundry machines, luggage storage, tour bookings, key-card access, and more.
Staff
The staff is very friendly and helpful. As a member of the Hiphop Hostels chain, you know that you're dealing with a good and reliable company. This location is no different, as the staff works hard to keep everyone happy, and makes the entire hostel as clean as it can possibly be made.
Heads Up
As this is Paris, the rooms can be a little small. Also, some of the rooms can get a little cold in the winter. (Air conditioning is provided in the summer.) Some guests have complained that you can't use the kitchen in the mornings, too.
Vintage Paris Gare du Nord by Hiphophostels
Do you have a favorite hostel that you would like to review? Let us know!