This was one of the most amazing hostels I have stayed at. The staff was so kind and helpful; never making me feel like I was asking too much. The location was so cute and safe and there was a really nice market right across the street. The view is beautiful because the basilica is right there! The rooms are fresh, smell good, and come with an updated cooling/heating system. I loved coming back to my bed everyday and smelling the fresh sheets. Also, the bathrooms are really nice and clean. - American Girl
What sets them apart?
Hands down this hostel is in one of the best locations in Paris: right in front of the Sacre-Coeur Cathedral in Montmartre! With plenty of charming shops, restaurants, bars, and museums within the surrounding blocks, you'll find yourself at home in Paris. The place itself is also fantastic, with comfortable rooms, a nice vibe, friendly staff, and a charming Parisian decor.
Hostel Personality
Who's staying here?
This hostel is full of younger travelers, solo travelers, couples, and others looking for an affordable place to stay in one of Paris' best neighborhoods. Instead of being a party hostel, it's more relaxed and laid back. Most guests here are looking to explore Paris instead of staying in the hostel.
Insider Tip
Shop at the market across the street and use the hostel's kitchen to cook your own meals. This will save you some money for your trip.
Le Village Montmartre by Hiphophostels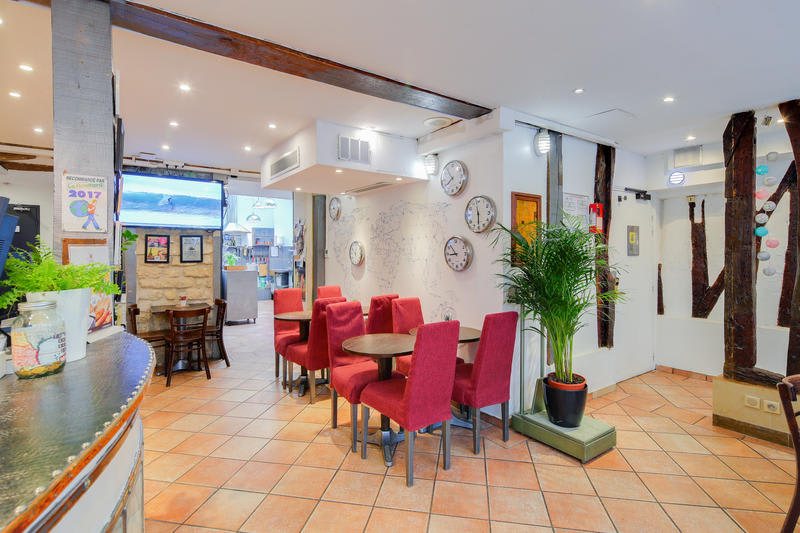 This smaller hostel is part of the Hiphophostels chain, which means that you're getting a reliable and top notch set of quality standards all set in a charming and historic building. As mentioned earlier, the location can't be beat. The staff is friendly and helpful, the rooms are historic but modern and comfortable, and the list of amenities is long. The common areas are nice (and there's a kitchen, too). And it's also close to public transportation. You really can't go wrong here if you're looking for a good base to explore Paris!
The Facilities
Dorms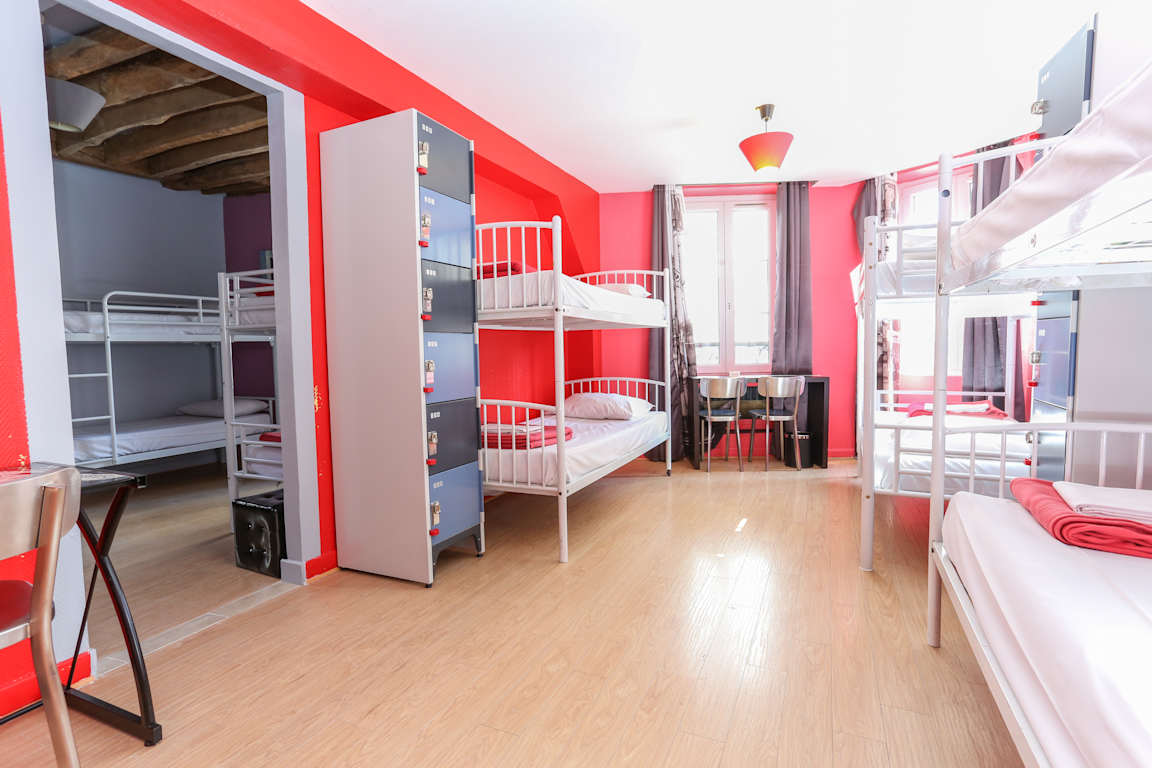 Dorms come in a few different sizes and options. An all-female dorm is available. Some 4-bed rooms and a 12-bed room are offered, all with 2-level bunk beds. The larger room is cheaper, but you will obviously sacrifice some privacy. Fortunately, all of the dorm rooms have ensuite bathrooms, too.
Rooms are equipped with lockers which are large enough for some personal belongings such as a laptop, but not large enough for an entire backpack or suitcase. Linens are included and are changed regularly.
The rooms have a lot of natural light and plenty of space. Some of the rooms open up onto a patio, too. The staff works hard to keep everything clean!
Private Rooms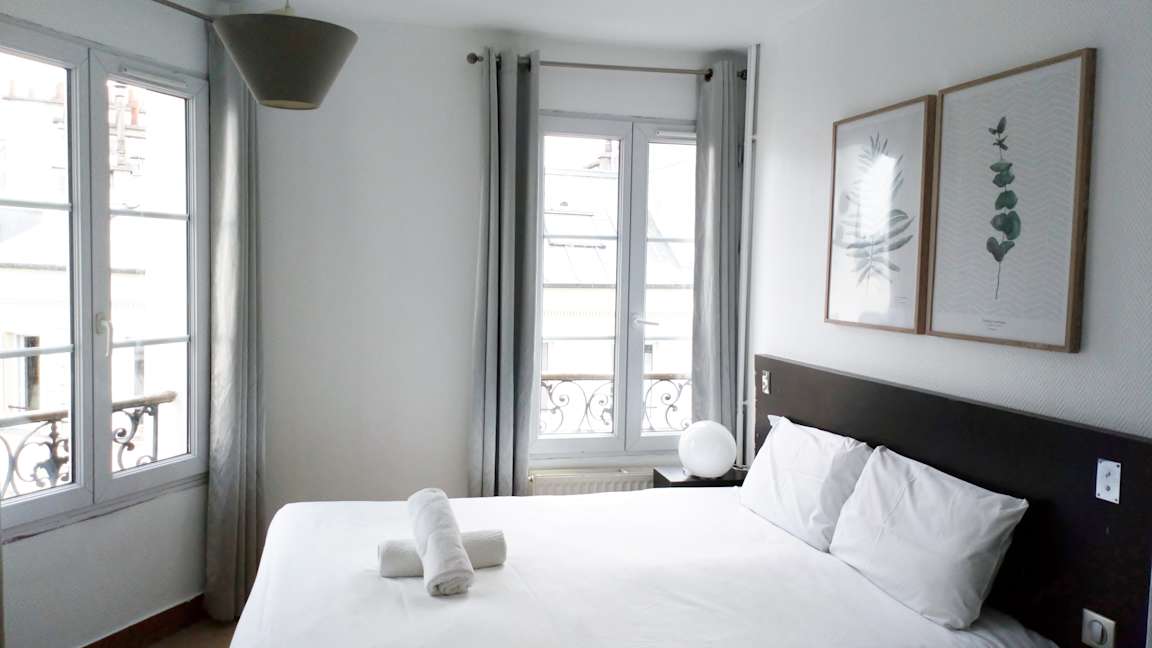 Private rooms at The Village Hostel are quite nice. They are well lit and have the right mix of historical charm and modern conveniences that you need while in Paris. Ensuite bathrooms are provided, as is other furniture in the room. Some of the rooms also have great views! This is a great option if you're looking for the privacy of a hotel room.
It's also possible to book a dorm room with bunk beds as a private room if you have a small group.
Bathrooms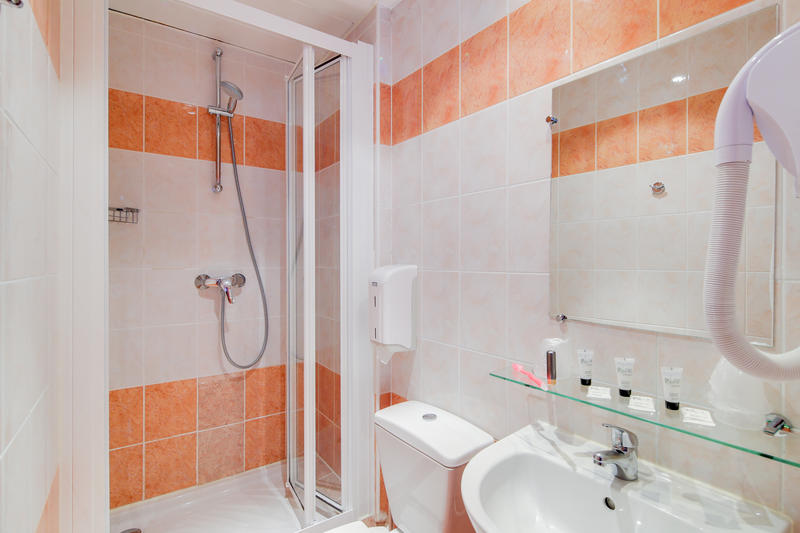 Clean and modern bathrooms is what you'll find here! Even though the building is historic, the bathrooms are not. Hair dryers are available in some rooms, and can be rented in others. Towels can be rented for the dorms, too (they are included with private rooms). Overall, you won't be disappointed.
Common Areas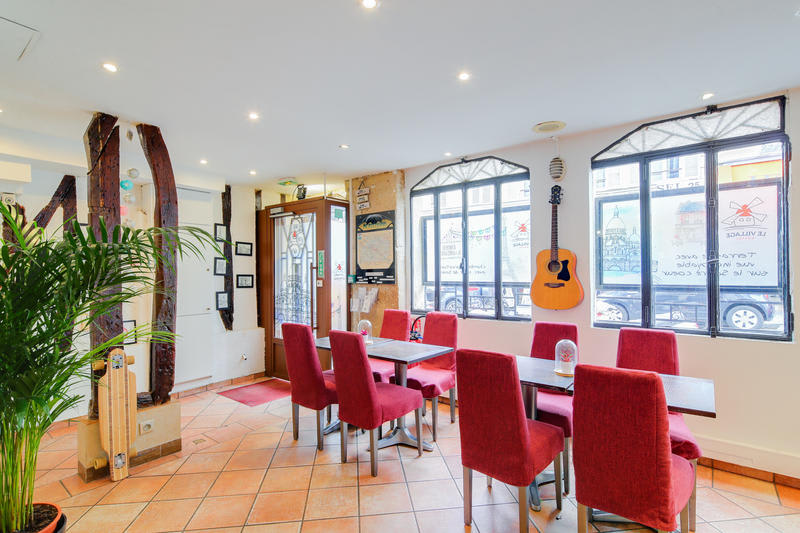 The common space at The Village Montmartre is comfortable and relaxing. When other guests are around, the main common area is a nice spot to hang out. Some guitars are provided which add to the atmosphere. A variety of tables are set up for those that want to chat, have a snack, eat breakfast, or do some work.
The Location
Montmartre
The historic and delightful Montmartre neighborhood is full of shops, restaurants, and residences all centered around the famous Sacre-Coeur cathedral on the north side of Paris. Wind your way around the old narrow streets, many of which are made of stairs, to find the next hidden gem. Don't forget your camera!
What's Nearby?
Located in the heart of Montmartre, this hostel is only one block from the southern end of the Sacre-Coeur Cathedral grounds. It's also one block north of a metro station and the main road. All of the surrounding blocks contain shops, restaurants, museums, bars, and more. You can literally explore the neighborhood from the doorstep.
A market is located just across the street so that you can stock up on food if you like, too.
Nearby Transportation
The Anvers Metro station is only 1 block away. This station is on Line 2 and can take you east-west to some of the other Parisian neighborhoods, or you can change lines to get anywhere quickly. Several other stations are also nearby, including Barbes-Rochechouart (lines 2 and 5) and Pigalle (lines 2 and 12). Both of these other stations have lines which can take you into the city center without changing trains.
The Gare du Nord railway station is also nearby. It's a long walk, but it can be reached on foot or by Metro.
Several bus lines also travel along routes through several main roads near the hostel.
Activities
This hostel provides some regular activities, but not as many as some other nearby hostels. They have events in the evenings which gather the guests around for social activities such as games and meetups.
Amenities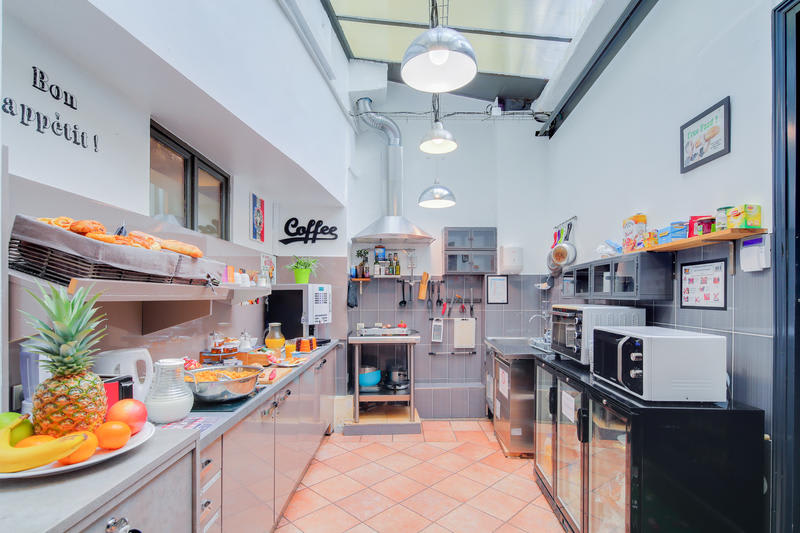 The hostel offers breakfast in the mornings for a small price. They have a full kitchen which guests can use, too. Other standard hostel amenities are offered such as free Wi-Fi, key-card access, luggage storage, a tour desk, an elevator, and more. You'll have everything you need here.
Staff
The staff is super-friendly and helpful. They can help you with anything you need in the hostel, as well as many other things such as tour bookings and transportation advice. They also do a great job keeping the hostel clean and well-kept. Thousands of positive reviews have been earned by this hostel, and the staff is what makes that happen!
Heads Up
Some guests have said that this hostel is not as social as some others. Keep in mind that this hostel is a bit more quiet and caters to travelers who are looking to experience the tourist attractions of Paris instead of the nightlife.
Le Village Montmartre by Hiphophostels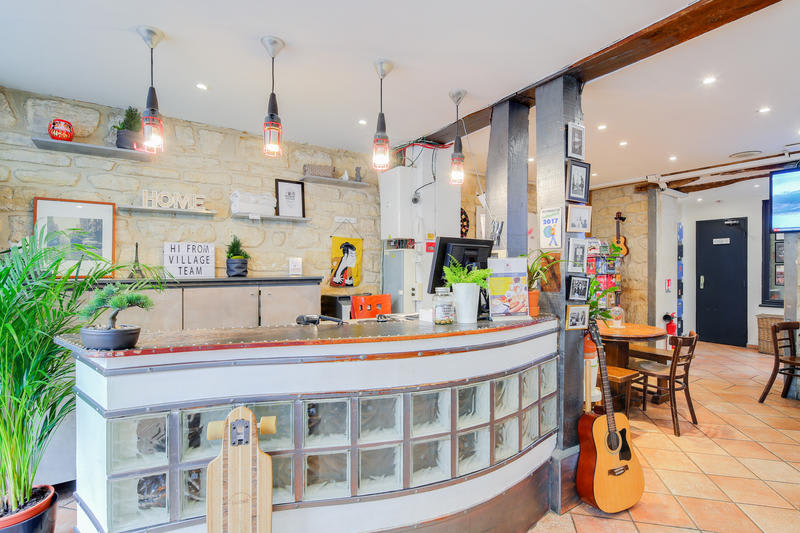 Do you have a favorite hostel that you would like to review? Let us know!