Should you visit Spain or Portugal?
Spain and Portugal are not just neighbors, they share a similar culture, history, and geography. Over the centuries they have evolved separately, yet together, as western European nations. Even though many visitors will say that they both have amazing beaches, stunning architecture, delicious Mediterranean cuisine, and warm weather, the discerning visitor will easily see the differences.
Spain is around five times the size of Portugal. So, it's often not fair to compare the two nations from a tourism perspective. Spain has more large cities, mountains, national parks, museums, and historical attractions. Spain also has more routes of the famous Camino de Santiago, more coastline, more tomato-throwing festivals, and more bulls that run after you. But when we take the overall influence that a country has on its visitors, Portugal represents itself well, too. With the charming culture found in the cities of Lisbon and Porto, along with the popular cultural regions of the Algarve and Alentejo, every type of traveler can find a place to explore and relax in this smaller country
Portugal is tied to the sea much more than Spain. As most of Portugal's country is close to the coastline, while Spain has more inland areas, Portugal has traditionally been a seafaring nation. For the modern traveler, this is most noticeably reflected in its cuisine which consists of plenty of seafood. Spain, on the other hand, has more land and agricultural-based food options. The two countries also share similar histories as they were once part of the Roman Empire and then experienced a strong Islamic influence from the Moors, only to be then re-taken by Catholic monarchies with a focus on exploration and imperialistic expansion. All of these cultural influences have left their mark in similar ways on the architecture, cuisine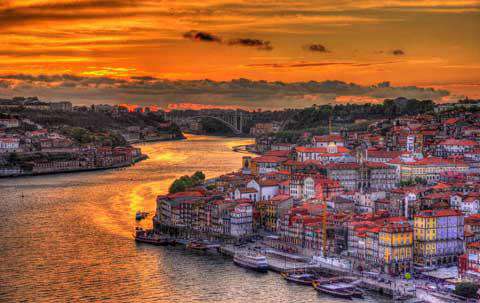 Portugal also has an abundance of beaches. Some of the coastline is dramatic and rocky, while other areas are flat and smooth leading to sandy beaches that are great for sunbathing. However, we can't avoid the beaches of Spain, either. The southern coast is known to travelers the world over as a great destination. From Malaga up the coast to Valencia and on to Barcelona, Spain offers plenty of Mediterranean beach towns. Some are party destinations, while others are centered around luxury resorts. The northern coast is also popular, and offers an entirely different cultural atmosphere (such as in the Basque). And of course, don't forget about Mallorca and the other Balears Islands.
So, which country should you choose, Portugal or Spain? Well, why not both?
It might be easier to look at the practical side of travel to both of these countries to help you make a decision. Flights into Spain might be easier and cheaper simply because there are more options to choose from. Madrid, Barcelona, Seville, Malaga, Valencia, and Bilbao all have major airports with flights that connect to the rest of Europe, the U.S., and other regions of the world. On the other hand, Lisbon and Porto are not as well connected depending on where you live.
Once you're in Spain or Portugal, it's quite easy to get to the other country, too. Buses, trains, and flights from Lisbon to Madrid and back are quick and often very affordable. Flights between the two cities costs around $50 on a budget airline. Buses take around 12 hours, and also cost around the same price as a budget airline. The train can usually be cheaper (around $30), and takes about 10 hours. Keep in mind that if you have a rail pass, the prices for trains can be much cheaper, too.
Furthermore, many tour companies include Spain and Portugal together on their trips, if only because the two countries are next to each other. Many tour companies can give you a full overview of both countries in a week or two. Also, some companies offer specific types of tours, such as adventure tours, tours for those under 35, or culinary and food-focused tours.
G Adventures offers
a tour that covers both Spain and Portugal
at an affordable price over 10 days, plus longer tours, too.
Contiki specializes in tours for those under 35, and has
a tour of both countries for 12 days
, as well as other tours that also include Morocco and other European destinations.
If you must choose only one...
If you want a beach vacation where you can explore a small area, then Portugal is probably best for you. However, if you're looking to explore multiple large cities with historical attractions, then Spain might be more of your style. That being said, Spain has plenty of beaches, too. And Portugal has a few large urban areas with plenty of charm. While it's tough to make a final decision, perhaps price out a few options before deciding.
As one of the most popular tourist destinations in Europe, Spain has no shortage of places to explore and comfortable amenities for travelers. It's relatively affordable by Western European standards, but it is more expensive than nearby Portugal. Traveling around Spain is easy and efficient, particularly if you're traveling between major cities. There are train networks with high speed trains that connect most major cities in Spain, so despite it's large size, transportation is usually not a problem.
Spain is also an interesting country to visit because it's not hard to see the Arabic influence in the region. This is unique for a European country. Spain also has a vibrant nightlife scene and many lively festivals. Whether you're looking for a beautiful coastline, a historic town, or a cosmopolitan city with a vibrant nightlife, Spain really has it all.
Portugal is also easy to navigate for travelers. It has grown in popularity and has become a major tourist destination in Europe. The country is slightly more affordable than Spain, and it has a lot to offer all types of travelers. Portugal has a very diverse landscape that includes mountains, beaches, and desert-like settings. The country has vibrant cities like Lisbon and Porto, plus natural areas where you can enjoy a more peaceful setting. Portugal has a lot to offer, whether you're interested in hanging out on the beach, sipping some wine, or playing golf.
Which country is cheaper, Portugal or Spain?
Should I visit Spain or Portugal? This is a popular question for many travelers. By figuring out which country is more expensive, you'll understand where you'll get more bang for your buck. A week in Portugal can cost you about €759 (per person), while a week in Spain may cost you around €834. These differences become even more noticable if you plan to spend a longer time in the country. 10 days, two weeks, or even one month of travel to Portugal or Spain can really add to your travel budget.
Accommodation is often cheaper in Portugal compared to Spain (€47 vs. €53). Budget travelers usually stay in less expensive hostels and guest houses, while nicer hotels often appeal to families and upscale travelers.
Compare hostel, B&B, and guesthouse prices between Portugal and Spain to find the cheapest accommodation here: Portugal hostels and Spain hostels.
When comparing food in Spain vs. Portugal they are not just different in cuisine, but also in price. Meal and restaurant costs in Spain (€32) are often cheaper than Portugal (€32).