Ericeira On a Budget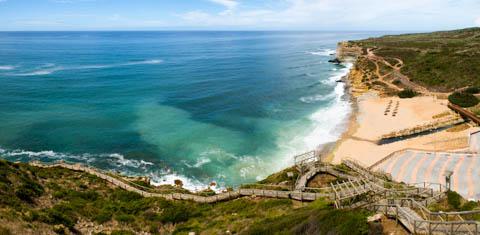 Beneath an indigo sky, a city perches at the edge of sandstone cliffs that overlook the vast expanse of the Atlantic. A seaside resort and fishing community, Ericeira is located in western Portugal within the municipality of Mafra. A picturesque village, Ericeira is quaint, quiet, and absolutely breathtaking with a population of no more than 10,260. Because of its blue waters and pristine coastlines, it has been named the Surfing Mecca of Europe. The town was a famous summer retreat for the families of Lisbon during the 1940s and 1950s and still remains so today for families beyond Lisbon's borders. Ericeira also has a World Surfing Reserve, the first in Europe and second in the world. Besides the many beaches on Ericeira, including Ribeira d'Ilhas, Pescadores, and Mataduoro, the town also has a park called Parque de Santa Maria as well as an old town center that has a collection of cafes, shops, restaurants, and bars. There are also some important landmarks that can be explored as no more than a brief visit, such as Forte Mil Regos and Casa De Cultura Jaime Lobo E. Silvs. Whether you are a surfer, fisher, or simply a lover of the beach, Ericeira is the perfect place for those who wish to experience the Atlantic like never before.
Sights
Naturally, one of the most popular destinations of Ericeira is the beach, specifically the Praia de Ribeira d'Ilhas Beach. This expanse of sandy shore has particularly rough waves that are perfect for surfers. Moreover, Ribeira d'Ilhas is also a part of the World Surfing Reserves. Ericeira World Surfing Reserve was created on October 14, 2011. Stretching nearly 2.5 miles, the World Surfing Reserve includes seven separate surfing spots like the Ribeira d'Ilhas. The World Surfing Reserve was established in Ericeira because of its environmental biodiversity, wave quality, and surf breaks. Ribeira d'Ilhas also has a viewpoint to marvel this amazing scenery called the Miradouro de Ribeira d'Ilhas. The beach has won many awards, such as the Blue and Gold Flags which were awarded in 2016. Ribeira d'Ilhas can be accessed by the Estrada Nacional 247. There is also car parking available near the beach. If you are looking for information on the tide or safety of the waters, be sure to check out Riberia d'Ilhas' website. Whether you are looking to bathe under the sun's golden rays or the Atlantic's blue waves, be sure to enjoy yourself while at the Praia de Ribeira d'Ilhas Beach.
Food and Dining
If you find yourself getting hungry amidst the surf, sun, and sand, relax, unwind, and dine at Dom Carlos Restaurant and Marisqueria. Located near Praia de Ribeira d'Ilhas Beach, Pedra Branca, and the Reef, Dom Carlos is a gastronomy like no other, specializing in quality seafood, accommodating service, and fantastic views. Named after King D. Carlos I, the penultimate king of Portugal throughout the latter part of the 1800s. An intellectual borne of extravagance, King D. Carlos assisted in servicing Portugal throughout many economic crises. He was nicknamed the Diplomat, Martyr, and Oceanographer. Faced with great turbulence in the kingdom, the king appointed Joao Franco as prime minister without any elections. King D. Carlos' dictatorial regime sparked the beginning of the republican movement, which was already gaining support throughout Portugal. Today, the name Dom Carlos now refers to a spectacular restaurant that specializes in Portuguese cuisine. Most of the fish are caught from the coast of Ericeira and served with fresh ingredients by culinary masters. Some of the dishes served at Dom Carlos include the seafood rice, the famous robalos and lagostas, the cataplana de mariscos, and the octopus a lagareiro. There is also a wide variety of genuine cod along with an extensive menu of wines and liquors that can be purchased to complement your dishes. If you are looking to savour the sea, make a reservation at Dom Carlos!
Transportation
Due to the small size of the town, most of the destinations within Ericeira can be easily reached by foot. However, if you are looking to travel beyond Ericeira, rental car services are sure to be found in or near the town. This will allow you the luxury to explore the greater part of Mafra at your own pace and in your own vehicle. There are also a few bus services that connect various points in the town as well as to other neighboring cities like Lisbon. A small airport is located in Ericeira that can fly you to different parts of Spain.
Train and Bus Prices
The best prices for buses and trains in Portugal
can be found on Omio
(formerly
GoEuro
). They let you search across all train, bus, and plane routes throughout the region.