Braga On a Budget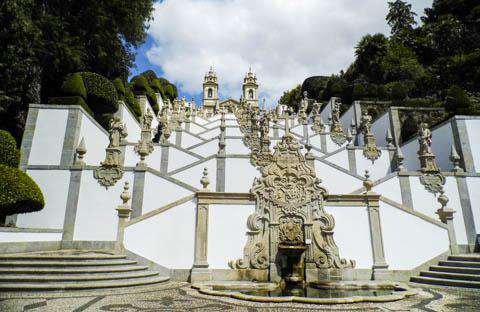 Located in the Cavado Valley of Northern Portugal, Braga is a medium sized city with both historical and modern characteristics. There is a university in town, known as Universidade do Minho, which gives the city a young feel with a lot of life. There are also many bars, clubs, and activities around to keep you entertained.
The city has a Mediterranean climate that is similar to that found in other cities in the northwest Iberian Peninsula. Summer temperatures can be hotter than you might expect though, as the city is not that close to the ocean. In general, the weather is quite pleasant and there are clear seasons throughout the year. Rain is most common during the fall, winter and spring seasons.
Sights
There are a handful of sights throughout the city, including cathedrals, museums, and the fascinating Tree of Life Chapel. This chapel is made with 20 tons of wood, but not a single nail or piece of metal. It's truly fascinating to see. It is also worth doing a trip to the nearby Nacional Park of Peneda-Gerez.
There are also many interesting archaeological and cultural sights within the area. Arch of Porta Nova is on the western gate of the medieval wall. The Castle of Braga was constructed during the reign of King Denis of Portugal. It played an important role in the defense of the city and included a semi-circular walled enclosure and the Se Cathedral. Squares worth visiting include Municipal Square, Paco Square, Conde Agrolongo Square, and Santiago Square. Also visit the Archbishop's Palace of Braga, Born Jesus, and the Biscainhos Museum.
Neighborhoods
Braga has many monuments and architectual sights spread throughout its city center. Around the university area, which is on the eastern side of the town, you will find many affordable restaurants, bars and clubs. Interesting squares include Municipal Square, Paco Square, Conde Agrolongo Square, and Santiago Square.
Activities
Do try to get outside of the city during your visit, at least for a few hours. The landscape in the area is quite beautiful and worth a day trip. There are nearby parks and some smaller, historic towns that are also worth a trip. Allow yourself at least one day during your visit to make some day trips outside of the city.
The city's nightlife is somewhat limited, particularly on weekdays when many of the clubs are closed. Most are only open on weekends and Wednesdays, which is "academic night", when many students go out. There are some interesting small bars around the historic city center that are worth checking out, so ask a local where the best place to go is. Do keep your wits about you at night as the city center is best not explored alone in the late evening.
Festivals around Braga include Semana Santa (the Holy Week), Sao Joao, and Braga Romana.
Food and Dining
The food in Braga is actually quite diverse and delicious. There are a good number of affordable restaurants around town. If you're on a tight budget, the best area to find good, cheap food is by the University Campus, which is on the eastern side of town. In this area you'll find plenty of restaurants that cater to students.
There are many regional and local specialties. The dishes are influenced by the diverse natural landscape of the area. Some of these specialties include potato and cabbage broth, a type of corn bread that is made with maize, and roasted meats. Common meats range from pork to fish, including cod or trout. Other dishes are common such as duck rice and local ham. In general, the meals are typically filling and delicious.
For traditional food try Panoramic Restaurant at Hotel do Elevador. It has good food and a great view of the city.
Transportation
There is a nearby airfield in Palmeira, but the principal airport for the city is actually about 50 kilometers away in Porto. You can reach the city center by bus or regional high speed rail, which connects Braga with other major cities. The city is easily accessible by train, but once you arrive you will find that the train station is a little outside of town. You can make your way into the city center from this train station by either bus or taxi. Alternatively, instead of taking the train, it is typically cheaper and faster to reach Braga by bus.
To get around Braga there is a decent bus system. Although public transit here is not as established as in some other Portuguese cities, it is still relatively efficient and your best means of transportation aside from walking.
Related
50 things you need to know to travel to Portugal
Train and Bus Prices
The best prices for buses and trains in Portugal
can be found on Omio
(formerly
GoEuro
). They let you search across all train, bus, and plane routes throughout the region.