Peniche On a Budget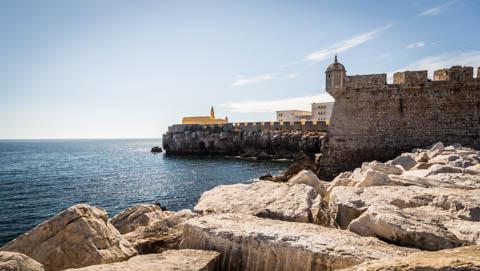 Peniche is a beach destination with many attractions for travelers. First, the raging sea and the lay of the land make this a popular surfing destination. The best of many supreme beaches is Praia dos Supertubos, which has a tubular wave fit for big time international events. Peniche has also been a port since the Early Modern Age, when a fort was constructed to defend it. This monument has an absorbing history, first as a maritime defense and then a prison during the Estado Novo regime in the 20th century. The walled historic center makes for pleasant strolling, and the seaside fort where Salazar's regime detained political prisoners is a must-see for anyone interested in Portuguese history. Artisan lovers will enjoy Peniche's specialty, handmade lace, and it is even possible to see the lace-work in action. And on top of everything, Peniche also has the Berlingas Islands, a natural reserve off the coast, which are well worth a visit.
Sights
Fortaleza De Peniche is a cliff-top fortress controlling the port that was built by King John III in 1557 and then expanded in the 17th century by John IV. At that time it was equipped with the latest anti-cannon architecture and given a star configuration. As one of Portugal's pivotal maritime defenses it had a military purpose until the end of the 19th century. From then on it was either a prison for political opponents of the Estado Novo regime, or a shelter for refugees, from the Boer War in the late 1800s or more recently the Angolan Civil War. You can get up to the roof to scan the ocean, and there's also a museum inside to explore.
Berlengas Archipelago Islands are only 10 kilometers offshore and is one of those things you simply have to do in Peniche. The archipelago is a natural reserve, with a colony of puffins and rich marine life. There's no permanent settlement, but the main island has a fort, which was a former penal colony, and is now a campsite. There are regular ferries across from Peniche as well as companies that will take you in smaller vessels like RIBs. On the ocean side the Atlantic is rampant, smashing against the rocky shore, while away from the wind and currents the landward side has small beaches with perfect water clarity.
Igreja De Sao Pedro
This church is from the end of the 1500s, but it was given a big makeover in the 17th and 18th centuries. The art in the chancel is from this period, and devoted to St Peter; there's a statue of the saint, and 18th-century paintings of chapters from his life, like Quo Vadis and the Miraculous Catch of Fish. It also has a traditional Baroque altar with a mass of radiant gilt-wood, carved into columns and panels with foliate patterns surrounding cherubs.
Neighborhoods
Historic Center
The historic center is the main area of interest to visitors. This neighborhood houses many of the main attractions in Peniche, as well as where you will find most of the shops and restaurants. The sights include the Nossa Senhora dos Remedios Sanctuary, the Sao Pedro and Misericardia Churches, and the Peniche Fort.
Berlengas Islands
From the harbor of Peniche you can take a boat trip to the Berlengas islands. These islands are Portugal's oldest nature reserve and location of the spectacular Sao Joao Baptista fort. These islands are one of the biggest areas of interest in Peniche and, though not a livable neighborhood, are well worth exploring.
Activities
Go surfing! Peniche could well be Europe's surf capital, and there's a lot of competition for your business at the many surf shops and schools. One of the big pros about surfing in Peniche is that all the surfable beaches face different directions, so at least one will have the right waves at any given time. Beginners will be instructed on the basics, as well as safety and surfing etiquette. If you're in good shape it's not unusual to be standing on your board by the end of your first lesson.
Go to the Sportagua waterpark. Waterparks are always fun, and this one's just outside the center of Peniche a quick jaunt from the main beaches. There are four slides, two with a languid, gentle pace for almost all ages, and a multi-lane racer and a fast kamikaze slide. The littlest visitors have their own pool with short, shallow flumes that are safe even for toddlers. Beyond that you have a full-sized pool for swimming or bathing, a cafe and green areas for exhausted children to dry off and for parents who just want to lounge in the sun.
Go to the beach. It's one of the most popular things to do in the area, and while you're here you might as well join in. Whether you want to go for a surf, a swim, or just some time in the sun, the beaches in Peniche are excellent!.
Food and Dining
Peniche has plenty to offer as far as gastronomy and cuisine goes, and, being a port city on the water, the most famous is its seafood. Avenida do Mar by the harbor is where the best fish restaurants are, with a selection of tasty regional preparations on the menu. A common local dish, Caldeirada, is a stew best described as the Portuguese version of bouillabaisse. It's a medley of white and oily fish, spiced with a little piripiri chilli, and it's worth trying anywhere in Portugal as the recipe will differ from city to city. In Peniche it will involve anglerfish, turbot, ray, dogfish and conger, all cooked with potato. Arroz de marisco is a delicious seafood rice dish with crab and shrimp, and then there's also lobster soup and the old classic, barbecued sardines.
Transportation
Lisbon is the closest international airport to Peniche. There are direct bus services from Lisbon served by the national coach operator Rede Expressos or the regional coach operator Rodotejo. The bus journey takes 1h30min. There are buses and taxi's to help you get around in the city and surrounding areas. Renting a car is also an option for getting there and around.
Train and Bus Prices
The best prices for buses and trains in Portugal
can be found on Omio
(formerly
GoEuro
). They let you search across all train, bus, and plane routes throughout the region.