Sintra On a Budget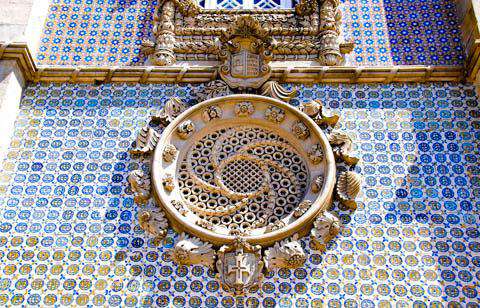 Located just 28 kilometers from Lisbon, Sintra is a town that was, for a long time, home to Portuguese royalty leading up to the 1910 revolution. In town you will find a Royal Palace and in the surrounding area there is a Moorish Castle, and the Pena Palace, which dates back to the 19th century. The town is on the Estoril Coast near the Sintra Mountains, making its setting very dramatic, beautiful and picturesque. The surrounding hills are actually designated a UNESCO World Heritage Site because they offer a great combination of both cultural importance and natural beauty.
The area has a Mediterranean climate that is influenced by the Atlantic. The weather is typical of that found in continental Portugal and temperatures are generally moderate with wetter winters. There are many micro-climates in the surrounding areas because the mountains influence the flow of weather patterns. In general, it is worthwhile to get outside of town and see the diverse landscape.
Sights
There are a good number of sights around town that are worth checking out. The Quinta da Regaleira is a beautiful palace and gardens that is worth a couple of hours of time. There is, of course, the Royal Palace and the Pena Palace, as well as the Moorish Castle. Pena Park is located just by Pena Palace. This forested park area surrounds the Palace and has over 2,000 different plant species. Many of them are not native to Portugal. Some of the species are marked by signs. You can take one path to the statue of King Fernando II standing on a rock out crop. This point can also be seen from the palace. For stunning views of the palace, follow the second path to the southern view point.
If you've had your fill of palaces and castles you can head over to the Toy Museum. For only 3 euros you can see their over 20,000 exhibits. It's great entertainment for adults and children alike.
Neighborhoods
To see the sights in Sintra proper, a popular option is to take the bus that travels in a circle past many of the main attractions. This bus route, 434, goes from the train station to Sintra Town to Castelo dos Mouros to Palacio da Pena and then back to the train station.
Activities
In addition to exploring the surrounding area and walking around the town's historic center, shopping is a popular activity activity in Sintra. There are many souvenirs available around town. Porto wine is for sale at many of the shops in the historic district. There are also ceramics, artwork and handicrafts available. In particular, cork products are unique to the area. You can find everything from wallets to umbrellas and they make an interesting gift for friends and family.
Food and Dining
There are a handful of good restaurants throughout Sintra. Some are popular with tourists and priced accordingly, so it is best to find a more local joint as it is more likely to have delicious food at a reasonable price. There are also a few cafes and places to grab a drink if you're looking for a place to rest your feet. In addition to traditional Portuguese food you will also find Asian and Italian restaurants, among other options.
Transportation
It is possible to reach Sintra from Lisbon by either train or bus. If you choose to take the train, then do take note that the Sintra train station is about a twenty minute walk from the town center. You want to avoid driving to Sintra, particularly during holiday weekends, because parking can be quite challenging. If you do arrive with a car, then there are several parking lots that are just below the town. It is best to park in one of these and walk into town. Once you arrive in town, then you can easily navigate the area with the bus system and on foot. It is possible to walk everywhere, but do be warned that there are some steep hills, particularly between the Palacio da Pena and the Castelo dos Mouros. There's a convenient bus route, the circular route 434 that takes you by most of the city's sights. It's reasonably priced as you can buy a day pass for only 5 euros. Buses arrive every fifteen minutes and only travel in one direction. It can become crowded so you may have to wait for awhile before a bus with enough room arrives.
There's also a nice walking trail that starts above the city center and goes through the woods to the Moorish Castle. Grab a map at the tourist information center before you head off as the trail head can be hard to find. After you reach the castle, then continue on a few more minutes and you'll find the Palacio.
Train and Bus Prices
The best prices for buses and trains in Portugal
can be found on Omio
(formerly
GoEuro
). They let you search across all train, bus, and plane routes throughout the region.