Choosing this hostel was 1 of the best things I have done during my trip in Europe. its location is great and you never feel bored. They have different activities every day. I joined 2 free walking tour & a paid one. The guide Suzie was really knowledgeable, friendly & helpful for giving us tips in regards of shopping, money exchange, restaurants, scams... The reception staff were super friendly and always ready to help. - Anonymous
What sets them apart?
Located right on the edge of Old Town Prague, Hostel DownTown is not only perfectly located to experience the city, but it also has plenty of great amenities such as a cheap breakfast, walking tours, pub crawls, and other activities.
Hostel Personality
Who's staying here?
A variety of travelers stay here from budget backpackers to couples or families. This hostel welcomes everyone and offers a really great and active community vibe. Solo travelers, small groups, backpackers, students, couples with kids, and everyone else can find a place here.
Insider Tip
Absolutely take part in the organized tours and activties - they are lots of fun and a great way to meet other travelers.
Hostel DownTown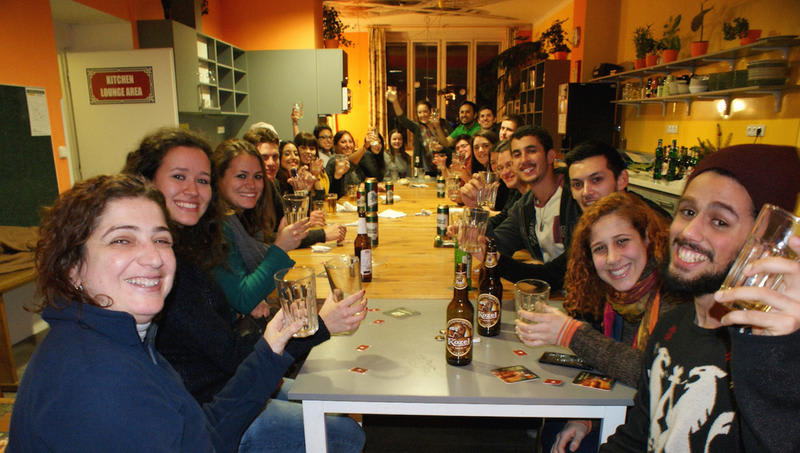 An overall fantastic hostel for budget travelers of all types, the Hostel DownTown is located right on the southern edge of Old Town not far from Charles Bridge and Wenceslas Square. From here you can get everywhere in the historic center of Prague on foot in under 20 minutes.
One of the best parts of this hostel is the amazing community atmosphere which is facilitaed by the frequent activities at the hostel such as walking tours, cooking classes, beer tasting, group dinners, and more. While it's not a party hostel, it's
very socially active
and also welcomes families and travelers of all types, not just backpackers.
The Facilities
Dorms
Dorms at the Hostel DownTown are basic but colorful and have some nice features. They include linens, lockers, and reading lamps. Some rooms have ensuite bathrooms while others use the hallway bathrooms. All-female dorms are also offered. The rooms are spacious and kept very clean.
Private Rooms
The private rooms here come in a variety of sizes. Families and small groups can stay together in a 3, 4, or 5 bed room, or larger if needed. Couples can choose a double room. Some of the private rooms are like the dorm rooms with bunks, while others feel like hotel rooms with ensuite bathrooms.
They even have a great family room with some large animal sculptures and artwork decorating the walls.
Bathrooms
The bathrooms at this hostel are modern and clean. With plenty of hot water and water pressure, everyone will be comfortable. The bright and colorful bathrooms have plenty of space and modern, new fixtures.
Common Areas
The common areas here are nice places to meet up with other guests. The main spot is the kitchen and dining room areas where guests can cook meals in the communal kitchen or participate in the various activities that the hostel offers (more on that later).
The lounge area has some large and comfortable sofas and a foosball table. This is a nice spot to relax with your new friends, read a book, or hop on the internet. They also have a piano and a guitar.
The Location
Stare Mesto (Old Town)
What's Nearby?
Located on the edge of Old Town and New Town to the south, this hostel is just minutes from everything you want to see. Charles Bridge, Wenceslas Square, the Astronomical Clock, and other major sights are all within 10 to 20 minutes away on foot, or less. Also, various restaurants, shops, theaters, museums, bars, and more are nearby. Many guests love being on the edge of the New Town where they can see some of the alternative restaurants and bars from the more touristed Old Town, too.
Nearby Transportation
The tram that runs through Prague is nearby, and can take you to any place around town. Also, Wenceslas Square is not far and has a metro station to take you further out into other neighborhoods of Prague.
Activities
With perhaps the busiest activity schedule of any hostel in Prague, guests here love not only staying busy seeing everything in town and experiencing the culture, but also meeting up with other guests. From beer and wine tastings to dinners, walking tours, day trips and special live music or art performances... the list goes on and on. Staying here is all about making new friends with a well thought out schedule for experiencing Prague.
Amenities
In addition to the typical hostel amenities, the fantastic kitchen is a great place to cook your own meals so you can some money. They also offer a
great breakfast for a small price
to start your day. Free wi-fi, laundry, a tours desk, bike rental, hair dryers, and more are also on the long list of amenities. You'll feel very comfortable here!
Staff
The staff here is fantastic, and the overall rating along with thousands of positive reviews and numerous awards are well earned. They keep it running smoothly and help everyone have a great time!
Heads Up
It's hard to find any faults with this highly regarded hostel. They do not have a bar, and this is not a party hostel, so if you're looking for a party then this is not the place for you. But it's very social and has a great community vibe.
Hostel DownTown
Do you have a favorite hostel that you would like to review? Let us know!