This hostel is different! It really feel like home. The common area is where everyone is gathering and the atmosphere is really welcome you to talk to each other. Everything is clean and nice. Even though I was staying in the 16 mixed dorm but had a really good sleep because there was someone who checked if the noise is being too loud. Free breakfast and towel is a plus! Additionally, all the staffs are very nice and really make you feel comfortable staying. I enjoy my staying here. - Than, Thailand
What sets them apart?
With a great location and a terrific community vibe, budget travelers flock to this hostel so they can meet up with other guests to have a great time in Prague.
Hostel Personality
Who's staying here?
While this hostel has a terrific location, the facilities are fairly basic so it attracts a younger crowd of backpackers, students, solo travelers, long-term travelers, and small groups of friends.
Insider Tip
Bring your own towel or you can rent one at the front desk.
Art Hole Hostel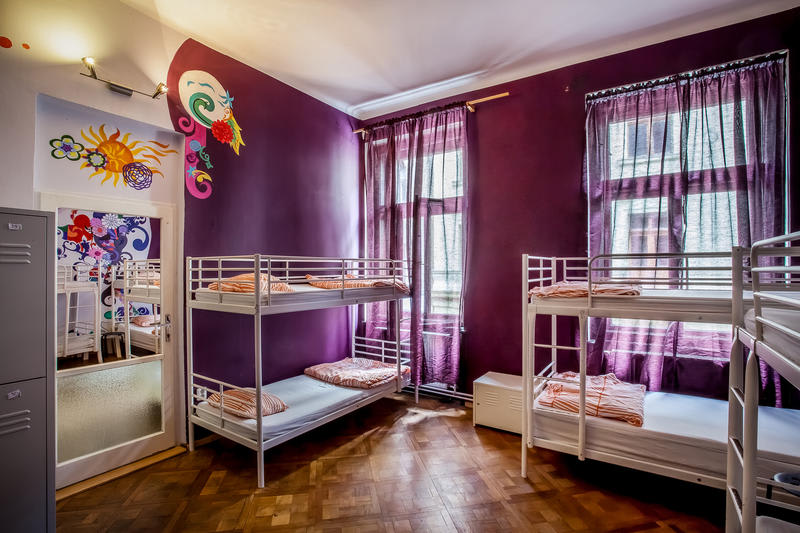 An active and terrific social vibe along with the amazing location and low price keep this hostel packed with budget travelers. The overall artistic theme of this hostel is also quite fun. The friendly staff organizes group activities such as a fun dinner, walking tours,
free breakfast
, and more. The hostel itself is basic but comfortable with enough amenities provided to meet your needs (two kitchens and two common rooms, for example). And situated in Old Town Prague means that you'll be within a few minutes' walk to everything you want to see.
The Facilities
Dorms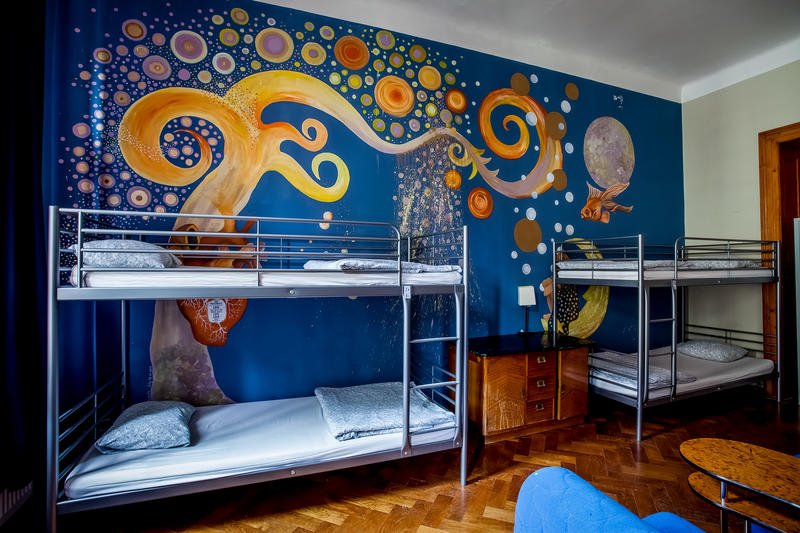 Dorms here are basic but comfortable. An all-female dorm is available, which is nice. Rooms range in size from 6 beds all the way up to 16 beds, and are priced so that you can decide if you want a lower price with a more social dorm or more privacy. The rooms themselves are decorated with a fun artistic style that is full of art-deco colors and vibrancy. Rooms all use shared bathrooms in the hallways.
All rooms have lockers which are large enough for backpacks and suitcases to keep everything safe.
Bathrooms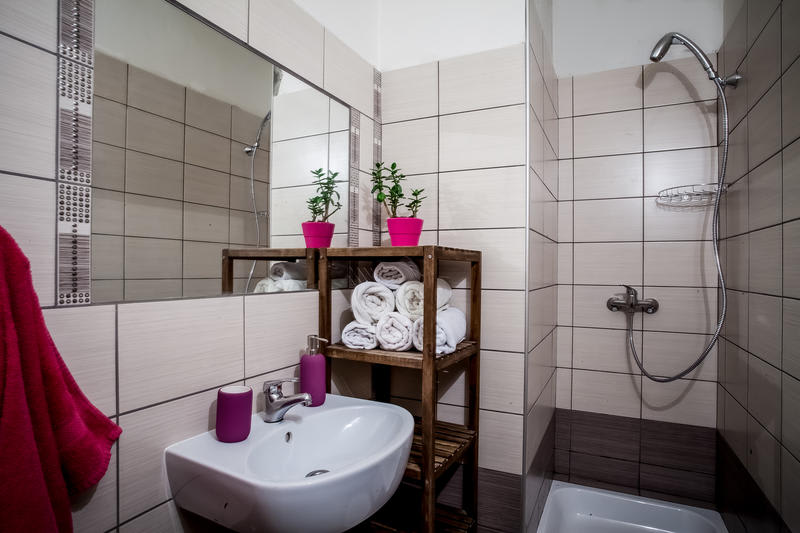 The bathrooms here are modern and the staff works hard to keep them clean. Although all of the bathrooms are shared, they are large enough to accommodate everyone. Plenty of hot water is available. Hair dryers and towels can be rented at the desk.
Common Areas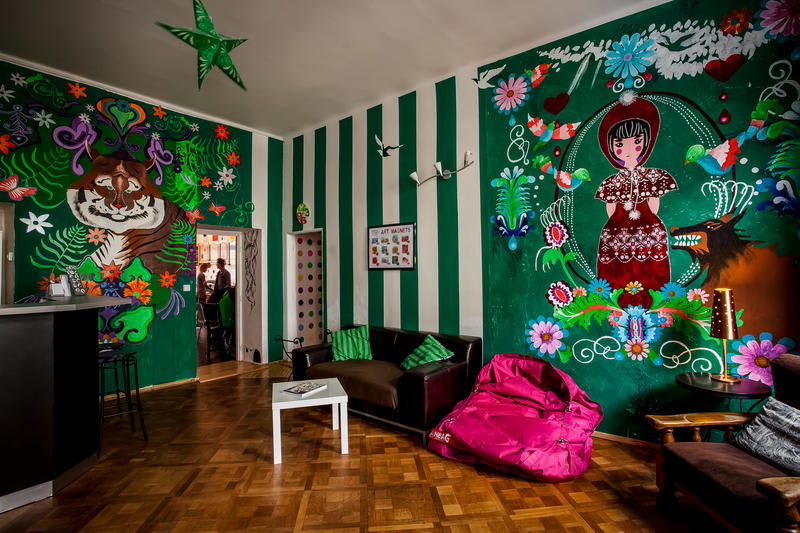 The common rooms at the Art Hole Hostel are spacious and comfortable. With a fun, colorful vibe, the comfortable sofas and chairs are a nice place to hang out, chat with other guests, plan your days or evenings in Prague, and make some new friends. Also, this hostel has
two kitchens
so you can cook your own food and hang out during meal times.
Outdoor Space
A nice outdoor terrace at this hostel makes for a great spot to enjoy your coffee and people watch, or chat with other guests.
The Location
Stare Mesto (Old Town)
What's Nearby?
Located just a few minutes from Republic Square, the Art Hole hostel lies within an easy walking distance of everything in Old Town. It will take you around 30 minutes to walk across the Charles Bridge and up to the Castle from here. Museums, shops, restaurants, bars, clubs, cafes, theaters, and more are all within walking distance.
Nearby Transportation
The main train station is just about 10-15 minutes away if you walk. Public transportation options include the various bus and tram lines that run through the city, including old town. The stops are all within 10 minutes away on foot so you can get around town or out into the suburbs or to the airport easily.
Activities
The staff organizes free breakfasts and a group dinner every night so that guests can get to know one another. This really helps the social vibe of the hostel as all of the travelers here become friends. They also run free walking tours of Prague so that you can learn your way around while getting to know other guests.
Amenities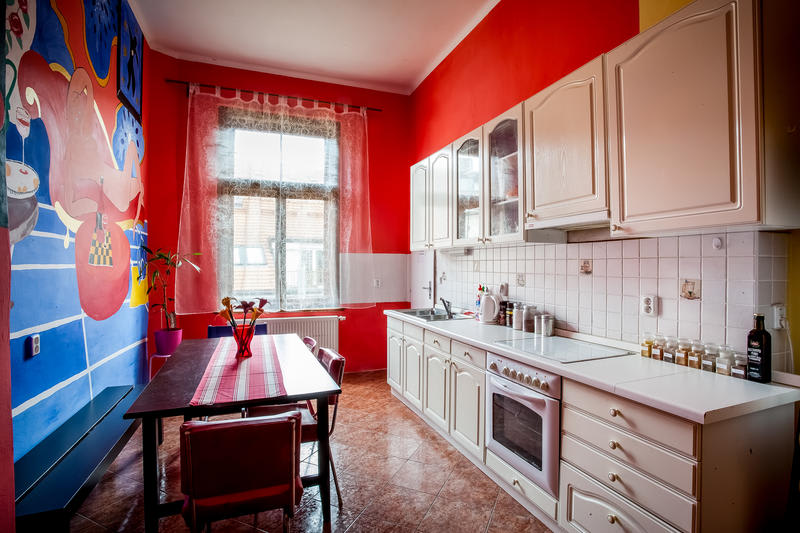 With two kitchens for cooking your own meals, this hostel will really let you save some money. They also offer laundry machines, free Wi-Fi, free breakfast, lockers, maps, bike rental, and more.
Staff
The staff are friendly and do a great job of ensuring everyone is happy and having fun. They also work hard to keep everything clean. They also provide plenty of recommendations as to where to go, what to see, and things to do in Prague.
Heads Up
Some guests say that the floors are a little creaky and the beds make some noise, especially in the larger dorm rooms. Others didn't like that the large 16-bed dorm was right off of the common room because it was a little noisy at night. But with an overall rating that is very high from thousands of visitors, it's hard to find many faults here.
Art Hole Hostel
Do you have a favorite hostel that you would like to review? Let us know!