They have a good system and very clean. It was my first time staying at a hostel and i was very satisfied. Location is fantastic! - Anonymous
What sets them apart?
This hostel's location is fantastic as it's right in the middle of Old Town Prague and within walking distance to everything. They also have some nice amenities, a relaxing social atmosphere, and a variety of room types including cheap dorms.
Hostel Personality
Who's staying here?
Budget travelers love this hostel because of the social dorms as well as the affordable private rooms. Backpackers, solo travelers, couples, students, and long term travelers tend to stay here.
Insider Tip
Grab a shower during the not-so-busy time of day. This older building does not have as many facilities as other hostels.
Hostel HOMEr - Old Town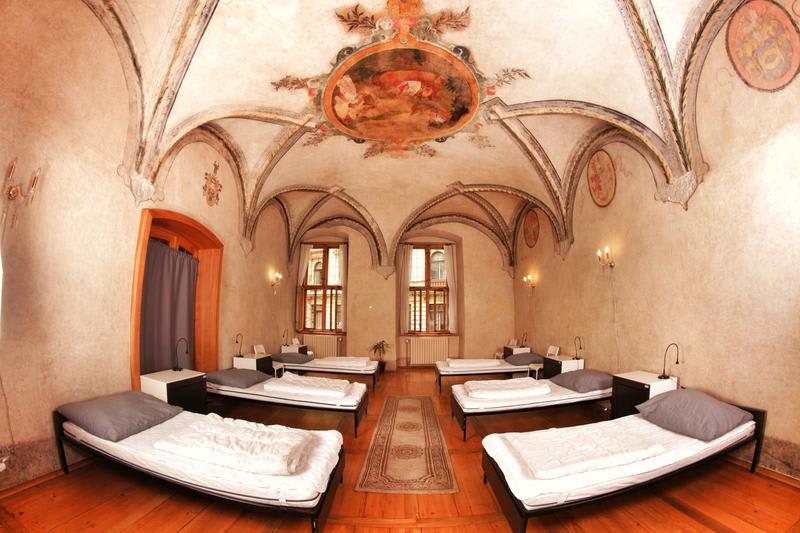 You won't find a better location! Right in the middle of the old town, just a short walk from the Old Town Square, the Astronomical Clock, and 400m from the Charles Bridge and Wenceslas Square, everything in Prague is at your doorstep if you stay in this hostel. They also have some great amenities and comfortable common areas, including several communal kitchens for your own meals. Many of the dorm rooms also have their own kitchens and lounge areas, making this a great hostel for those that want to meet other guests.
The Facilities
Dorms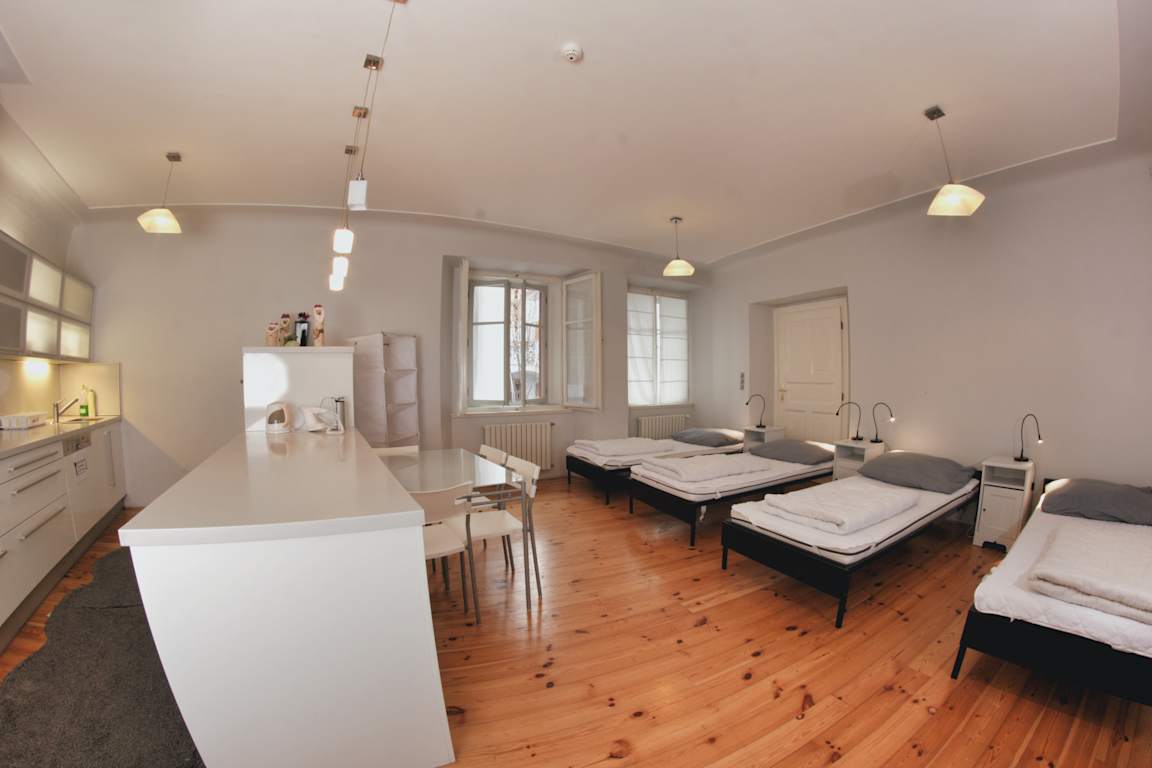 Dorms at the Hostel HOMEr come in a variety of sizes, and all-female dorms are also available. From 4 beds up to 12 beds, a size and price is available for everyone. Some of the larger dorms also have their own kitchen and bathroom areas, too. Linens are included. The dorms have small lockers which can hold your valuables, but not your larger backpacks. Some of the smaller rooms do not have bunks, but rather have all of the beds at the floor level. All beds have lights and plugs, too.
And in this historic building, some of the ceilings are amazing!
Private Rooms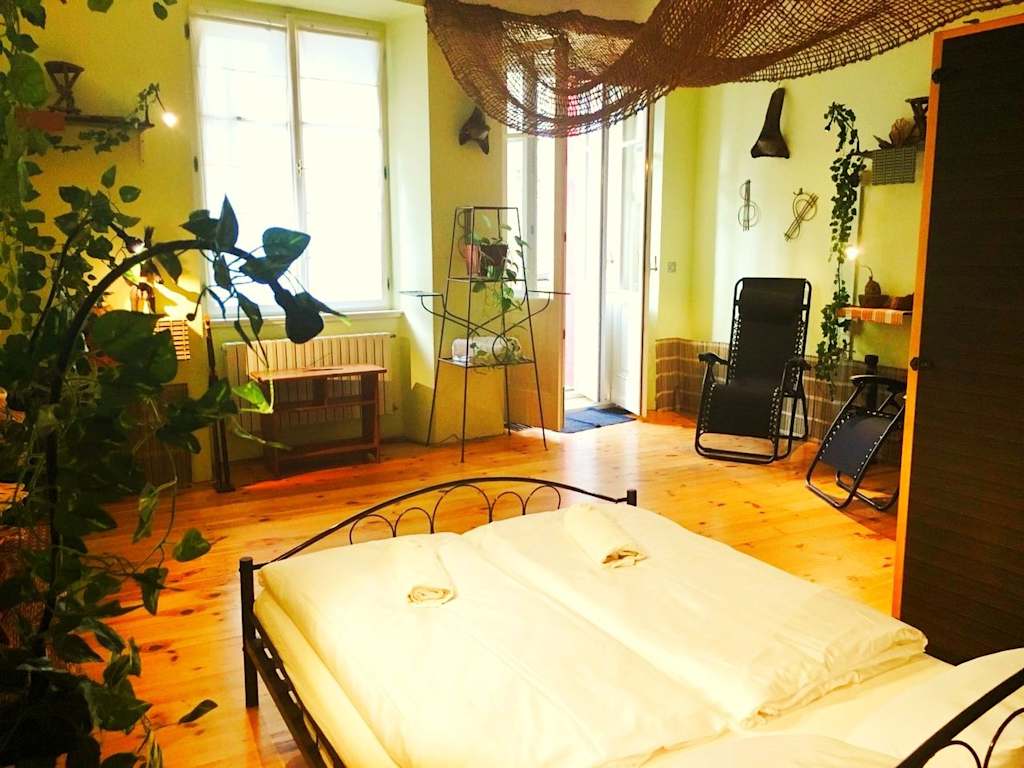 Single, double, and triple rooms are available for those that want more privacy. As budget-style hotel rooms, they are a good price. They all use the shared hallway bathrooms. Some of the rooms are very spacious and are set up like small apartments with lounge areas and balconies.
Bathrooms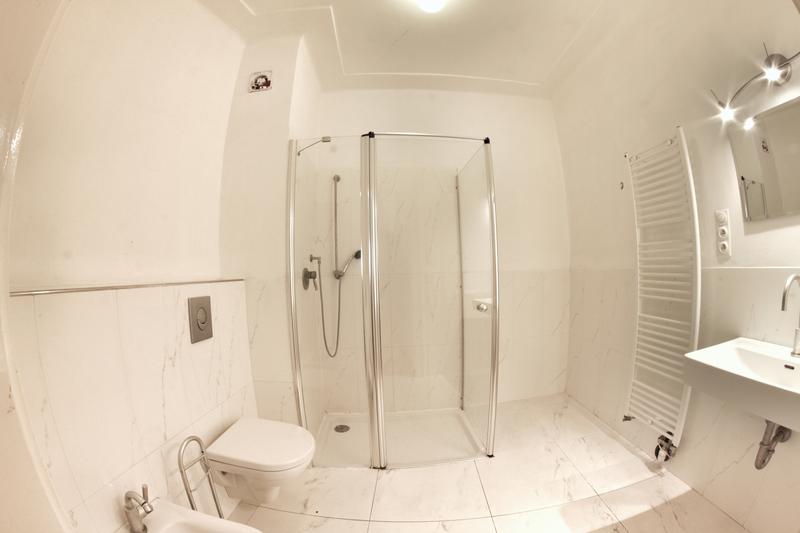 The bathrooms here are modern and renovated. The showers have plenty of hot water, too. Towels can be rented at the desk, but hair dryers are free. Because this is a historic building, many guests say that there are not enough bathrooms for the number of guests in the dorms, but the staff does a great job keeping them clean.
Common Areas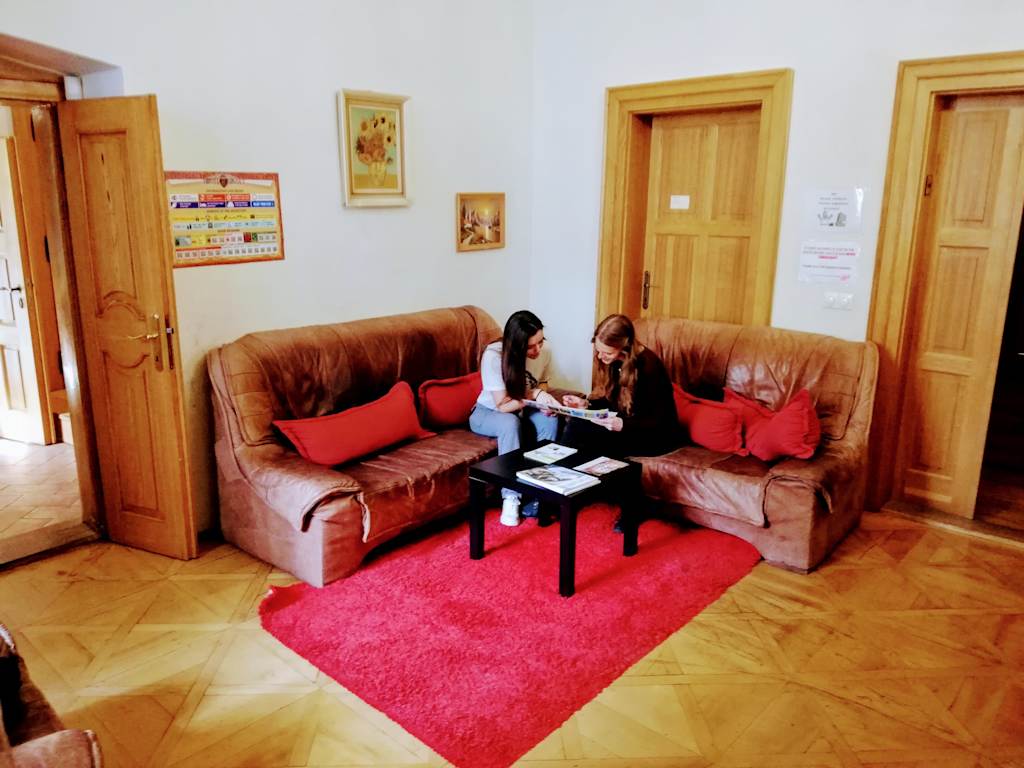 The common area here is quite comfortable. They have a "cinema room" which is a nice spot to relax and watch a movie or show, especially during their regular organized movie activities. The other common areas include the kitchen and dining areas with tables for meals and relaxing. The lounge has a foosball table, guitars, and more.
Many of the rooms actually have their own lounge and kitchen areas, too.
The Location
Stare Mesto (Old Town)
What's Nearby?
Everything in old town Prague is at your doorstep. The Astronomical Clock, Sex Machines Museum, and several other museums are only steps away. Various restaurants, bars, cafes, shops, and theaters can be found on the streets around the hostel. By walking a little further (400m or a quarter-mile), you can get to Charles Bridge or Wenceslas Square. The train station is also only about 10 to 15 minutes away.
Nearby Transportation
You won't need transportation here unless you want to explore neighborhoods outside of the city center. If so, just hop on the tram at one of the nearby routes, or go to one of the nearby metro stations just minutes away.
Activities
With walking tours, pub crawls, movie nights, and wine nights, this hostel provides some fun activities for guests to get out and explore the city as well as meet up with other travelers.
Amenities
The great shared kitchen is a nice perk if you want to cook your own meals. Otherwise you'll find a good list of amenities here including Wi-Fi, bike parking, luggage storage, laundry, tour booking, and more.
Staff
The staff is friendly, professional, and works hard to keep everything clean and well organized.
Heads Up
The main concern at Hostel HOMEr is that they don't have enough bathrooms for the number of guests. As this is an older historic building, they can't do much about it, though.
Hostel HOMEr - Old Town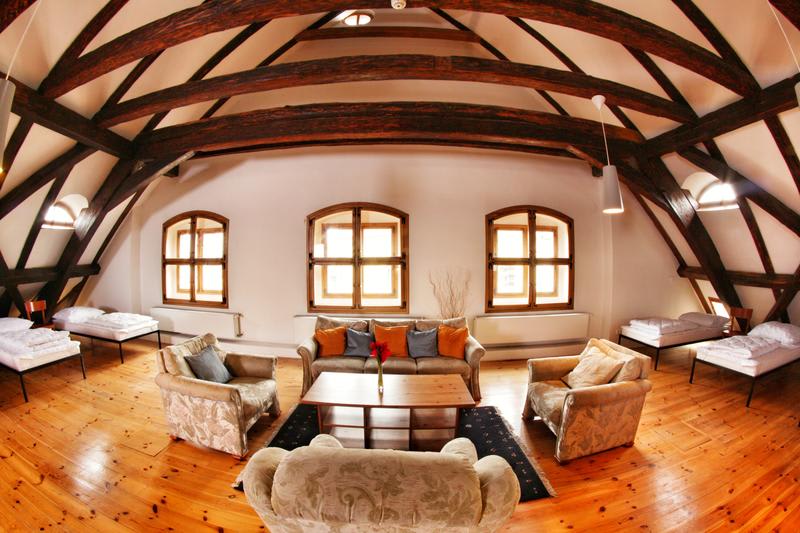 Do you have a favorite hostel that you would like to review? Let us know!