The staff was so kind, and the location was hard to beat! I was able to walk everywhere! Perfect for travelers/students on a budget like me! - Abi, USA
What sets them apart?
Here's what makes this hostel fantastic: an amazing location right in the middle of old town Prague, free walking tours and pub crawls, free breakfast, and a bar. And the price is fantastic, too!
Hostel Personality
Who's staying here?
Plenty of younger travelers stay here. If you're a backpacker, solo traveler, student, long term traveler, or just looking to stay somewhere on a budget, this place has what you're looking for.
Insider Tip
Bring earplugs, as there is a nearby club that plays music through the night.
Old Prague Hostel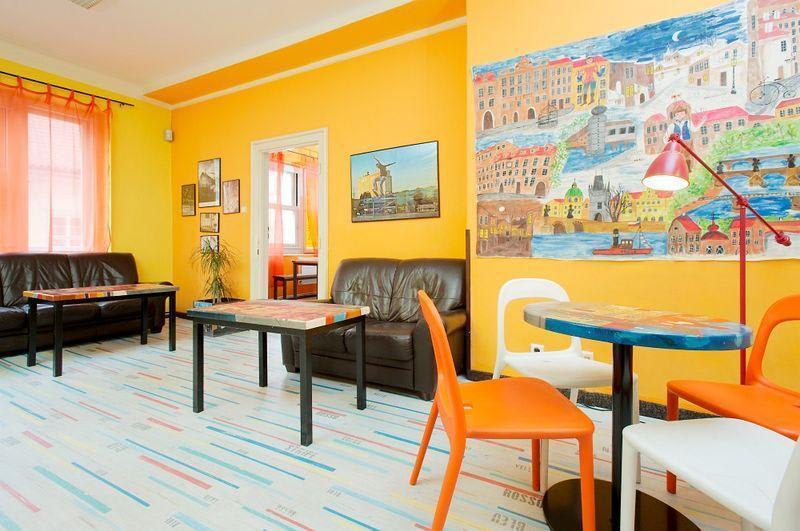 Situated right near Wenceslas Square in Old Town Prague, this hostel has a fantastic location and some very affordable prices. They provide free breakfast, free walking tours, and organize pub crawls at night. Their on-site bar is also plenty of fun and a great way to meet up with other guests before heading out on the town. The long list of amenities (including a kitchen) and comfortable perks will leave you with plenty of spending money for a great time in Prague.
The Facilities
Dorms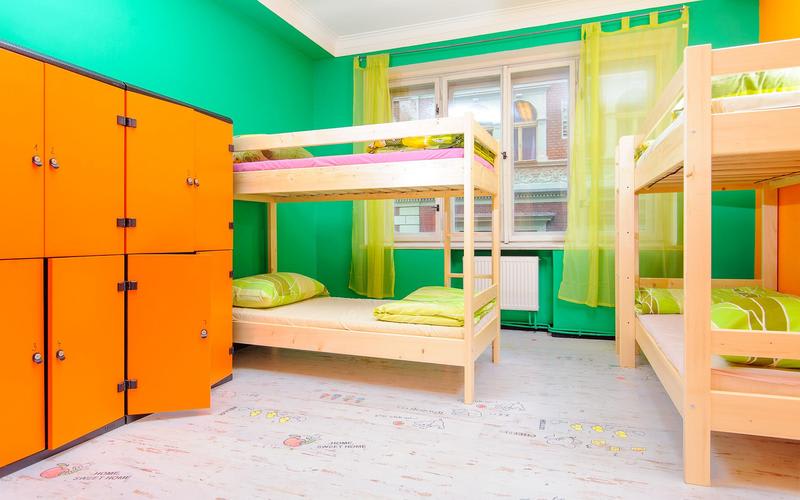 Dorms at the Old Prague Hostel are comfortable and spacious. Bunk beds are custom built and they have large storage lockers for each person to keep their backpacks or suitcases. Ranging in size from 4 beds up to 12, there is a price and privacy level for everyone. All of the dorms share the hallway bathrooms.
Private Rooms
A few private rooms are offered here, including twins for 2 people, double beds for couples, and some 3-person rooms for small groups of friends that want more privacy and less noise. While some of the private rooms have their own ensuite bathrooms, most do not. These private rooms feel like budget-style hotel rooms without many frills.
Also, it's possible to book a larger dorm room as a private room for a group of friends that want to stay together.
Bathrooms
The hallway bathrooms, which most of the rooms use, are large, modern, and clean. There's no "historic bathrooms" here which is definitely good. The showers have plenty of hot water and water pressure. Towels are offered for free with your stay, and so is shampoo, soap, and hairdryers.
Bar
The bar at this hostel is a fun place to relax with a beer during the day or kick back and have a great time at night with some of your new friends from the hostel. It's often the starting point for the pub crawl in the evenings.
Common Areas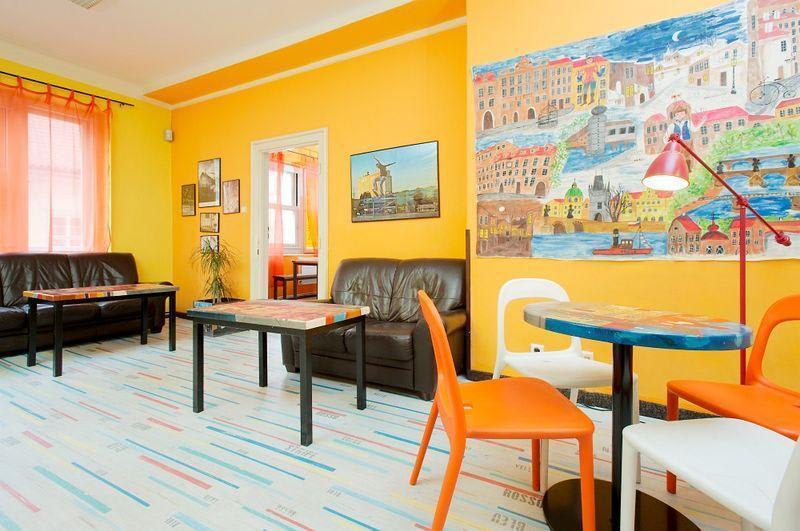 The common areas here are relaxing and comfortable. With some comfortable sofas and seating, you can watch TV or movies, or just get on the internet.
The shared kitchen area is also very nice, especially if you want to cook your own meals to save some money. During breakfast and other meal times, this is a fairly social area.
The Location
Stare Mesto (Old Town)
What's Nearby?
Situated in the old town area of Prague, this hostel is walking distance to everything you can imagine. Wenceslas Square, the Astronomical Clock, Charles Bridge, various museums, the train station, the Jewish Museum, and other historic areas are all within a 15-minute walk from the front door of the hostel. Also, various restaurants, cafes, bars, clubs, theaters, and shops are nearby, too. You're in the heart of Prague here!
Nearby Transportation
The train station is only 10 to 15 minutes away. The Prague tram system runs through the old town area on various routes which are all within a few minutes' walk, too. On the tram you can get further out of the city, such as to the airport. Also, various bus lines run routes through the city and stop near the hostel.
Activities
To help you get to know your fellow travelers, as well as learn about Prague, the hostel offers free walking tours and a number of other paid tours of the city. In the evenings they have happy hours at the hostel's bar, and they organize pub crawls to the nearby bars and clubs to enjoy the nightlife. Free breakfast is also a great way to meet up with other guests.
Amenities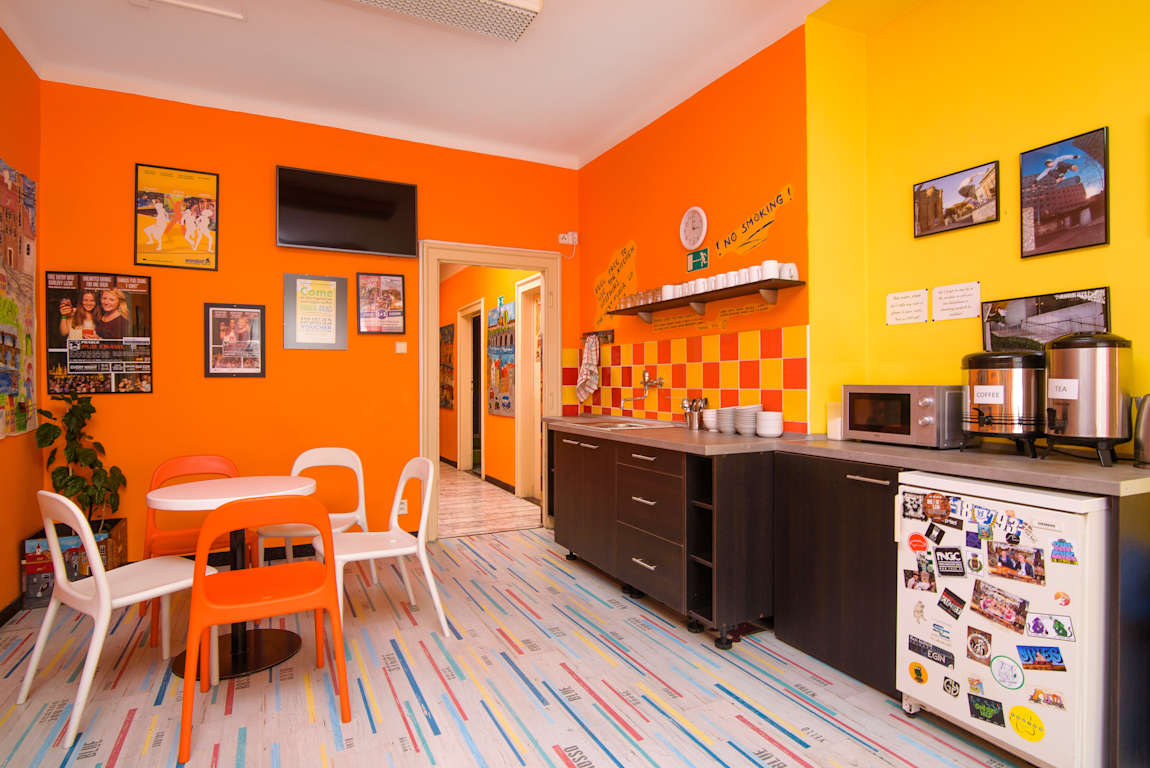 The kitchen is perhaps one of the best amenities here - you can save money by cooking your own meals. Furthermore, they offer free breakfast, free Wi-Fi, movies, luggage storage, free towels and shampoo, linens, public computers, a tour booking desk, hair dryers, and more!
Staff
The staff is fun, friendly, and helpful. They not only make sure everything stays clean and organized, but they make sure you have fun, too!
Heads Up
A club is located across the street, and this causes some noise through the night depending on which room you're in. The staff gives out earplugs, though. Also, they only take cash in the local currency for the balance of the payment when you arrive. They have an ATM, though.
They have also received mixed reviews on cleanliness.
Old Prague Hostel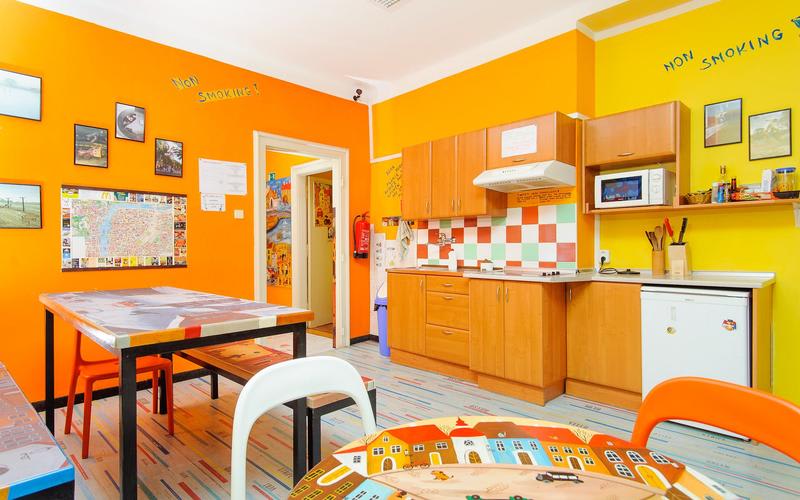 Do you have a favorite hostel that you would like to review? Let us know!