Located right next to the train station. Good walking distance to touristy things. Staff is friendly and helpful. They have lots of events at the hostel to meet people. Would recommend again - Lyssa
What sets them apart?
This hostel has been around for a while and it's popular with backpackers who want a cheap and central location. There are two bars and plenty of partying to do in the area, so if that's what you're looking for, you've found your place.
Hostel Personality
Who's staying here?
This hostel appeals to young backpackers who want to be near the train station but don't want to pay much. It's a social hostel where people come to party. There are lots of bars and a young crowd in the area.
Insider Tip
The rooms are air conditioned but it still helps to open a window and let some fresh air in.
Alessandro Palace & Bar
Alessandro Palace Hostel has been around for a while and it has a reputation among backpackers. It's a fun, centrally located place to stay that is very cheap. It has two bars and frequent activities for guests. As far as facilities go, you get what you pay for, but this isn't a hostel you stay at if you're looking for luxury and planning to stay in at night.
The hostel does have some great and unexpected amenities. There's a small kitchen that guests can use and there's even a gym upstairs if you're feeling motivated to work out.
The Facilities
Dorms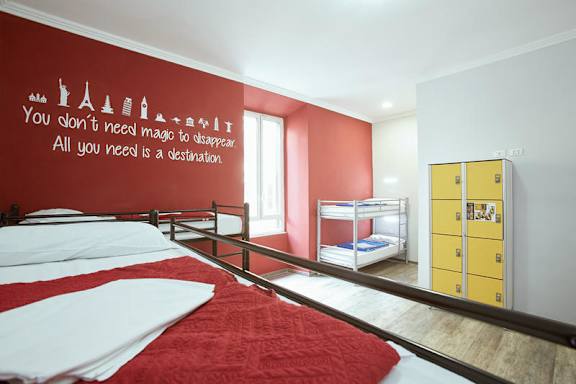 This hostel has four, six, and eight bed dorm rooms that are simple and cheap. There are both co-ed and female only rooms and you're given a sheet and a blanket when you arrive. Some of the beds come with security lockers, but not all of them. The lockers are fairly small, and the reception desk has a place you can lock up your valuables (which is recommended). You can also pay for additional lockers on the ground floor.
Private Rooms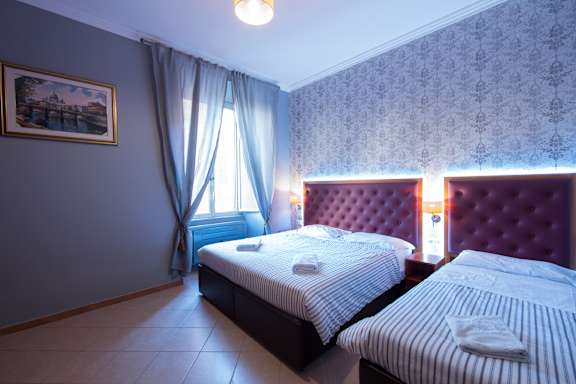 The hostel also has twin, double, and three bed private rooms available. The furnishings are basic but there's a small fridge, a mirror, and a small desk for guests to use. There's also a window that lets in a good amount of natural light.
Bathrooms
Perhaps the biggest complaint about this hostel is the bathrooms. Some dorms have en-suite bathrooms while others are shared. There are en-suite bathrooms with the private rooms as well. The facilities are older and they're not kept the cleanest. This is made even more challenging because the toilets share a room with the showers, making the situation a bit more noticeable. But again, this hostel is very cheap and centrally located, so you get what you pay for.
Bar
One of the biggest draws for this hostel is that they have two bars. There's one inside by the kitchen area and then a more popular hang out spot at the roof top bar. These bars stay fun and lively and this is the place to go if you want to meet other guests.
They host all kinds of events at the bars that include Karaoke nights, beer pong, and happy hours. There's no need to go out if you're staying here, because most of the action is at the bar.
Common Areas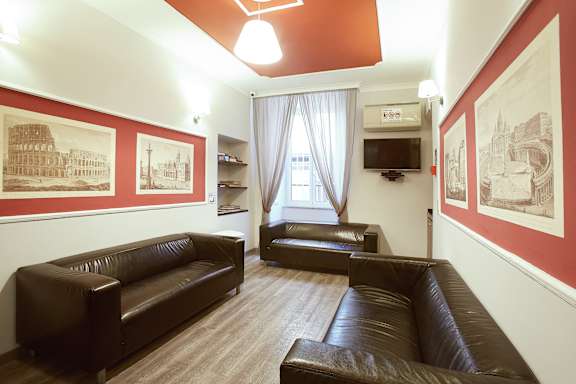 In addition to the two bars, there's an inside area where you can relax and watch television. There's also a kitchen area where you can cook a meal. If you're really feeling motivated, head upstairs to the gym where you can use treadmills, stationary bikes, and some basic weight machines.
The Location
Termini Central Station
What's Nearby?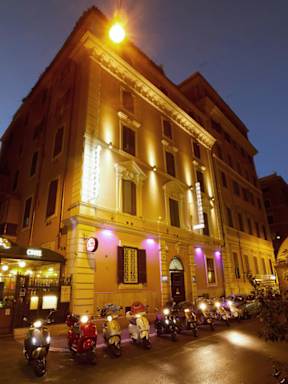 Alessandro Palace Hostel is in the
Termini
neighborhood. There's is where you'll find the highest concentration of budget accommodation options, including many hostels. There are also a lot of bars and cheap restaurants in the area, so if you're looking to go out and party, this is the place to be. Other nearby conveniences include supermarkets and convenience stores. These are great if you're planning to cook some of your own meals. Also, about half a mile away is the main campus of Sapienza University.
Nearby Transportation
The hostel's proximity to the Termini Train Station is a big part of its appeal. The train station is just a five minute walk away, making arrival and departure very easy. There are also metro stations very close by the hostel that offer quick connections to all of the sights around town. The Castro Pretorio Metro is just a short walk away and can take you directly to the Colosseum and the Roman Forum. You can also easily access the Spanish Steps by metro or hit up some of the city's top shopping districts.
Activities
This hostel is all about fun and they host a number of evening activities for guests. There are almost nightly parties in the hostel's bars so ask for a schedule when you arrive. Popular events include Karaoke nights, Aperitivo with pizza, Happy Hours, and beer pong tournaments. There's almost always something going on so don't miss out.
Amenities
This hostel has all of the standard amenities including Wi-Fi, luggage storage, and bed linens. While there are security lockers in some rooms, not every bed has them but there are additional security lockers available elsewhere. Breakfast is served in the morning for an additional fee and there's a small kitchen available that guests can use. Perhaps the most unique amenity available to guests is the gym that's upstairs.
Staff
The staff here can help you with any travel related questions you may have. They also organize the activities and events for the hostel, so ask them for schedules when you arrive.
Heads Up
By far, the biggest complaint about this hostel is its cleanliness. The bathrooms in particular seem to be the biggest problem for most guests, but remember, the rooms are cheap and central, so you get what you pay for.
Alessandro Palace & Bar
Do you have a favorite hostel that you would like to review? Let us know!