I'm trying to think of any negative points about this hostel but I cant. Staff, awesome, location, awesome, bar, awesome, rooms, awesome, toilets and showers, awesome....in one word awesome. If you get the chance visit the adjoining restaurant mama Angela's, get the carbonara, you wont regret it. - Andy
What sets them apart?
The Yellow Hostel is probably the most popular hostel in Rome. Not only is it huge and always busy, but they also own a handful of nearby businesses. You can really get anything done that you need to here, including getting your hair cut, which is convenient if you've been on the road for awhile.
Hostel Personality
Who's staying here?
This is the ultimate party hostel, and you'll find a young diverse crowd looking for fun and entertainment. You have to be between the ages of 18 and 45 to stay here, but most guests are young and looking for a party.
Insider Tip
Try the free pasta meal that's available every day at 6:45. It's surprisingly good!
YellowSquare Rome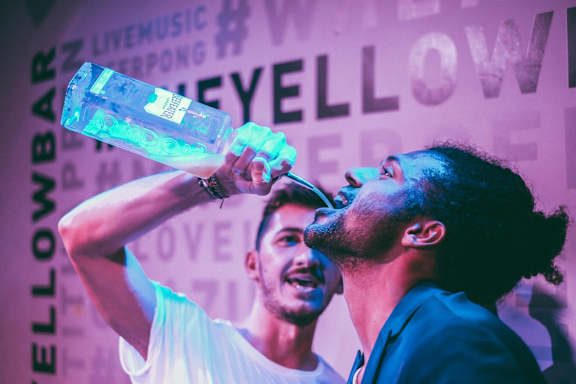 The Yellow Hostel has become a bit of an institution in Rome. It's one of the largest and most popular hostels in the city, and it's great for anyone looking for a party. The hostel and its other businesses take up much of the surrounding block. There's a bar next door that is where everyone goes to party. Guests are given a 10 discount (but prices can still be a bit high).
Conveniently, most of the rooms are separate from the areas where guests party. This does not mean that it's a quiet hostel, but it isn't as loud as you'd expect given the hostel's party hard reputation.
The Facilities
Dorms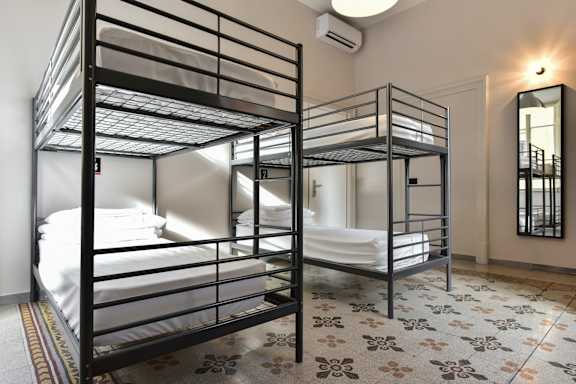 The Yellow Hostel has four and six bed dorm rooms that use either shared or en-suite bathrooms. There are both co-ed rooms, and female only rooms, which tend to be a bit quieter. The beds are bunk beds and there are drawers below them where you can store your belongings. The rooms themselves are fairly basic but they usually have a small window for natural light. Beds have reading lights as well.
Private Rooms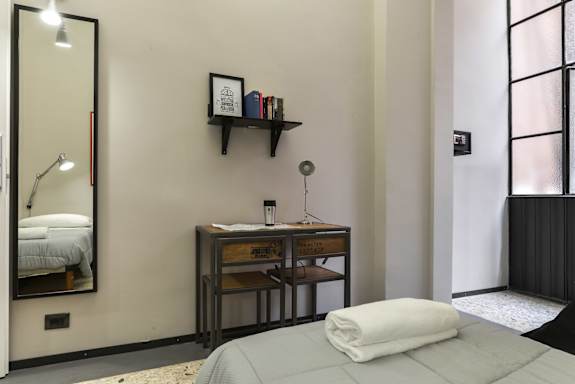 The hostel also has private rooms that are either twins, doubles, or quads. The private rooms are perfect for anybody who wants to party and enjoy a hostel atmosphere, but still wants the quiet and privacy of a room to themselves. The four person rooms are perfect for a small group of friends who would rather not stay in a dorm. All of the rooms have en-suite bathrooms.
Bathrooms
Depending on your room choice, you may either use shared or en-suite bathrooms. Guests must pay 3 euros for towel rental, but you're given clean towels daily. The bathrooms themselves are decent. They're fairly clean by hostel standards, but like anywhere they can sometimes feel a little dingy. The showers are a bit small, but the water is hot and they're reliable.
Bar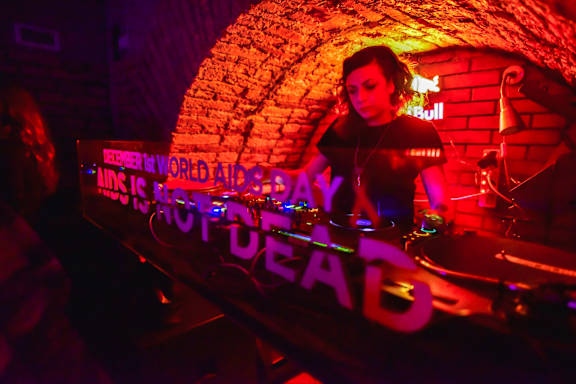 This hostel's bar is really what puts it on the map. They're open every night and there always seems to be a crowd. The drinks can be a bit pricey, but guests of the hostel get a 10 discount. They have all kinds of concerts and events, so if you've come to The Yellow to party (and most people have) then this is the place to go. You're guaranteed to meet other travelers and make some crazy memories.
Restaurant
The hostel owns several businesses including a restaurant called Mamma Angela's. Guests of the hostel get a 10 discount. They serve pasta dishes and other Italian favorites, desserts, and wine. It's a good place to enjoy a meal without going too far.
Common Areas
In addition to the bar across the street and the other restaurant owned by the hostel, there are also common areas in the main buildings. There's a nice shared kitchen available to guests. There's also a smaller bar in the main building with a pool table. There's even a place you can get your hair cut if you're starting to look a little shaggy.
The Location
Termini Central Station
What's Nearby?
This hostel is an institution, and they actually own many of the businesses on the block. If you head away from the hostel you'll find many other cheaper restaurants and cafes. In the surrounding neighborhood you'll find tons of other cheaper hotels and hostels, too.
From the hostel you can walk to the Coliseum in about half an hour or take the metro and be there in just two stops. The Trevi Fountain is a little over a mile away and also accessible by metro.
Nearby Transportation
Castro Pretorio is the closest metro stop, which is a couple of blocks away. The hostel is conveniently close to Termini Train Station which is about a five to ten minute walk away. From there, you can take a direct line to the airport.
Activities
This hostel is all about the activities. It has a wide variety of activities and events available to guests, both free and paid. There are free yoga classes, group dinners, and walking tours. They also organize activities like pasta making classes (for a small price) and biking tours (also a small price). The bar is active every night and there's usually a DJ that keeps the party going. They also do karaoke nights, happy hours, concerts, and more.
Amenities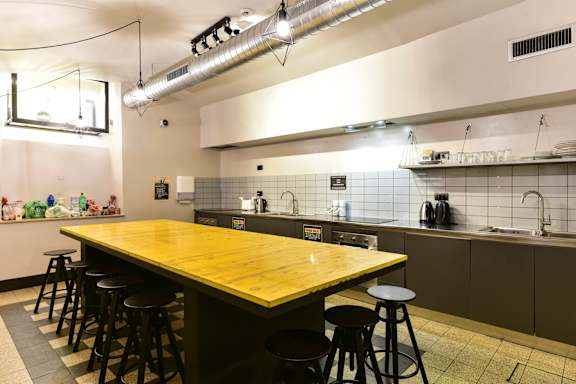 This hostel is huge, and with size comes tons of amenities. There's Wi-Fi access, but it does get a bit weak in the rooms. There's breakfast available in the morning for a small price. There's also a nice shared kitchen where guests can cook or take a pasta making class. There are all types of entertainment including board games, a pool table, foosball, and a book exchange. Airport transfers are available as well.
Staff
The staff here really go out of their way to help you out. When you arrive they'll walk you to your room as they describe the hostel, the activities, the other restaurants and cafes nearby (as well as the discounts they offer!), and anything else you might need. Don't hesitate to come to them with any concerns. They'll address any problems immediately and do their best to resolve the issues.
Heads Up
This is a large party hostel, so it can be loud at times. Some guests feel the prices are too high and complain that you can't bring in outside drinks (this is due to local laws). Like any hostel of this size, the cleanliness can vary, but most visitors feel it meets their standards.
YellowSquare Rome
Do you have a favorite hostel that you would like to review? Let us know!