One of the best hostels in Europe. Best location in Seville, rooms are spotless clean and modern, staff are nice. Cherry on top is the free city tour. The only place to stay in this magical city. - Anonymous
What sets them apart?
This hostel's location is among the best in Seville. The location, combined with the new and modern facilities make it a favorite for visitors to the city.
Hostel Personality
Who's staying here?
This hostel appeals to budget travellers who want a central location that's still quiet. It's a good option for backpackers, students, and anyone who cares about cleanliness and a quiet setting. It's close proximity to Seville University particularly appeals to students.
Insider Tip
Check out the walking tour as it's free and a great overview of the city.
Toc Hostel Sevilla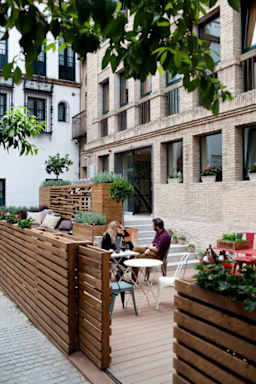 Toc Hostel Sevilla is one of the best in the city. It feels new and modern with hotel quality furnishings. The hostel's central location really can't be beat, but despite being very close to everything, it's still set back on a quiet side street where you can enjoy a good night's sleep.
The staff organize free walking tours for guests, and there's a free breakfast that makes this an affordable option for travellers.
The Facilities
Dorms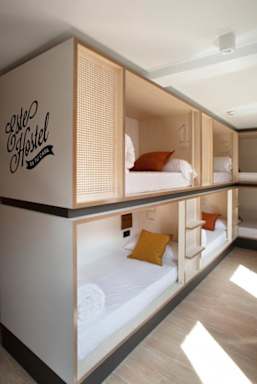 The dorms at this hostel sleep six or eight people. They're very comfortable rooms that are soundproof to stay quiet at night. They've even put the lockers and en-suite bathroom away from the beds so things stay quiet when people come and go. The lockers a very large and the beds are surprisingly comfortable. The rooms are kept very clean and are secure with a fancy fingerprint access system.
Private Rooms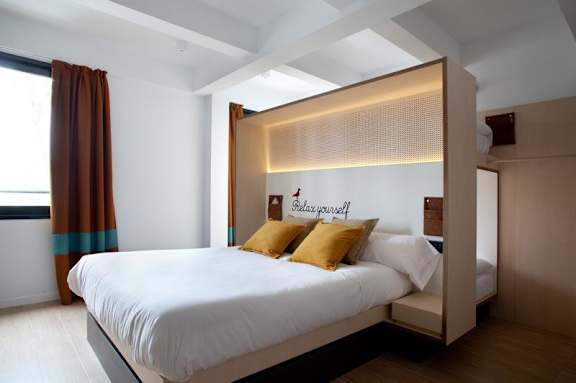 If you want some space to yourself you can reserve a family room with a double bed and twin beds, or a double room. These rooms are hotel quality with very comfortable mattresses and nice furnishings. Some of the double rooms have their own terrace. All of the rooms are soundproof to keep them very quiet.
Bathrooms
All of the rooms have en-suite bathrooms that, like the rest of the hostel, are clean and modern. In the co-ed rooms the lack of a curtain makes some guests uncomfortable with the lack of privacy, but the showers are excellent and clean.
Restaurant
This hostel is attached to a tapas restaurant, TOC TOC Tapas, that you pass through on your way to check in. They serve tapas as well as homemade cakes, coffee, and drinks.
Common Areas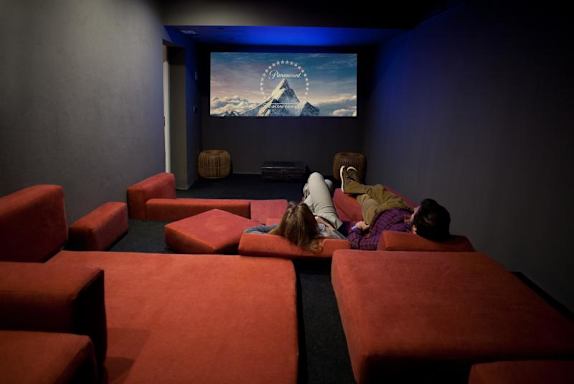 On the lower level of the hostel is a small movie theater where you can enjoy popcorn and a variety of different feature length films. There's soft informal seating and enough privacy that you'll likely feel like you and your friends have your own personal cinema.
The hostel also has a small kitchen available to guests where they can prepare meals.
Outdoor Space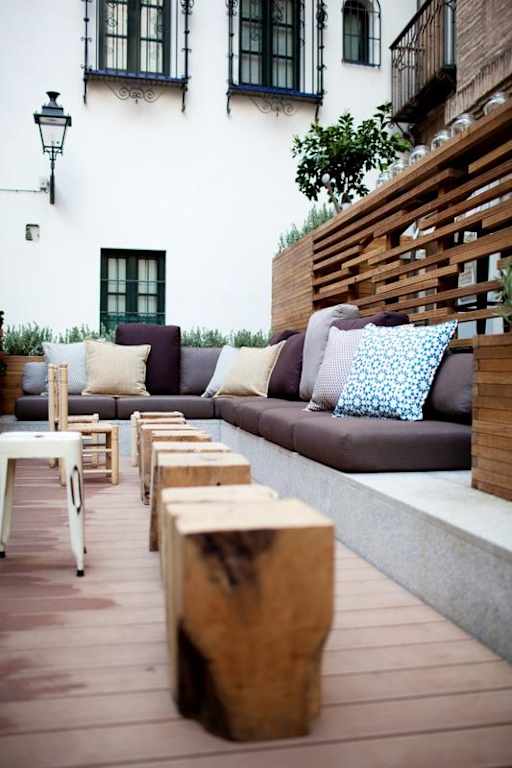 You can head out to the terrace and soak up the warm weather of Seville. Many guests enjoy relaxing on the sofas with a cocktail and catching up on the day's activities. The sofas are surprisingly comfortable and the atmosphere is relaxed and mellow.
The Location
El Centro
What's Nearby?
This hostel's location is really the best in the city if you want to be near everything. It's just minutes from the Cathedral and Alcazar. It's also just a five minute walk from the city's main shopping street. If you're a student, you'll appreciate that Seville University is just a third of a mile away.
In the surrounding area there is no shortage of local restaurants and tapas bars. The hostel is also just across from Archivo de Indias, which is a UNESCO World Heritage Site. If you're planning to cook some food, you'll appreciate the grocery store that's nearby.
Nearby Transportation
You'll rarely need public transportation here, but there is a bus and tram station very close. San Pablo Airport is also just a 20 minute drive away.
Activities
Enjoy the free walking tours of the city offered by the hostel. They're very well done and a great way to get to know the area, it's history, culture, and important landmarks.
Amenities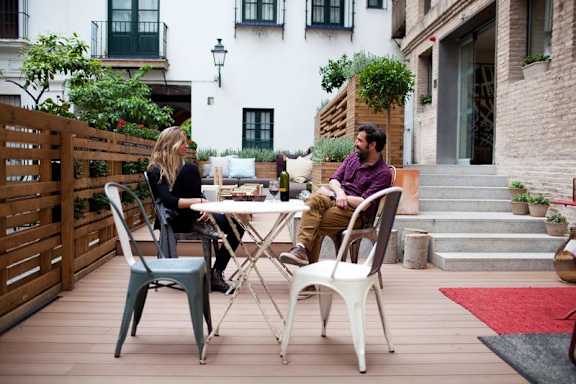 This hostel has all kinds of amenities including very secure rooms with a keyless fingerprint entry system. There's also bicycle rental, air conditioning, and a shared kitchen where you can prepare your own meals. Movies are available in the downstairs cinema and the staff can give you all kinds of travel information.
Staff
The staff here are professional and helpful. The hostel truly feels like a hotel (in a great way) and you can expect nothing less than hotel level professionalism from the staff.
Heads Up
It really is hard to find anything to complain about with this hostel, but the Wi-Fi is particularly bad here. This is also a quiet hostel, so if you're hoping for a party then you'll likely want to look elsewhere.
Toc Hostel Sevilla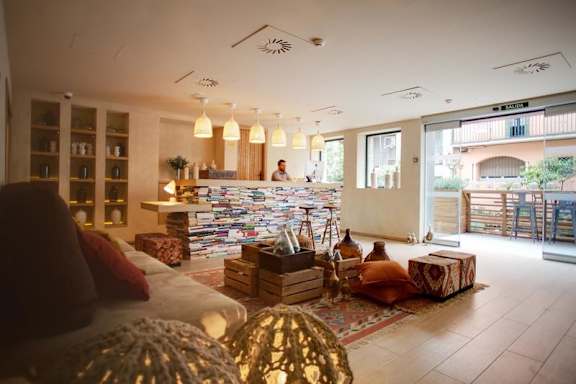 Do you have a favorite hostel that you would like to review? Let us know!