Really cool hostel with a great location in the old town! Very nice and helpful staff, great rooms and common areas (having two hobs/stove tops really made a difference), the free breakfast was a great addition, and the security levels were really good too. - Alice
What sets them apart?
This hostel's impressive breakfast, friendly staff, central location, and entertaining and informative walking tours make it a great option for travellers.
Hostel Personality
Who's staying here?
This is a chill hostel with lots of space for socializing. It's a popular option with all kinds of travellers who want a central location and affordability.
Insider Tip
The free breakfast is great and offers a filling way to start your day.
The Nomad Hostel&Pension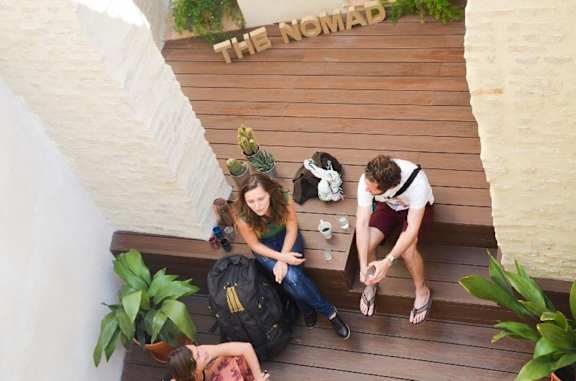 The Nomad Hostel offers great facilities with plenty of space for socializing. There are multiple common areas, a rooftop terrace and bar, shared kitchens, and more. The vibe can be quiet or social, depending on what you want or who's staying there at the moment, but the rooms stay fairly quiet at night and the air conditioning is refreshing.
The staff here is made up of both locals and travellers, so you'll get both insiders' tips and the knowledge of an experienced traveller.
The Facilities
Dorms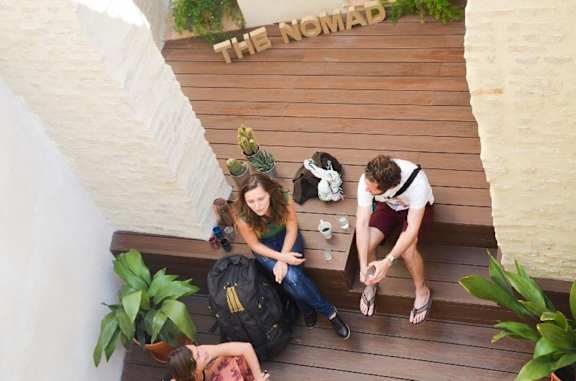 The dorms range in size and include four, six, eight, and ten bed rooms. They're kept very clean and well air conditioned. Every room has a window facing out, so you'll appreciate the natural light. The bunk beds are comfortable and there's a small shelf and outlet where you can charge your electronics.
Private Rooms
If you want a little more space to yourself, there are single and double private rooms available as well. These are a great option for couples traveling together or anyone who wants their own space but still enjoy the atmosphere and amenities of a hostel.
Bathrooms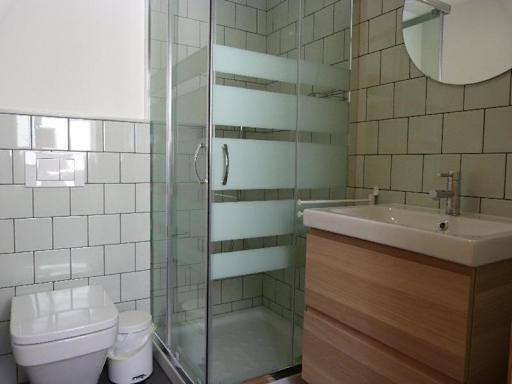 The bathrooms, like the rest of the hostel are clean and reliable.
Common Areas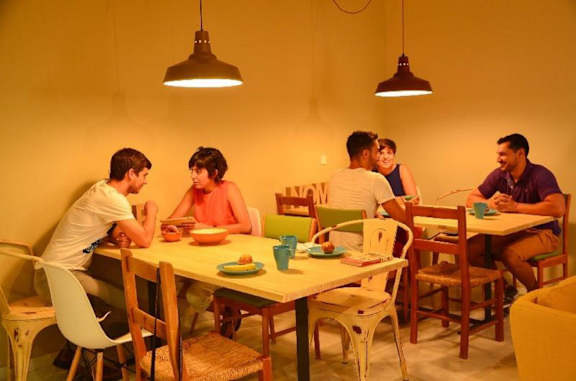 This hostel has several great common areas inside where you can relax and hangout with other guests. The layout of the hostel is perfect for socializing, but the atmosphere can be a bit quiet at times, depending on who's staying there.
You can prepare a meal in the kitchen and then enjoy it in the dining room area, which also offers access to the outdoor courtyard. It's the perfect place to relax for a while.
Outdoor Space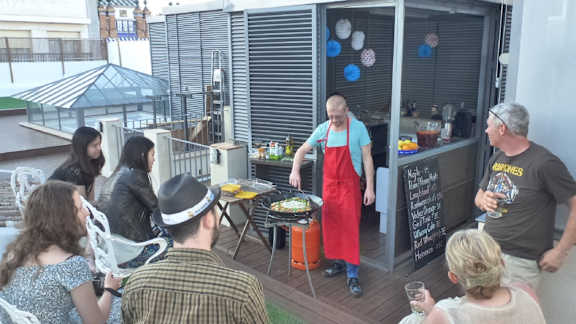 In addition to an outdoor courtyard where you'll enjoy breakfast every morning, there's an impressive rooftop terrace where guests like to gather in the evening. This is where the bar, Paddy's Corner, is located and it's a fun and lively place at night. Here you can enjoy group dinners, drinks, and fun. Drinks are reasonably priced and the area is often busy with other guests late into the night.
The Location
El Centro
What's Nearby?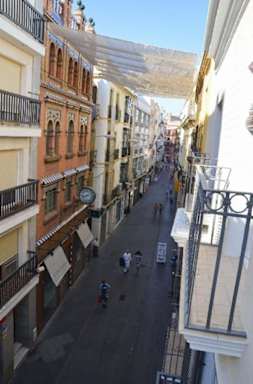 The Nomad Hostel is located conveniently in the center of Seville just a few minutes walk from the Cathedral. Nearby you'll find two grocery stores as well as plenty of local restaurants and tapas bars. If you're hoping to experience the cultural side of Seville, then this is where you want to be.
The building that houses The Nomad Hostel is a fully renovated traditional Sevillian house, that is perfect for immersing yourself in the areas culture and traditions.
Nearby Transportation
Santa Justa Train Station is just over a mile away from the hostel.
Activities
The Nomad Hostel organizes a number of activities for guests. Visitors rave about the walking tours that explore the city of Seville as well as the Santa Cruz neighborhood. It's worth doing different walking tours as the areas they visit and information provided is different.
During the evening there are often group dinners or even live music. This is when guests gather on the rooftop terrace, which can stay busy late into the night. More subdued activities offered by the hostel include movie nights and yoga classes.
Amenities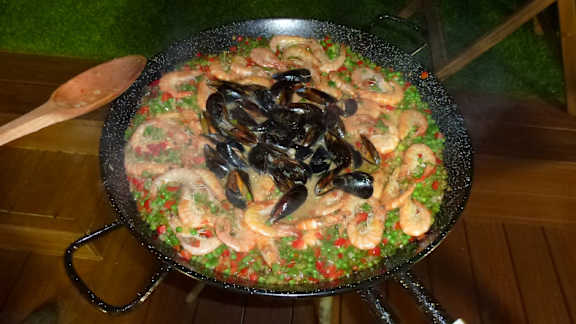 This hostel's free and filling breakfast is a favorite for visitors. You'll enjoy the breakfast in the courtyard before heading out to explore the city, and it's a great way to meet up with other visitors. Other popular amenities at the hostel include a shared kitchen, where you can prepare your own meals, luggage storage, laundry facilities, board games, and bike rental.
Staff
The staff here is made up of both locals and travellers, so you'll appreciate a good balance of insider knowledge and travel know-how. Everyone is friendly and helpful, from the tour guides to the reception staff and the bartender. They keep the atmosphere chill and relaxed, so don't hesitate to ask any questions you may have.
Heads Up
Some guests complain that the central location means the hostel is a bit loud. Others felt there weren't enough bathrooms for the number of guests.
The Nomad Hostel&Pension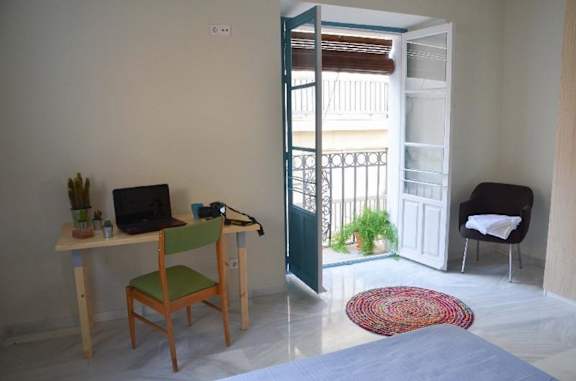 Do you have a favorite hostel that you would like to review? Let us know!