Cape Town on a budget
Cape Town is the perfect city to visit if you are on a budget because there are plenty of things to do that cost you little to nothing and we would love to share them with you.
Cape Town is located at the most southwestern tip of Africa and besides offering world class facilities, Cape Town has a national park within the city borders, it is situated by the 2 oceans, Indian and Atlantic and it boasts one of the 7 world wonders which is Table Mountain. So you have plenty of reasons to visit.
Cheap Accommodation
First of all you will need to sort out your accommodation. Cape Town is the biggest Airbnb destination in Africa so it will be easy to find a shared room or a studio for rock bottom prices. In case you would like to stay in a hostel or backpackers, you will also have plenty of options.
Never@home in Greenpoint
. It is a big backpackers centrally located in walking distance of the V&A Waterfront, the Cape Town Stadium, Greenpoint Urban Park and the Seapoint Promenade.
The Backpack
in Gardens is a cluster of lovely old homes and has a great swimming pool area. It is located very close to vibrant Kloof Street and has a very chilled vibe.
91 Loop Boutique Hostel
is located smack bam in the middle of the city centre. It boasts an art gallery so there's quite a nice vibe on First Thursdays (more on that below) when all art galleries in town are open and the city turns into a street party. 91 Loop also offers really cool air-conditioned capsule rooms with extra length 2m beds. Each capsule offers ample space for charging your phone, a reading light and a keycard controlled locker.
These hostels all offer clean awesome rooms, WiFi, breakfasts, dinners and a common lounge area or bar to meet fellow travelers. Family rooms are also available.
If you would like to check out the best hotels in Cape Town for your budget, read
this
article
Absolutely free things to do in Cape Town
Hiking Lion's Head
is something you HAVE to do when in Cape Town. This hike is very popular and can be done by most reasonably fit people. The route is beautiful as it shows you all the different views around the mountain. It should take you up to 1.5 hour to get to the top.
A stroll along the Sea Point Promenade
: We love walking here in the morning or renting bikes and spend the entire Sunday on the promenade. You might even spot whales or dolphins when you walk there. You can walk all the way from the V&A Waterfront to Camps Bay if you like. There is some art to enjoy, play parks for the kids, the lighthouse, views of Lion's Head and at the Pavillion you can take a rest or have a snack or delicious ice cream.
Visit the
Greenpoint Urban Park
. This beautiful park boasts a biodiversity garden to explore, a water mill and 2 play parks for kids. There's also an outdoor gym to use or bring your own ball and picnic and relax for the afternoon.
Visit one of the oldest wine estates in South Africa,
Groot Constantia
. It is about a 20 minute drive from the City Centre and you can enter for free and enjoy the surroundings. If you would like to taste wine, there's a small fee.
First Thursday
: This is an AMAZING evening in Cape Town each first Thursday of the month. All art galleries are open until 9pm and around the city centre you will find live music, DJs and other entertainment which turns the city in a big street party. This is ONE evening I wouldn't want you to miss when visiting Cape Town.
Free walking tours
: There are a few free walking tours available per day, leaving from Green Market Square. You can just tip the guide if you like, which would be nice but the tour itself is totally free. The tours leave 365 days a year at 11h00, 14h00 and 16h20 and no booking is required. Just look out for the guy/girls with the green umbrellas. You can either choose a historic city tour or a Bo-Kaap Tour.
Going to the beach
: Camps Bay must be one of the most stunning beaches in the world with the 12 Apostles Mountain range as a backdrop. Beach access is free just as the Clifton beaches which are often more protected from the wind. The water is quite cold as it is the Atlantic but in February, the hottest month of the year, it is a great way to cool off.
Visit the
V&A Waterfront
. With its many shops, restaurants and boat trips, most visitors to Cape Town will at some point end up at the V&A Waterfront. You should definitely include this on your
7-day Cape Town itinerary
. A little historic hidden gem which has a free entrance is the former waiting room and embarkation building for the
Robben Island
prison. Here you can find letters of the Apartheid freedom fighters to their loved ones and vice versa and find a lot of history. Often there will be a former prisoner to share interesting stories with you. This museum is situated outside the Table Bay Hotel at the end of Quay 5 on Jetty 1.
Use the
Voicemap app for self-guided walking tours
(
download here
). This app is useful for many cities around the world. You can download free walking tours or walking tours that are charged a small fee. For Cape Town you can find about a dozen different ones and also for the Cape Wine lands and further afield. It is really a great app that takes you to the lesser known areas in a city. The walks are created by passionate locals who love their neighborhood.
The
Table Mountain Cable Car
is free in your birthday week, so if you celebrate your birthday in Cape Town, you can get up for free.
Stroll through the
Company Gardens
. This city park is surrounded by the government buildings as well as many museums. There is an indigenous plant and herb garden where you can learn a lot about the medicinal uses of many African plants and herbs. We love this Garden! It has a great playground for kids near the restaurant. It is a great spot to enjoy a picnic and feed the squirrels. There are people selling peanuts to feed the squirrels.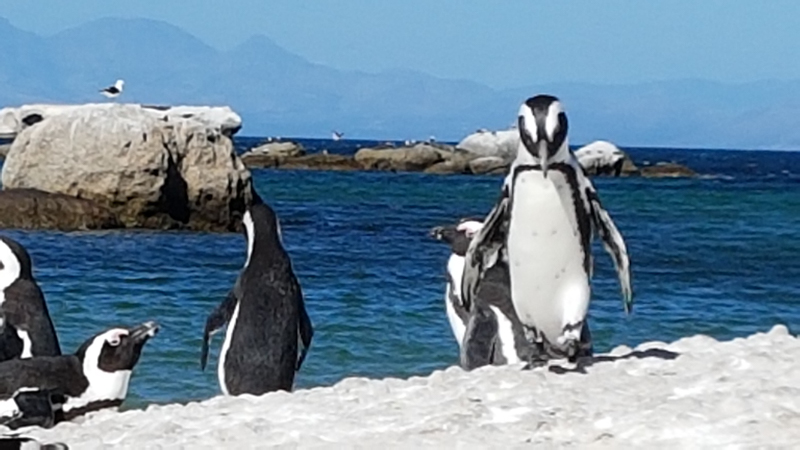 Visit the
African penguins at Boulders Beach
in Simonstown. Although there's a fee charged to visit the 'official' penguin beach (and HORDES of people do), you can actually often see these tiny guys from the parking lot next to the entrance or at Sea Forth Beach on the other side and you can save yourselves the entrance fee and see them without hundreds of other people. As much as I like to support the South African National Parks, if you're on a budget, this is the way to go.
Free wine tastings
: If you're in Kloof Street, pop in at the Lifestyle Centre and
Wine Concepts
, they often offer free wine tastings in the late afternoon. Not just delicious, but it's also a great way to meet people, too.