Khao Lak On a Budget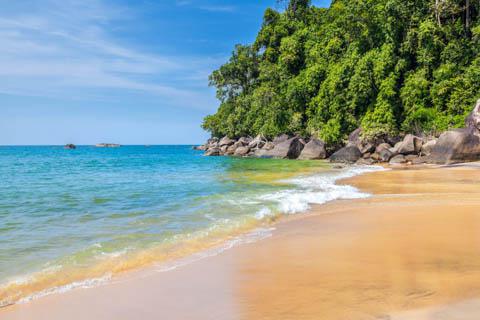 Resiliency and relaxation. Those are the two words used to describe one of Thailand's most breathtaking cities. Khao Lak is located in southern Thailand, and when the tsunami of 2004 hit, this area saw the most damage. With more than 4,000 fatalities, 3,000 still unaccounted for and enormous structural damages, many thought Khao Lak would not be able to bounce back. They have proved everyone wrong with a strong and impressive recovery. Now it has returned to its status of vacation hotspot. Unlike neighboring Phuket, though, the resorts in Khao Lak are designed for families and some peace and quiet.
Sights
Each region has its own stunning sights to see in Khao Lak. In the south, for example, is the Lampi Waterfall. Located just outside of the city this waterfall is best seen during the morning when the sun rises and shines through the mist. While you're there, take a dip and cool off.
In
Bang La On
is the Khao Lak Lam Ru National Park. Take a stroll along these trails and find the peace and tranquility that makes this area of Thailand famous.
Bang Niang is home to another stunning waterfall – the Chong Fah Waterfall. Like Lampi, this one is a great view and an even greater dip on a hot day.
Travel just a bit inland and you'll find Police Boat 813. This was one of two police boats guarding Khun Phum Jensen, son of former Royal Princess Ubol Ratana when the tsunami hit in 2004. He was jet skiing as the wave crashed in killing him and the crew of one sunken police boat. Police Boat 813 was swept inland and remains in the spot where it landed as a memorial to those lost.
And all the way to the north you'll find the Khao Sok National Park. Here you can trek through the jungle on your feet, or on the back of a friendly elephant. Visit the waterfalls, enjoy a canoe ride down the river and enjoy the natural history displays set by the park headquarters. It makes for a lovely day out.
Neighborhoods
Thanks to the early settlers of this region, it is essentially laid out in population centers along side one another. From the south to the north they are known as Bang La On, Bang Niang, and Khuk Khuk. Each region has its own hotels, resorts and businesses.
Bang La On is the most popular region for tourists. The sidewalks easily lead you down rows and rows of shops. If you are taking any sort of public transportation and ask to go to "Khao Lak," you'll likely be dropped off in Bang La On. Bang Niang is just north of Bang La On, and is quieter and less touristy – except at night. Bang Niang is home to several bars that create the area's most alluring nightlife. Just north of Bang Niang is Khuk Khuk. This is where the locals live and work. Head down there to get a real view of the local Thai culture and lifestyle.
Transportation
Khao Lak is not the easiest city to navigate. Public transportation is rather weak and there really aren't any sidewalks for walking. Renting a car is not recommended as the Thais are known for excessive speeding on their only major highway.
Renting a motorbike and staying on local roads is a good option, however. Many renters will insist on holding your passport when you rent one of their bikes. Avoid doing this at all costs. Instead offer to give them a photocopy of your passport.
Many locals will get around on songthaews. These colorful pickup trucks are plentiful – running up and down the main road every 15 minutes. When you flag one down simply tell the driver your destination. He will tell you whether or not he can go there.
If you are look for the simplest and most convenient transportation, hire a taxi. Keep in mind that there are no metered taxis based in Khao Lak. If you're hiring someone to take you somewhere, be sure to agree on a price before you get in the vehicle. Also be sure to check with your hotel as many of them offer free transportation at certain times of the day.
Related:
Partying in
Chiang Mai
or other parts of
Thailand
?
Going to the
Full Moon Party in Koh Phangan
?
Hitting the beach in
Koh Samui
?