Railay Beach On a Budget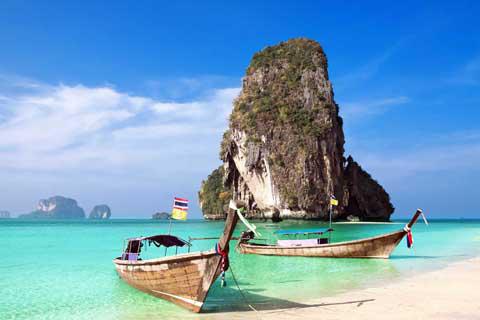 If you're looking to scale great heights and add more achievements to your list during your vacation, consider a trip to the peninsula of
Rai Leh
, or more commonly
Railay Bay
or
Railay Beach
, in the Krabi region of Thailand. This swimming and rock climbing hotspot is known for its towering limestone peaks and gorgeous surrounding scenery.
Because of the extreme mountains and oceans, Rai Leh is only accessible by boat. Most of them depart from Ao Nang or Krabi. Make sure you get there at a time to share the ride with someone - or else you'll be stuck with a pretty large price tag.
Sights
The peninsula has loads to explore in the way of natural, geological wonders. The Phra Nang Cave, for example, is known as the
Diamond Cave
and the reason is no real mystery. Located on the east side of the peninsula, this sight has a small entrance fee that includes a walk along a boardwalk full of glittering formations.
The Phra Nang Shrine, located at the north end of Phra Nang Beach, is one of the manmade wonders of the area. Created to commemorate the spirit of the drowned princess the beach was named for. Fishermen offer tributes in exchange for her favor at this small shrine in a small cave.
For a stunning, but somewhat challenging view follow the path to the viewpoint of Rai Leh and Ton Sai. It's about a 20 minute climb to the top complete with rocks and tree roots. There is a rope to help with the climb, but be sure to wear sensible climbing shoes. After you've reached the viewpoint and taken enough photos, there is another path that leads down towards the jungle. It's another 20 minutes to the lagoon, but this path is steep, rocky, slimy and, most of all, dangerous. To travel to the lagoon you'll want to at least be in decent shape. Keep an eye for monkeys along the way, but only look, don't touch. Also, these little critters are notorious for pick-pocketing - so watch your belongings.
Neighborhoods
The Rai Leh peninsula is split into four primary areas. Phra Nang is a beautiful beach covered in white sand. Located at the southern tip of the peninsula, this area can get crowded during the busy season. Because of this, there is typically a lot of noise from boats coming and going on this beach.
Rai Leh East is the mangrove side of the peninsula. It's not necessarily good for swimming or sunbathing, but there are some restaurants and bars. Rai Leh West is a lovely beach with shallow water where most of the boats from Ao Nang arrive. Watch for rocks under the water if you venture too far out.
Ton Sai is the cove around the corner from Rai Leh West where backpackers and climbers hang out in cheap bars and hotels to talk and practice climbing.
Activities
Rai Leh is the likely the best spot for winter rock climbing in the world. There are over seven hundred routes up the limestone faces that all lead to some of the most magnificent views over the ocean. There are guides operating along the peninsula to help climbers of all experiences. They can help the intro climbers and they'll offer rent-a-belay partners to be sure you get the full climbing experience.
If climbing isn't really your thing, there is also the opportunity for more water activities like diving, snorkeling or kayaking. Kayaking gives visitors a different, but just as stunning view of the areas. There are several spots where you could beach your kayak and explore eroded caves.
Plenty of other activities are available, too, so check out even
more things to do in Railay Beach
.
Food and Dining
Rai Leh welcomes so many visitors, it's become a large influence on their dining options - mostly in that it's pleasing to everyone and largely expensive. For outstanding scenery, visit one of the four restaurants on Rai Leh West. For more variety and options, check out the dining selections on Rai Leh East. One small tip: try to get a restaurant near the Diamond Cave for the best view.
Transportation
Everything on Rai Leh is within walking distance. Walking should be no problem - unless you're looking to go to Ton Sai. That region is a longer walk through the jungle. There are no cars or bicycles anywhere on the peninsula.
Related
Partying in
Chiang Mai
or other parts of
Thailand
?
Going to the
Full Moon Party in Koh Phangan
?
Hitting the beach in
Koh Samui
?