Krabi On a Budget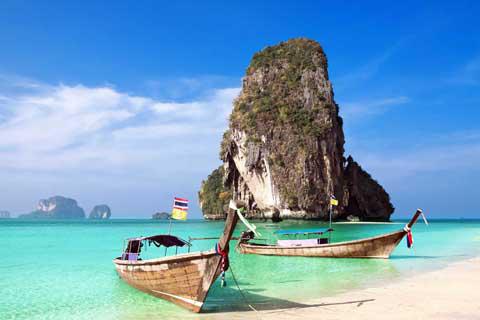 Thailand is covered in beaches, but if you're more interested in immersion in Thai culture than the salty ocean, consider a trip to Krabi, also known as "Krabi Town". Pronounced "Grabee," this small, but bustling city is just up the river from the coast, and is the gateway to the beaches in the surrounding
Province
of Krabi. Krabi Town is full of hotels, agencies and western restaurants, but if you look hard enough, you'll easily see the energy and life of Thailand. While there are no beaches in the town itself, there is plenty of Thai culture to experience.
Sights
One of the most famous sights in Krabi is Tiger Temple or Wat Tham Seua. Located on the top of a mountain just outside of Krabi, this temple is at the top of a path of 1,260 stairs to the top. Bring lots of water for your trip. The only places for water are at your final destination. This trek will take you approximately 30 to 40 minutes, but not only will you see the most beautiful temple, but also a complete view of the area and the sea. Have your camera ready for golden Buddha statues and gilded stupa. Take in the sights of the temple, and then have a walk around. Following a small loop trail, you'll be lead through a forest valley. Take a peek into the limestone caves hiding Buddha images, statues and altars. Please remember that this is a sacred area of worship so be sure to dress appropriately. Cover your knees, shoulders and leave the tight outfits at the hotel.
For more Buddha icons, take a quick trip to the
Wat Kaew Korawaram temple
. There are certainly some interesting 19th and 20th-century pieces. The buildings are interesting and the dragon-flanked staircase is one of a kind.
You can also take a day trip to the symbol of the city - the
Khao Kanab Nam
. The two limestone massifs are located just north of the town center, and it's completely possible to climb one of the two. There are many caves along the way for you to explore. Several human skeletons were found in these caves, and were thought to be the remains of people trapped here during an ancient flood.
Just outside of the city there are more stunning sights to see. Tham Phra Nang Nai is a marvelous natural wonder. Follow the wooden walkway through a series of illuminated caverns to feel like you've stepped into another world. You'll be surrounded by beautiful limestone formations and chirping bats, but because of the shifting rain patterns, it's not a magnificent as it once was.
While you're exploring outside of Krabi, take a walk along the Hat Railay East trail. About halfway through you'll see a sharp path leading up to a cliff made of jungles and a hidden lagoon. It's a strenuous hike, but the scenery is well worth it.
And Krabi, being one of the larger towns in southern Thailand, makes for a great base to explore other areas. Or, it's often a transportation town where many people pass through while
island hopping through southern Thailand
.
Food and Dining
Because of its standing as a tourist home base, Krabi has seen a number of western influenced restaurants pop up in their city. However, that is not to say traditional and delicious Thai food can not be found here. Your best bet is to try one of the many local markets. The Maharat Soi market can be found in the center of town. Here you'll find plenty of fresh fruit and traditionally cooked meals.
If you're an early riser, the covered morning market is the biggest one in South Thailand. After 8 am everything in that market closes down, so you have to be a very committed early bird.
On the other hand, night owls have their own market, as well. Located next to the Tha Khong Kha, this night market is the most popular dinner spot in town. Take a look through the menu and consider the som-dam, wok-friend noodles, dom yang gung, grilled snapper, and, of course, the Thai desserts. You won't be disappointed.
Remember that many restaurants in town will be closed during the off-season.
Transportation
The most popular way to get around Krabi is by taxi or songthaew. The songthaew literally means "two rows," and it's a passenger vehicle adapted from a pick-up truck. There are benches and a roof added to the bed of the truck for your riding convenience.
If you're a thrill seeker, you can consider renting your own car. Proceed with caution, though, as driving in Thai cities can be dangerous with reckless drivers on the road.
Related
Partying in
Chiang Mai
or other parts of
Thailand
?
Going to the
Full Moon Party in Koh Phangan
?
Hitting the beach in
Koh Samui
?