The Best Airbnb Vacation Rentals in Tarpon Springs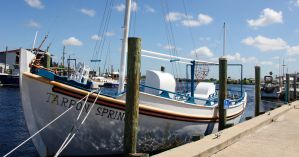 Located on the Gulf Coast of Florida, Tarpon Springs is about 45 minutes from St. Petersburg. The city has a rich history as the "sponge capital of the world" and there's a strong Greek culture to the city because in the early 1900's Greek sponge divers settled here. Today you can find a number of Greek cafes and restaurants along the waterfront by Dodecanese Boulevard. The Sponge Docks are a popular destination for visitors who want to see everything that the area has to offer. The city also has a charming downtown area with brick streets, art galleries, and a number of interesting shops.
With its many great restaurants and charming personality, Tarpon Springs makes a fun destination for a couple's getaway, but there really is something for everyone. Below are several nice Airbnb's that visitors can stay at in Tarpon Springs, Florida.
Where are the best vacation rentals in Tarpon Springs?
Contents: Classic Hemingway Style 1-Bedroom Vacation Rental | Tarpon Springs 4-Bedroom Vacation Rental | Paradise Found - Tarpon Springs Vacation Rental | 1-Bedroom Tarpon Springs Guest House | The Tarpon House Vacation Rental
This charming 1 bedroom apartment has a classic Hemingway style and a historic vibe. It's one of 3 units located in a Key West style home in the historic area near Craig Park, Spring Bayou, and Tarpon Springs.
The building has beautiful porches and a nice outdoor area where guests can relax. It is on the first floor and has a full kitchen and a queen-sized bed in the bedroom. The apartments' decor stays true to the building's historical style. This apartment offers a unique experience for couples (no guests under 12 allowed).
This 4 bedroom house is a nice option for families or groups of up to 8 people. It's a peaceful setting on a quiet street right by the water. You may even see dolphins swimming by as you relax by the dock or take a dip in the saltwater pool.
The house has 4 bedrooms, a nice dining area, outdoor dining, and plenty of space in the living rooms for groups to relax. There are also 6 bikes available that guests can use to explore the area. It's also about 2 miles from the Tarpon Springs Sponge Docks.
This 2 bedroom house is a nice option for groups of up to 4 people. They don't allow kids under 12, but for adults, this is a relaxing setting with a nice lanai and a swimming pool. It's located in a quiet residential area and is just a couple of blocks from the ocean. You can walk to either Sunset Beach or Howard Park or take a stroll down the Pinellas Bike Trail.
The house has 2 bedrooms, one with a king-sized bed, the other has a queen-sized bed. There's a nice outdoor space and a lanai with lounge chairs. Many guests enjoy using the grill to prepare meals of fresh caught seafood.
This 1 bedroom guest house is another nice option for couples (they don't allow guests under 12). There's a full kitchen and nice furnishings throughout. The bedroom has a king-sized bed and outside there's a shared pool and tiki hut that guests are welcome to use.
The house is in a convenient location by the Bayou and just a few minutes from beaches, the Sponge Docks, and the downtown area.
This is a modest but comfortable option for couples who want to enjoy some time away together.
The Tarpon House makes a peaceful retreat for families and small groups of up to 6 guests. It's located near water and is a great option for fishing and wildlife spotting. You may even see dolphins or manatees from the backyard.
The inside is comfortable and relaxed. There are double beds in each of the bedrooms and a pull-out sofa in the living room. There's also a full kitchen and enough space to relax.
Some photos are courtesy of airbnb.com.
Share This Article