Saint Petersburg On a Budget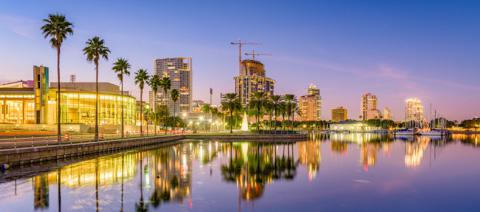 Located at the base of the Tampa Bay peninsula of Florida, Saint Petersburg is a city known for its pleasant weather, coastal activities, and downtown arts scene. Nicknamed the "Sunshine City," Saint Petersburg is also a popular location for golfing, boating, fishing and beachgoing in addition to the usual entertainment options to be found in a thriving city.
Sights
One of the best known attractions in the city is perhaps the Waterfront Art District's Salvador Dali Museum. The museum is home to the largest collection of Dali artwork in the United States with a permanent collection that includes over 2,000 works from every moment and in every medium of his artistic career including 96 oil paintings, original drawings, book illustrations, prints, sculpture, photos, manuscripts, and an extensive archive of documents. Saint Petersburg has a flourishing social atmosphere with many arts and entertainment options. Other popular museums include the Chihuly Collection and and Florida Holocaust Museum, while common theatre venues include the Freefall Theatre and the American Stage Theatre Company.
The Sunken Gardens, a lush oasis of plant life in the heart of Saint Petersburg, is another common place to visit. About 15 feet below street level, the gardens include 4 acres of well-established botanical gardens, featuring some of the oldest tropical plants in the region amidst meandering paths and cascading waterfalls. Other popular green areas include Sawgrass Lake Park, Weedon Island Preserve, the Boyd Hill Nature Preserve, and a number of city parks.
Neighborhoods
Saint Petersburg's downtown is a beautiful waterfront area, thriving both day and night. It is further divided into smaller districts which include the Waterfront Arts District, Central Arts District, The Edge District, Grand Central District, and Warehouse Arts District. The Waterfront Arts District is home to world-class Museums such as The Dalí Museum, the Museum of Fine Arts, and the St. Petersburg Museum of History, along with the performing arts at The Palladium and American Stage Theatre Company. The Central Arts District has plenty of opportunity for local cuisine, unique boutiques, live music, fresh brewed coffee, handmade gifts, craft beer, and more as well. The Edge District is committed to historic preservation-based revitalization and creating a sustainable local economy with many independent businesses, the Grand Central District with many galleries and studios hosts events and festivals throughout the year, and the Warehouse Arts District is primarily an industrial area with some budding artists. Throughout the entire downtown, visitors will also find a number of waterfront galleries, shopping, dining, nightlife, movies, lush green parks, and more.
Activities
Saint Petersburg, the "Sunshine City," is not only a place of pleasant weather and sunny beaches, but also a city of blooming culture with much to experience in art and entertainment. By day, you might meander along the shore, sunbathe, swim, go boating or kayaking, or even visit one of the city's serene park areas. And by night, you might return to the heart of the city to experience its many galleries and museums, grab a bite to eat, and indulge in the nightlife exploring the bar scene or going to a show at the theater.
Food and Dining
Like any popular vacation destination, Saint Petersburg has plenty of dining options to satisfy all tastes and budgets. There are a number of places serving anything from small bites to indulgent meals, especially in the downtown area. With its location along the gulf coast, Saint Petersburg also has a number of great seafood restaurants to match. From rustic oyster bars and open-air cafes to candlelit restaurants, any eatery in in the city will offer a wide variety of fresh fish and seafood. Though the seafood is sure to please, you can also find familiar chain restaurants and other eateries serving just about anything you could crave - steak, sushi, wood-oven-fired pizzas, authentic Asian cuisine, or a hearty hamburger. Some of the top places to grab some grub as rated on TripAdvisor include Mazzaro's Italian Market, Bodega Comida Cantina Cafe, Jack's London Grill, Trip's Diner, Parkshore Grill, The Mill, Locale Market, and 400 Beach Seafood and Tap House, amongst others.
Transportation
Saint Petersburg-Clearwater International Airport is a joint civil-military airport and home to the largest and busiest U.S. Coast Guard Air Station in the United States. It has limited international services and most of the domestic services are provided by Allegiant Air, serving multiple destinations in the eastern half of the country. Tampa International Airport is another option with a wider selection of airlines, just about 10 miles across the bay.
By train, Amtrak offers service via Tampa's Union Station with connecting thruway bus service. Amtrak's ticket office for St. Petersburg is located at 5251 110 Av N in Pinellas Park, in the Pinellas Park Square Shopping Center.
Related:
Looking for a
party hostel in Hawaii
or
Miami
? Traveling alone to
LA
or
New Orleans
? Want a budget hostel in
NYC
?