Camping Fusina was the perfect place to stay to explore Venice, just a short ferry ride away and the walk to catch the ferry was just a few minutes. The cabins were small but had everything you might need. I loved that there was a restaurant, store and laundry on site. - Anonymous
What sets them apart?
If you're willing to try something a little out of the box, this campground has cabins and bungalows for very cheap prices. It's well outside of Venice (a 20 minute ferry ride), but the atmosphere at night is fun and lively. It's great in the summer if you're looking for a party.
Hostel Personality
Who's staying here?
This campground really is a mix of everyone. You'll find backpackers, partyers, retirees, and anyone willing to try something a little different. This is also a stopover for Contiki tours, so don't be surprised when the bus pulls up. Their tours are full of young travelers looking to have fun, so if that's what you're interested in, it adds to the atmosphere.
Insider Tip
Bring bug spray! This is camping after all, and you're near the coast, so don't be surprised by the mosquitoes.
Camping Fusina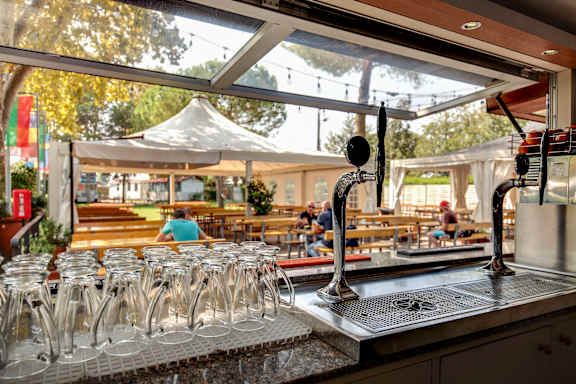 Camping Fusina has been around for decades, and its built its reputation as an affordable and unique place to stay outside of the Venice. They offer mobile homes or cabins of varying sizes as well as areas where you can car-camp or pitch a tent.
The campground is by a ferry stop where you can catch a ferry to Venice's main island. The trip is about 20 minutes and very scenic.
There's also a bar, restaurant, and market on the grounds that guests can use as well as a swimming pool where you can take a swim to cool off.
This campground attracts all types of travelers, but it's not a quiet place. You can expect parties to pick up in the evening and carry late into the night.
The Facilities
Private Rooms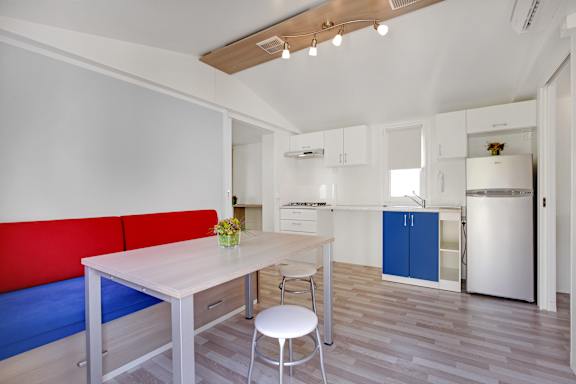 This campground has a wide variety of mobile homes or cabins available for rent. They sleep 2, 3, 4, or 6 people and have beds and kitchenettes. They're air conditioned and have small tables where you can enjoy your meals.
There are also bungalows with separate rooms, a kitchen, and more substantial furnishings. These hold four or six people.
Alternatively, there is land available for car camping as well.
Bathrooms
The mobile homes, cabins, and bungalows all have bathrooms available. The bathrooms are clean and reliable and you'll find a sink, toilet, and shower.
Restaurant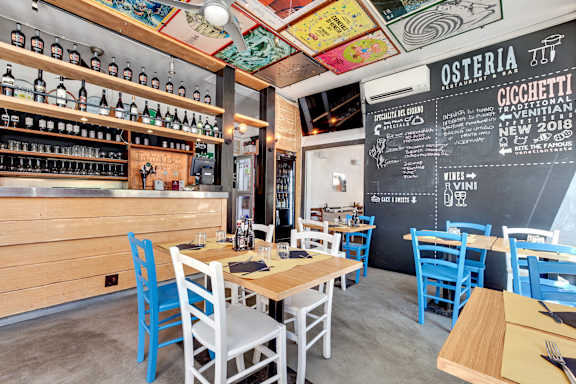 During the summer months (April to October) there are two restaurants to choose from. The traditional restaurant serves both Venetian and Italian classics, so you can enjoy pastas, meats, and seafood.
There's also a pizzeria available where you can try any number of different traditional pizzas. It's really quite good. You can also order a side of salad or a couple of vegetarian dishes.
Common Areas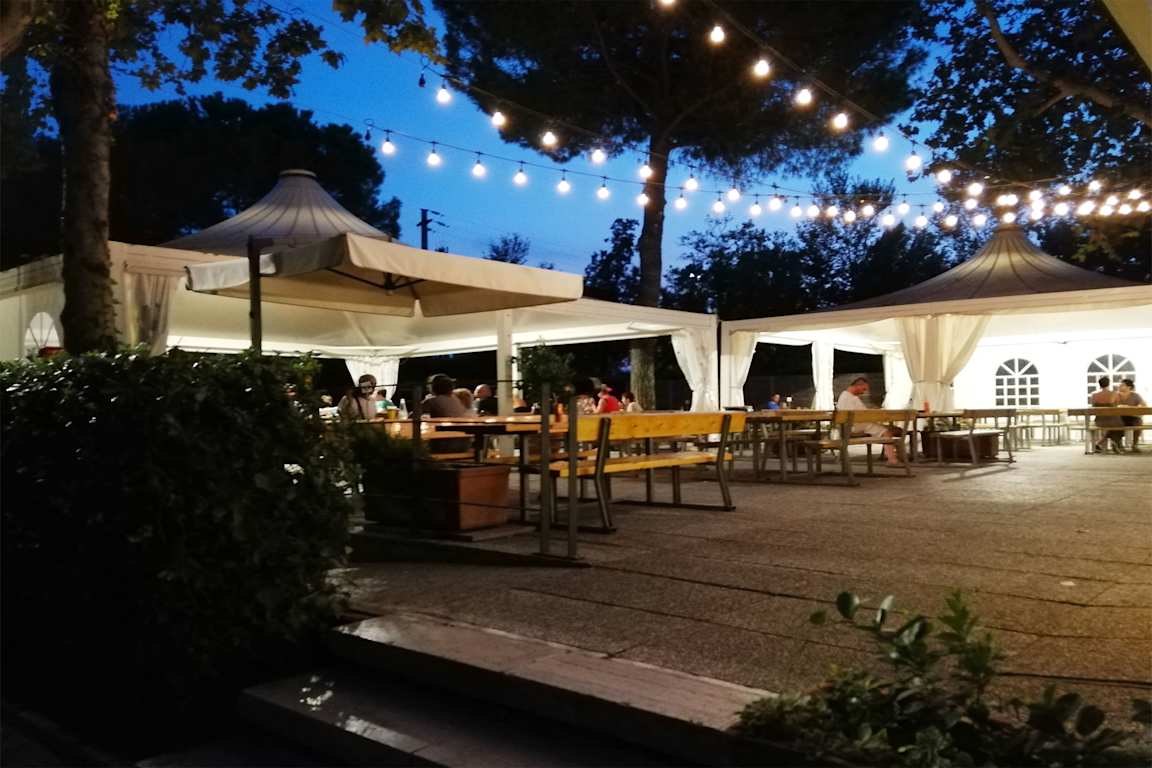 Evening is the time when guests come together to mingle and have fun at Camping Fusina. Between the months of April and October there's a bar and beergarden open. It's not uncommon for a party to pick up and go late into the night. Guests will head out to the "BeerGarden", which has a huge outdoor garden where you can drink, chat, and have fun. You can order cold beers, cocktails, or even ice cream.
Pool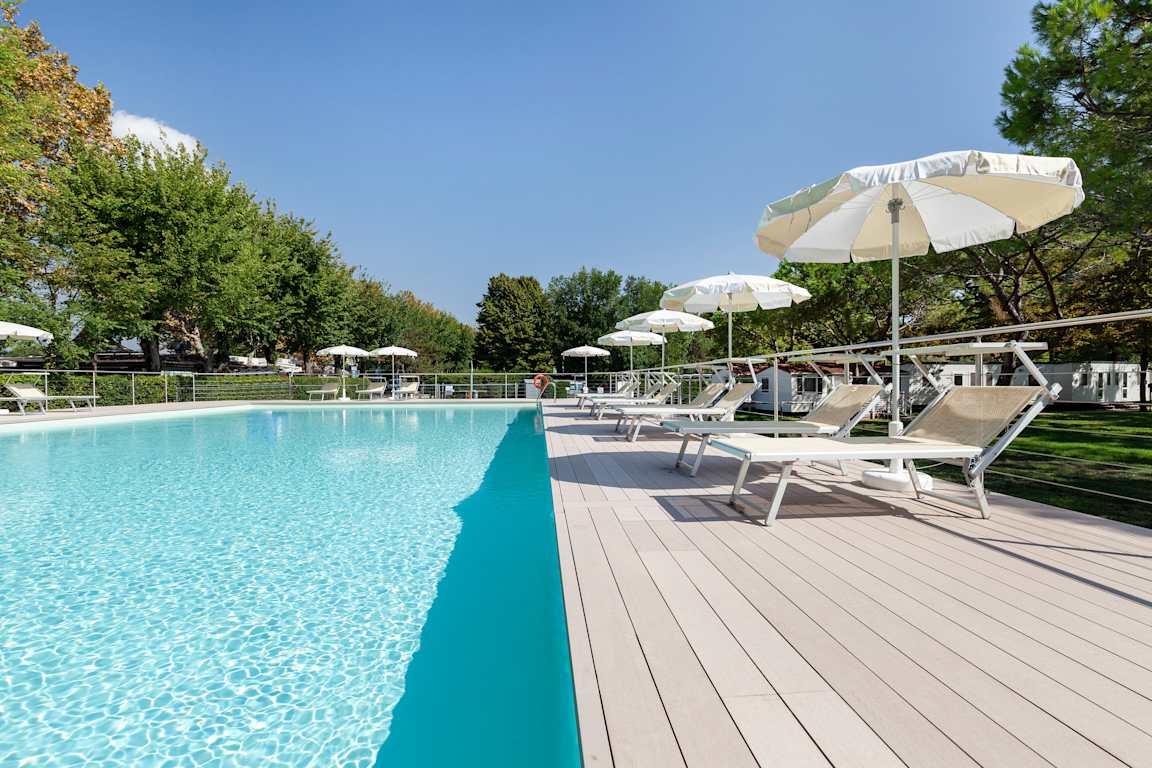 Between the months of May and September the campground has an on-site swimming pool that's open. It's the perfect place to cool off with a swim. There are also sun chairs where you sit and relax and work on your tan. If you need some down time to unwind, then this is the place to do it.
The Location
Malcontenta
What's Nearby?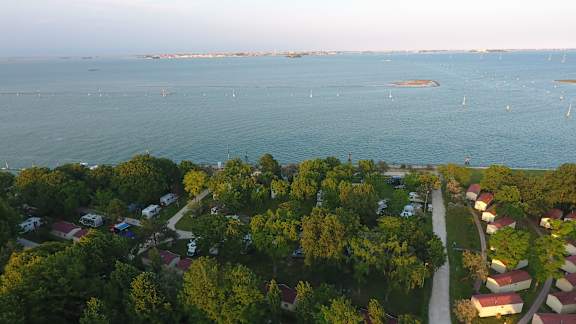 This campground offers impressive views over the Venetian Lagoon. It's close to the ferry terminal but is quite far from the train station and a 20 minute ferry ride over to Venice's main island.
Nearby Transportation
Take note: THIS CAMPGROUND IS A 20 MINUTE FERRY RIDE FROM VENICE. It's located on the banks of the Venetian Lagoon in Malcontenta, and the ferry stop is just a short walk away. Ferries come every hour, and start at 8 am and stop at 8 pm.
The campground also offers a free shuttle service from the Mestre Train Station between the hours of 8 am and 7 pm. This is only available during the peak season (summer months). You must email them at least 2 days before arrive to ensure your pickup. Take note that a taxi from the train station to the campground is very expensive (at least €40).
There's also a shuttle service from the Treviso airport that costs €15 euros a person and €10 from the Marco Polo Venice Airport. There must be at least 4 people using the service for it to run.
Amenities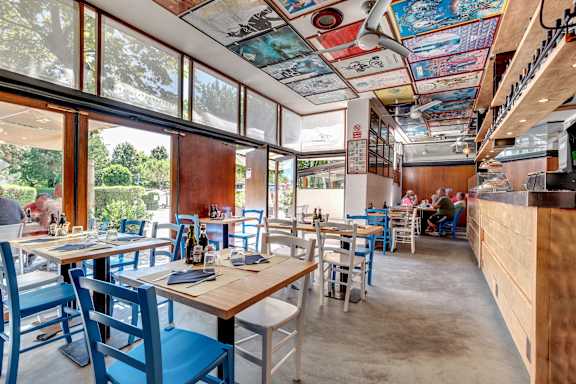 This campground has some unique amenities available to guests including a swimming pool, small kitchens in most units, and laundry facilities. There are on-site restaurants, a bar, and all kinds of travel information. Do note that the Wi-Fi costs money (and it's quite expensive) and it isn't always the best service.
Also note that most facilities and services are only available during the peak summer months.
Staff
This campground has been around for a while and the staff love what they do. There are guests that routinely return to the grounds and there are first timers that arrive all the time. The staff are helpful and work hard to make sure everyone's having a good time.
Heads Up
This is a campground, so expect bugs, noise, and other little annoyances. It's also a good distance away from Venice, so make sure you understand what you're getting yourself into before booking.
Camping Fusina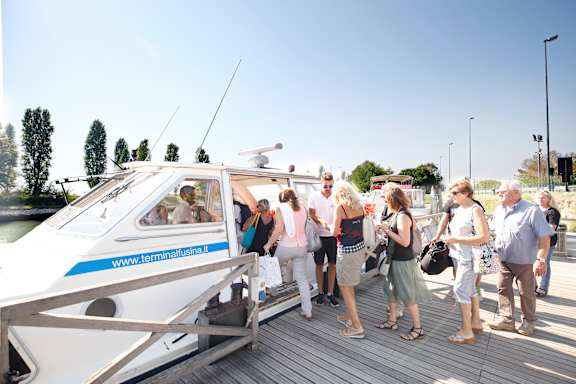 Do you have a favorite hostel that you would like to review? Let us know!